Priceline Group Stock Set Up for a 500-Point Rebound? 3 Things You Need to Know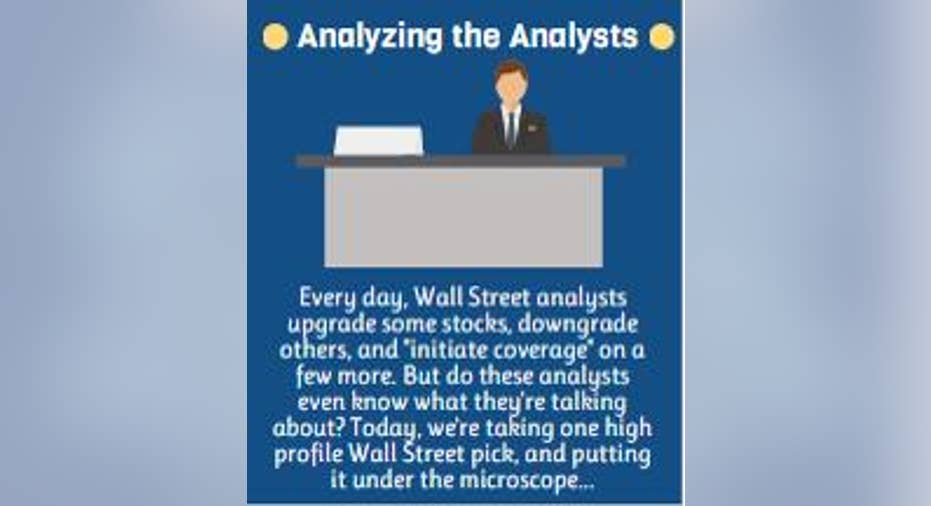 It's been a roller-coaster week for owners of Priceline Group stock. Eight days ago, a pair of enthusiastic analysts came out in support of Pricelinewith buy ratings and $1,500 price targets, decrying "overly conservative" guidance from management and declaring the stock's price offered a "favorable risk/reward" profile.
And then Brexit happened.
Priceline -- according to one write-up on StreetInsider.com-- has "the highest exposure to Europe among [online travel agencies, or OTAs]," and saw its stock plunge 15% post-Brexit. It's rebounded a bit since, but still sits roughly 150 points below where the stock traded just before the U.K. voted to exit the European Union. And according to analysts at Morgan Stanley, this sets up Priceline stock for as much as another 500 points worth of profit.
Here are three things you need to know about that.
Analysts are mapping out higher prices for Priceline stock. Image source: Getty Images.
Thing No. 1: "Take" that, Priceline pessimists
Last week, we discussed Barclays Capital's expectations for higher profit margins at Priceline, which the analyst based on a belief that Priceline's several websites are enjoying a higher take rate than they have enjoyed previously. What this means, in English, is simply that travelers are clicking more often on ads they see for Priceline online.
And what that means for investors is simply more revenue for Priceline -- and more profits, too. In fact, in Barclays' estimation, Priceline is about to enjoy a rebound in profits that will lift its stock price to $1,500 within a year.
Thing No. 2: $1,500...or more
This morning, though, Morgan Stanley put out a report that makes Barclays' enthusiasm look downright conservative. Painting a positive picture that could help Priceline stock reach as high as $1,750 a share in the next year (although only predicting a $1,525 price target), Morgan Stanley shined a spotlight on a new factor helping to boost profits at Priceline: Weaker competition.
As Morgan Stanley tells it, there's been an online ad war going on in cyberspace, pitting Priceline against its archrival Expedia in a battle for online travel shoppers. The ad war has been a real boon to Alphabet'sGoogle, says Morgan Stanley, which has benefited from higher cost per click (CPC) as Priceline and Expedia spent hand over fist to try to get their ads up first and improve their respective take rates. At the same time, both Priceline and Expedia have suffered from weak "ad spend efficiency," spending more on advertising, but getting few new customers from the effort.
But according to Morgan, this ad war has finally ended in a truce. Priceline and Expedia have withdrawn to their respective corners, accepted that they're two halves of an OTA "global duopoly" -- and decided to profit from it.
Thing No. 3: Profit how?
With Priceline and Expedia no longer bidding so hard against each other, Morgan Stanley says it's seen about 50% of online travel keywords, sold by Google, declining in price. Furthermore, the CPC that Google gets from these keywords has dropped by an average of 6%, says Morgan.
That's 6 percentage points that can drop right into Priceline's pocketbook going forward. As a result, Morgan says Priceline's return on investment from ad spending "stabilized in 1Q:16." This should permit Priceline's profit margins to now begin growing again "for the first time in 5 years."
And one more thing...
One final factor has Morgan Stanley feeling bullish about Priceline stock, and we'd be remiss in not pointing it out: Non-hotel hotels.
According to Morgan, "with its 422k+ vacation rentals," Priceline boasts "best in class trafficacquisitionand conversion" in rentals of alternative accommodations -- places for travelers to stay that are not technically hotels. The analyst sees this category of rental reservations growing 34% annually over the next three years, and taking up "28.5% of bookings" for accommodations.
That's a much faster rate of growth than the 15.5% compound earnings growth rate that most analysts are predicting for Priceline stock on S&P Global Market Intelligence. It may even be fast enough to goose Priceline's overall growth rate up past what the consensus is predicting.
With Priceline stock now selling for less than 25 times earnings, and about 20 times free cash flow, I think Morgan Stanley may be right: It's time to start giving serious consideration to buying Priceline stock.
The article Priceline Group Stock Set Up for a 500-Point Rebound? 3 Things You Need to Know originally appeared on Fool.com.
Fool contributorRich Smithdoes not own shares of, nor is he short, any company named above. You can find him onMotley Fool CAPS, publicly pontificating under the handleTMFDitty, where he currently ranks No. 278 out of more than 75,000 rated members.Suzanne Frey, an executive at Alphabet, is a member of The Motley Fool's board of directors. The Motley Fool owns shares of and recommends Alphabet (A shares), Alphabet (C shares), and Priceline Group. Try any of our Foolish newsletter services free for 30 days. We Fools may not all hold the same opinions, but we all believe that considering a diverse range of insights makes us better investors. The Motley Fool has a disclosure policy.
Copyright 1995 - 2016 The Motley Fool, LLC. All rights reserved. The Motley Fool has a disclosure policy.