Priceline Group Inc. Sinks and Match Group Inc. Soars as Stocks Drop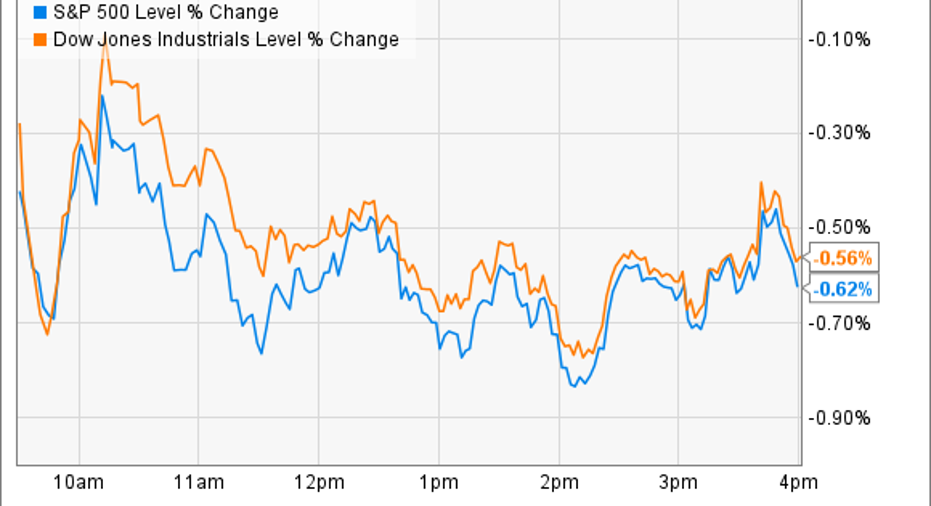 Stocks took another step away from record highs on Wednesday. The Dow Jones Industrial Average lost 99 points, or 0.6%, and the S&P 500 shed 12 points, or 0.6%:
Indexes have declined by more than 2% since April 20, but they remain in positive territory so far in 2016.
Meanwhile, quarterly reports continued to produce large price swings in individual stocks as earnings season marches on. Among the biggest movers on Wednesday were Priceline and Match .
Priceline's soft forecastPriceline was the S&P 500's biggest percentage-point loser following the travel site's strong first-quarter earnings report (that also included a weak current-quarter forecast). The company trounced management's Q1 expectations as revenue, gross bookings, and adjusted earnings all came in far ahead of executives' February guidance. Hotel demand was especially strong:
Image source: Priceline.
The number of room nights soared 31% higher to 137 million units. Priceline's earnings expanded at a faster pace than revenue, too, which pushed profitability higher. The company generated $2 billion of gross profit for a 21% improvement over the prior year.
"The Priceline Group delivered strong top line growth and attractive margins in the first quarter," interim CEO Jeffrey Boyd said in a press release.
Yet the official Q2 outlook called for a steep slowdown on all of those key metrics. Room nights are forecast to grow by 19%, which would be that division's slowest expansion pace in over two years. Gross travel bookings are pegged to rise about 14% -- from Q1's 21% pop. And finally, executives forecast gross profit to rise by roughly 13% as the company ramps up investments in its product, service, and branding. Investors have to balance Priceline's soft forecast with its penchant for under-promising and over-delivering.
Match Group's plan for dating dominance Online dating specialist Match Group's stock rose by as much as 22% on Wednesday before ending up with a 15% gain. The company announced solid Q1 results on the back of double-digit growth in e-commerce properties including Tinder, Match, and Meetic.
Sales rose 21% overall to $285 million as profit dropped to $0.11 per share. Consensus estimates were calling for revenue of $281 million and earnings of $0.08 per share. CEO Greg Blatt forecast more gains ahead."We expect solid year over year performance throughout the balance of 2016," he said in a press release.
There were some not-so-good trends evident in the results as well. Average revenue per user slipped by 10%, for example, and Match struggled in converting a high percentage of visitors into paid members, especially through its mobile platforms.
Still, its European dating site, Meetic, returned to paid member growth for the first time in six quarters. Management sees that success (including marketing and conversion wins) as a roadmap that they can apply to other properties, especially in the U.S. market.
With paid members jumping 36% to pass 5 million users, it's clear that Match has a portfolio of products that is attracting significant user interest. Its challenge ahead is to improve the service enough that it can generate sustainable growth in average customer spending while continuing to broaden its reach into other geographies and demographics.
The article Priceline Group Inc. Sinks and Match Group Inc. Soars as Stocks Drop originally appeared on Fool.com.
Demitrios Kalogeropoulos has no position in any stocks mentioned. The Motley Fool owns shares of and recommends Priceline Group. The Motley Fool recommends Match Group. Try any of our Foolish newsletter services free for 30 days. We Fools may not all hold the same opinions, but we all believe that considering a diverse range of insights makes us better investors. The Motley Fool has a disclosure policy.
Copyright 1995 - 2016 The Motley Fool, LLC. All rights reserved. The Motley Fool has a disclosure policy.