Predators top Penguins to tie Stanley Cup Final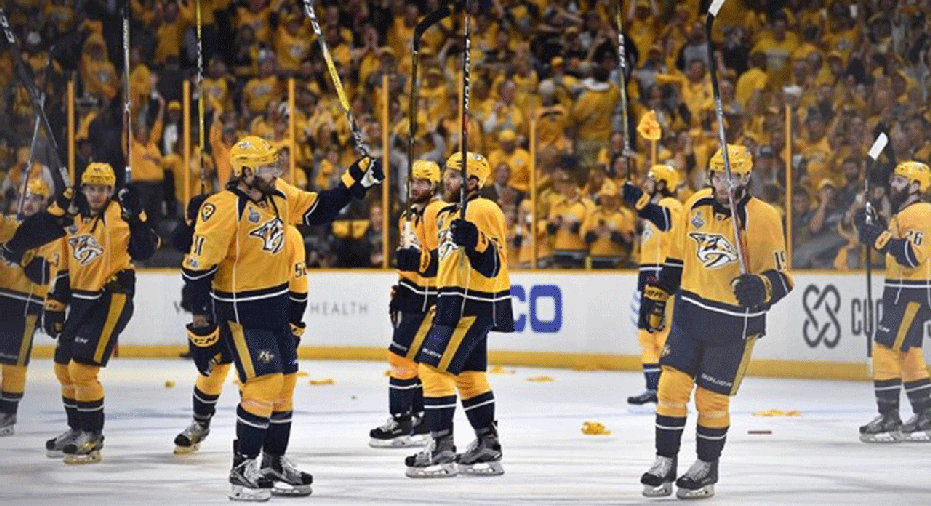 The Nashville Predators breathed new life into the Stanley Cup Final with a 4-1 victory over the defending champion Pittsburgh Penguins on Monday that squared the NHL's championship series at two games apiece.
Rookie Frederick Gaudreau and Swedes Calle Jarnkrok, Viktor Arvidsson and Filip Forsberg scored for Nashville while Finnish goalie Pekke Rinne made 23 saves for the hosts as they won a second consecutive game of the best-of-seven series.
Gaudreau scored what proved to be the game winner early in the second period but his wraparound goal was only awarded after a random horn sounded 35 seconds later to stop play and initiate a video review.
The goal, which came seconds after Rinne stoned Chris Kunitz on a breakaway, initially appeared to be stopped by a stellar save from Penguins goalie Matt Murray but replays showed the puck crossed the goal line by about an inch.
Arvidsson gave the Predators some breathing room with seven minutes left in the period when he streaked in on a breakaway and beat Murray on his glove side with a laser-like wrist shot.
From there, Rinne, who has picked up his play after allowing a combined eight goals in the first two games of the series, stymied the Penguins attack while Forsberg sealed the win with an empty-net goal in the game's closing minutes.
Nashville had opened the scoring with about five minutes left in the first period when Jarnkrok flipped a rebound over the leg of a sprawling Murray shortly after a failed clearing attempt.
Pittsburgh responded 66 seconds later when Sidney Crosby scored his first goal of the series, breaking in all alone and using a nifty deke to beat Rinne.
Game Five is on Thursday in Pittsburgh.
(Reporting by Frank Pingue, editing by Nick Mulvenney)