Powell says he favors loosening some bank regulations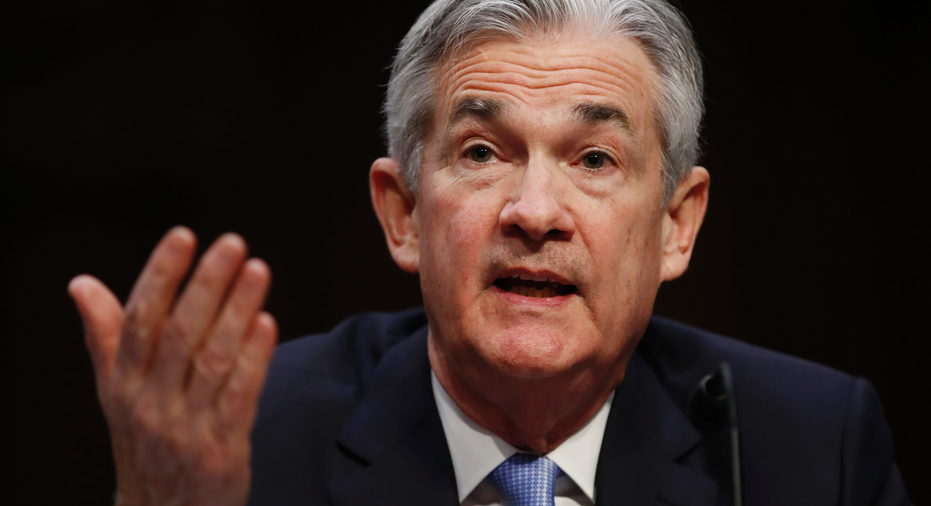 Jerome Powell, President Donald Trump's pick to be chairman of the Federal Reserve, told senators at his confirmation hearing Tuesday that he believes some bank regulations can be rolled back — something the administration and Wall Street favor. But he stressed that he will protect the central bank's political independence, calling it vital for the Fed's role.
Powell also strongly hinted in his appearance before the Senate Banking Committee that the Fed would hike rates again in December.
Powell said he believed that the Dodd-Frank Act, passed in the wake of the devastating 2008 financial crisis, had succeeded in making the financial system stronger, including ensuring that no major institution now is too big to fail.
But in some areas such as regulation of smaller banks, the law had imposed unnecessary burdens that should be eased, he said.
Powell's comments pleased many GOP senators, who have complained for years that Dodd-Frank was hurting the economic recovery by making it harder to get bank loans. Democratic senators, however, pressed Powell to say whether he would cut key consumer protections in the 2010 law, a measure that Trump often attacked on the campaign trail as a disaster.
Powell stressed that he was "strongly committed" to the political independence of the Federal Reserve. He said he has not had any conversation with anyone in the administration that concerned him.
During two hours of testimony, Powell sought to convey a sense of stability and praised his predecessors Janet Yellen and Ben Bernanke. He said that the Fed would continue on a gradual path of raising interest rates and shrinking the Fed's massive $4.5 trillion balance sheet, which grew five-fold in the wake of the Great Recession as the Fed bought government bonds to push long-term interest rates lower.
Powell said he expected the balance sheet to shrink to around $2.5 trillion to $3 trillion over the next three to four years under a program set in motion by Yellen.
On interest rates, Powell said, "I think the case for raising interest rates at our next meeting is coming together."
When pressed for specifics on a December rate hike, Powell deferred, citing Fed policy not to talk about possible outcomes before officials gathered and heard all views.
Trump tapped Powell on Nov. 2 to succeed Yellen, the first woman to head the nation's central bank and the first Fed leader in four decades not to be offered a second term as chair. Yellen's term ends on Feb. 3. She said last week she will leave the Fed once Powell is confirmed by the Senate.
Private economists said there were no surprises in Powell's testimony. He sought to bolster the reputation he built in his five years as a Fed board member as a centrist in pursuit of the Fed's dual goals of promoting maximum employment and stable prices.
"I have had the great privilege of serving under Chairman Bernanke and Chair Yellen and, like them, I will do everything in my power to achieve those goals while preserving the Federal Reserve's independent and nonpartisan status that is so vital to their pursuit," he said.
Michael Pearce, U.S. economist at Capital Economics, said Powell gave "away little new on either the economic or policy outlook."
There was little market reaction to Powell's testimony, although some big bank stocks did move up, as investors cheered his comments that some bank regulations could be loosened.
The Yellen Fed has raised rates four times starting in December 2015, including two rate hikes this year. Economists expect a third rate hike to occur next month, and they're projecting at least three additional rate increases in 2018.
On other topics:
__ Powell dodged a number of questions posed by Democrats about whether it would be a wise move for Congress to boost budget deficits by $1.5 trillion over the next decade by passing tax cuts being pushed by Republicans and the Trump administration. Powell said the Fed would assess the impact of any tax cuts on the economy once the final package had won congressional approval.
__ He predicted that the economy would grow by 2.5 percent this year and around that level next year, considerably better than last year's performance.
__ Powell said there was still slack in the labor market and that the Fed could allow unemployment, already at 4.1 percent — the lowest level in nearly 17 years — to fall below 4 percent.