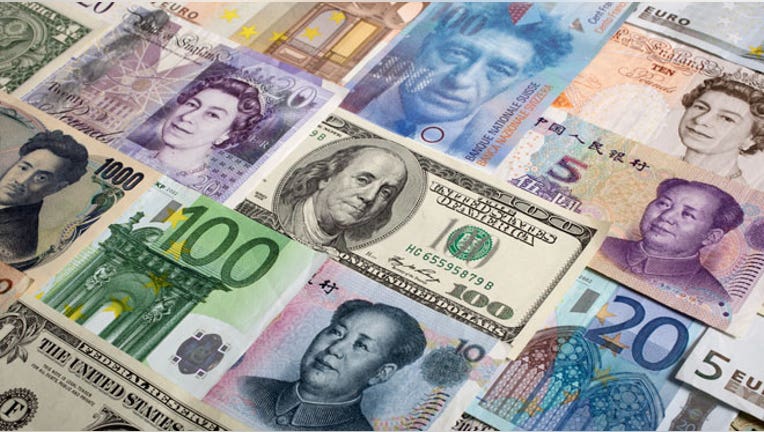 The pound fell to its weakest level since the mid-80s on Monday as anxieties about the U.K.'s historic vote to leave the European Union weighed on European currencies and stocks.
Sterling slumped to $1.3152 in recent trade, its weakest level since 1985, compared with $1.3684 late Friday in New York. The FTSE 100 slumped 3.2% to 6,138.
Meanwhile, the euro and a host of other European currencies -- including the Norwegian krone, Swedish krona, Hungarian forint and Polish zloty -- all recorded sharp declines as investors worried about possible economic contagion spreading through Europe.
"The strong places are the places that have very little to do with this," said Kit Juckes, chief currency strategist at Société Générale.
The shared currency traded at $1.0993, compared with $1.1118 late Friday.
British Chancellor of the Exchequer George Osborne issued a statement meant to reassure financial markets an hour before the British markets opened.
"The Treasury, the Bank of England, and the Financial Conduct Authority have spent the last few months putting in place robust contingency plans for the immediate financial aftermath in the event of this result," said Osborne.
The comments provided brief support for the pound, with the U.K. currency rising to a session high of $1.3450. But it soon moved lower.
Developing-market currencies in Europe were hit particularly hard, with the dollar gaining 0.9% to buy 4.04 Polish zloty , compared with 4.00 late Friday. The dollar rose 1% against the Hungarian forint , buying 288.89 forint, compared with 286.01 forint late Friday.
Asian currencies
The dollar rose to its highest level against the Chinese yuan in more than five years, buying 6.6511 yuan in recent trade, compared with 6.62 yuan late Friday, after the biggest one-day depreciation of the currency's daily fixing since last year's shock devaluation in August.
A global flight to safety pushed the Japanese yen, a popular haven during periods of market turmoil, to Yen101.46 against the dollar -- it's strongest level since late 2013. By comparison, it traded at Yen102.19 late Friday.
Meanwhile, the dollar rose to to 1,183 Korean won, its strongest level since early June, compared with 1,171.95 Friday.
The lack of clarity from the U.K. after the vote undermined market confidence, said Tim Kelleher, head of institutional foreign-exchange sales at ASB Bank in New Zealand, a unit of Commonwealth Bank of Australia.
"The market is still taking a negative view on everything," he said. "People have had time to think about it, and it's raised more questions than answers."
The U.K. is facing a vacuum at the top levels of its leadership, with the ruling Conservative Party debating who will succeed David Cameron as prime minister following his resignation Friday.
The opposition Labour Party faced its own leadership challenge after 12 members of leader Jeremy Corbyn's shadow cabinet resigned.