Politics Problematic for the Philippines ETF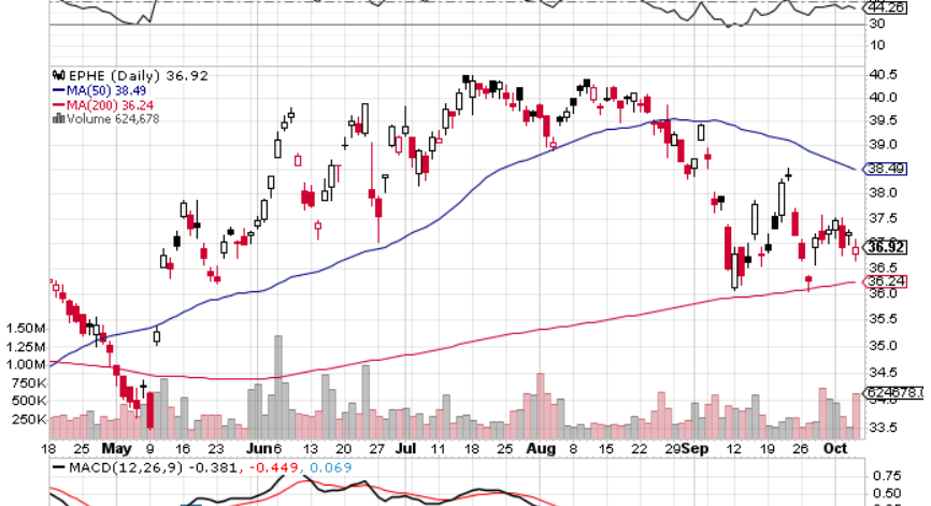 Year-to-date, iShares MSCI Philippines ETF (NYSEArca: EPHE), the lone ETF dedicated to the Philippines, is higher by about 10%. That is a solid showing though one that lags many emerging markets single-country ETFs, including the equivalent Indonesia and Thailand funds.
Not only that, but EPHE is well behind broader emerging markets benchmarks, such as the MSCI Emerging Markets Index. Newly elected President Rodrigo Duterte is a big reason why EPHE is lagging its counterparts and why some global investors are skittish about Philippine equities.
SEE MORE: Politics Pushes This ETF Higher
Earlier this year, Philippine presidential race weighed on investor sentiment as Rodrigo Duterte had been tight-lipped on what he would do to support the economy, fueling uncertainty over the economic outlook. In the weeks before the election, investors dumped Philippine equities, expressing uncertainty over Duterte's economic plans and lack of policy-making experience, reports Lillian Karunungan for Bloomberg.
"A poll, taken in late September showed 76% of Filipinos are satisfied with the president. The opinions were collected "after Duterte's infamous slur against President Barack Obama in early September and his criticism of human rights advocates, but before the more widely-criticized reference to Hitler and the Nazis earlier this month, writes Teneo Intelligence Analyst Bob Herrera-Lim. The poll showed 13% were undecided and 11% were dissatisfied," reports Dimitra DeFotis for Barron's.
Philippine stocks currently traded at a slightly higher multiple than their Thai counterparts and are about inline with Indonesia, two markets against which the Philippines is frequently compared.
Related: Philippines ETF Remains an Emerging Markets Star
"The controversies of late have centered on government's anti-drug crackdown and allegations of murder without trial. More recently, the closure of nickel plants on environmental concerns stirred global investors," according to Barron's.
Those controversies are taking a toll on EPHE. Over the past month, the ETF is down 2.3%, or nearly quadruple the loss of the MSCI Emerging Markets Index over the same period.
For more information on the ETF Emerging Markets market, visit our Emerging Markets category.
iShares MSCI Philippines ETF
The opinions and forecasts expressed herein are solely those of Tom Lydon, and may not actually come to pass. Information on this site should not be used or construed as an offer to sell, a solicitation of an offer to buy, or a recommendation for any product.
This article was provided by our partners at ETFTrends.