Polaris Industries Inc. Acquisition Could Soften Blow of Slow Off-Road Vehicle Sale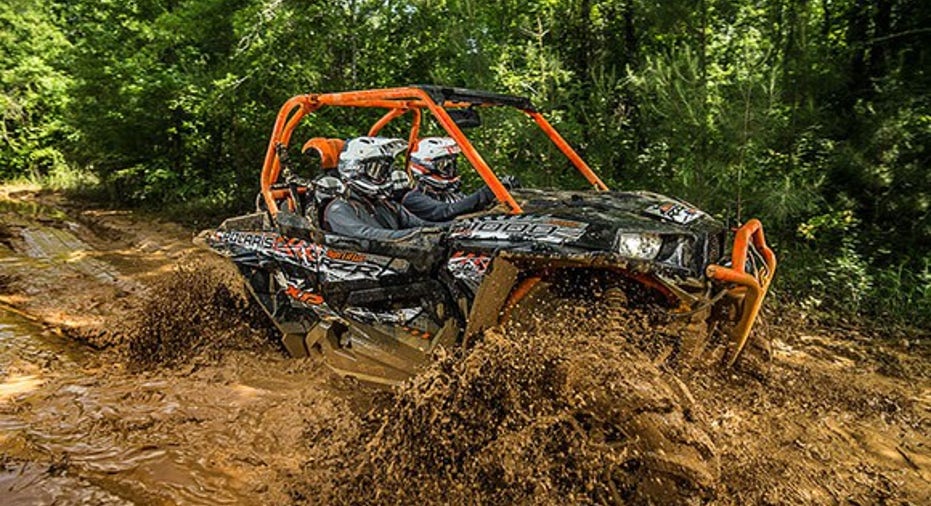 It's definitely not as sexy as one of Polaris Industries' recreational UTVs, but the powersports vehicle maker may end up relying upon the workmanlike consistency that burden-carriers like this Taylor-Dunn UTV provide. Image source: Taylor-Dunn.
ATVs and motorcycles are the flashy side of Polaris Industries , the attention-grabbing powersport vehicles that drive most of its sales and profits, but it also makes a full range of utility vehicles, a decidedly unpretentious segment where work and transportation vehicles perform dull, boring tasks. It could also make for a heckuva growth market.
Polaris recently acquired Taylor-Dunn, a leading but small manufacturer of vehicles used for warehousing, outdoor utilities, and goods and people hauling. It didn't disclose what it paid, and in terms of Polaris' own revenue,Taylor-Dunn's contribution seemingly won't move the needle all that much, but the powersports vehicle maker says it will be more than a utilitarian purchase.
In the company's first-quarter conference call with analysts last month, Polaris CEO Scott Wine said he has no delusions that Taylor-Dunn will replicate the double-digit growth Indian Motorcycle has accomplished since it resurrected the brand in 2013, but because UTVs are much less cyclical than ATVs or motorcycles, its performance will be that much more stable.
The UTV maker is going to be tucked into Polaris' global adjacent markets, a sort of catchall of work and transport vehicles that don't fit into the category of ATVs, snowmobiles, or motorcycles, and that account for 7% of the powersport vehicle maker's total revenues. Also housed there are GEM, Goupil, and Aixam, all targeting what Polaris estimates to be a $4 billion industry.
As Polaris generated some $312 million in total sales in the space last year,inclusive of military sales, it is clearly a relatively small player going up against the likes of Textron , which makes vehicles like E-Z-GO and Cushman, andIngersoll-Randand its ubiquitous Club Car.
Yet Polaris Industries has big hopes. It expects revenue in the global adjacent markets segment to be up in the high single digits in 2016 as a result of the Taylor-Dunn acquisition, compared to the 2% decline it experienced last year. And it just might help soften the blow to sales Polaris is going to be feeling from the massive recall of its RZR ATVs.
Although recreational UTVs have been the growth driver for Polaris and the industry, sales are softening, and the powersports vehicle maker just initiated a big recall that will hurt sales further. Image source: Polaris Industries.
Last month, Polarisinitiated a recall of some 160,000 vehicles because of fire and other "thermal hazards." It remains unclear what the financial impact will be, but in the first quarter, gross margins were hit by 180 basis points because of the increased warranty costs.
The company is ramping up production of repair kits and plans to have a sufficient number in dealers' hands to handle the recall load expected, but it was a bad time for it to happen since rival Arctic Cat has been putting pressure on RZR sales with its popular Wildcat Trail side-by-side. Polaris isn't likely to lose its preeminent position any time soon, and the recreational UTV market is slowing, but it is going to hurt, and Polaris is expecting sales to be either flat for the year as a result, or down by mid-single digits.
This is why the Taylor-Dunn acquisition may itself be timely. Polaris has long sought to expand beyond powersports, and it's slowly been turning itself into a global manufacturer of small-duty vehicles, as evidenced a year ago when it bought Hammerhead, an Asian specialty-vehicle manufacturer that gave it a larger international manufacturing footprint.
The company has acknowledged those intentions once more, saying of the Taylor-Dunn acquisition: "While Polaris is best known for our leadership in powersports, adjacent markets are an important aspect of our growth strategy, and industrial vehicles are a natural extension for us."
It is a good, strategic fit, and the UTV maker brings with it an established dealer network, a fairly large, installed based of customers, and significant brand recognition. According to Power Products Marketing, some 400,000 UTVs were sold in North America in 2015, and while about 45% could be classified as being recreational, like the RZR, Wildcat, or Can-Am's Maverick, that means 55% were of the more mundane commercial type, and ROV maker KYMCO puts the number higher, at 65%.
But with ROV industry sales slowing -- both Polaris and Arctic Cat reported lower salesin the first quarter -- and no similar weakness in work and transportation UTVs, adding Taylor-Dunn could at least be a bit of a salve to the burn caused by the recall. Its adjacent markets business might not be especially meaningful at the moment, but like the UTVs themselves, it could provide the utilitarian support Polaris Industries needs as its other flashier businesses get stuck in the slow lane.
The article Polaris Industries Inc. Acquisition Could Soften Blow of Slow Off-Road Vehicle Sale originally appeared on Fool.com.
Rich Duprey has no position in any stocks mentioned. The Motley Fool owns shares of and recommends Polaris Industries. Try any of our Foolish newsletter services free for 30 days. We Fools may not all hold the same opinions, but we all believe that considering a diverse range of insights makes us better investors. The Motley Fool has a disclosure policy.
Copyright 1995 - 2016 The Motley Fool, LLC. All rights reserved. The Motley Fool has a disclosure policy.