Please Don't Do This, Facebook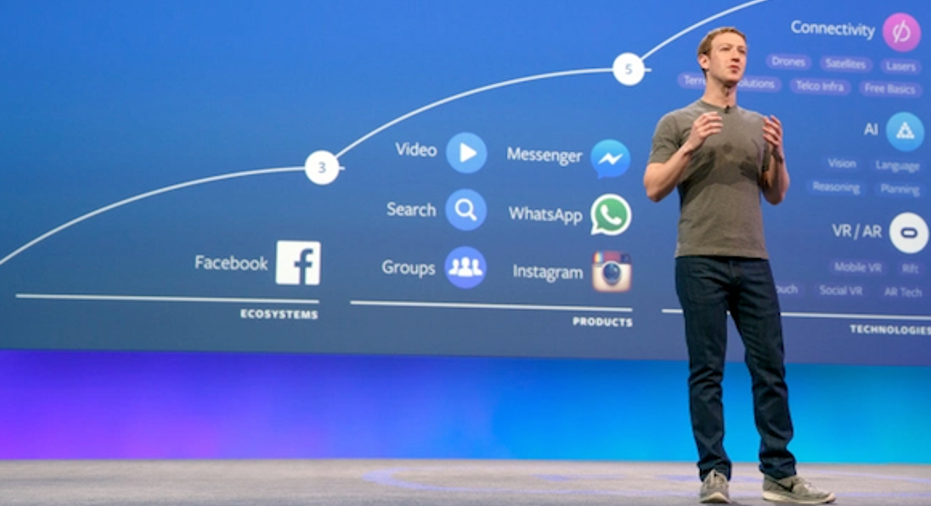 Mark Zuckerberg at Facebook's F8 developer conference. Image source: Facebook.
Facebook is about to pull a Google, and not in a good way.
Alphabet famously implemented a stock split way back in 2012 that was primarily intended to further consolidate voting power within its executive triumvirate, which was largely viewed by investors as a somewhat evil move. Issuing a new class of non-voting shares diluted the voting power of public shareholders, despite the fact that insiders already had a supervoting class and additional consolidation wasn't really necessary.
Well, Mark Zuckerberg is taking notes from his key advertising rival, and now wants to do likewise.
Third-class citizensAlongside a strong first-quarter earnings release that pushed Facebook shares to fresh all-time highs in extended trading, the company announced a new proposal to create a new class of non-voting capital stock. These new Class C shares would be distributed to existing shareholders as a one-time special stock dividend to all Class A and Class B shareholders.
Facebook is defending the proposal by saying it would help the company "remain focused on Mr. Zuckerberg's long-term vision."
As of the end of January, Facebook had 2.29 billion shares of Class A stock and 551 million shares of Class B stock outstanding. Publicly traded Class A shares receive one vote per share, while insider-owned Class B shares receive 10 votes per share.
| Question | Answer |
| --- | --- |
| Can you question Zuckerberg's authority? | Don't even try. |
Source: Author's calculations.
On the other hand, this move could be considered a hedge on Zuckerberg's part. The CEO has publicly pledged to give away 99% of his Facebook shares for philanthropic purposes over his lifetime. But supervoting Class B shares convert to Class A shares once they leave the hands of insiders. In this way, Zuckerberg can retain his majority control even as he slowly donates his shares over time.
The only silver liningIf we look back at how Alphabet's two publicly traded share classes have traded over the past few years, a minor consolation is that the shares have diverged in value. To an extent, you could say that a vote at Alphabet is worth an average of $15. But since Alphabet investors similarly have very little say in how the search-giant-turned-venture-capital-conglomerate is run, public investors might as well save the money and buy the non-voting shares.
Over time, I would expect to see a similar divergence with these new Facebook non-voting shares.
Resistance is futileTechnically speaking, this shareholder proposal will be put to a vote at the social network's upcoming annual shareholder meeting. Practically speaking, there's no way that this proposal doesn't pass. Class B shares have so much sway that insiders will easily pass the proposal and public shareholders can do absolutely nothing about it.
Zuckerberg himself already singlehandedly controls about 60% of Facebook's voting power alone. I've pleaded with Facebook not to do things before, but this time there really is no recourse. If more power is what Zuck Dawg wants, more power is what Zuck Dawg gets. Deal with it.
The article Please Don't Do This, Facebook originally appeared on Fool.com.
Suzanne Frey, an executive at Alphabet, is a member of The Motley Fool's board of directors. Evan Niu, CFA owns shares of Facebook. The Motley Fool owns shares of and recommends Alphabet (A shares), Alphabet (C shares), and Facebook. Try any of our Foolish newsletter services free for 30 days. We Fools may not all hold the same opinions, but we all believe that considering a diverse range of insights makes us better investors. The Motley Fool has a disclosure policy.
Copyright 1995 - 2016 The Motley Fool, LLC. All rights reserved. The Motley Fool has a disclosure policy.