Pizza Over Wings: BJ's Restaurants Inc. Sizzles as Buffalo Wild Wings Cools Down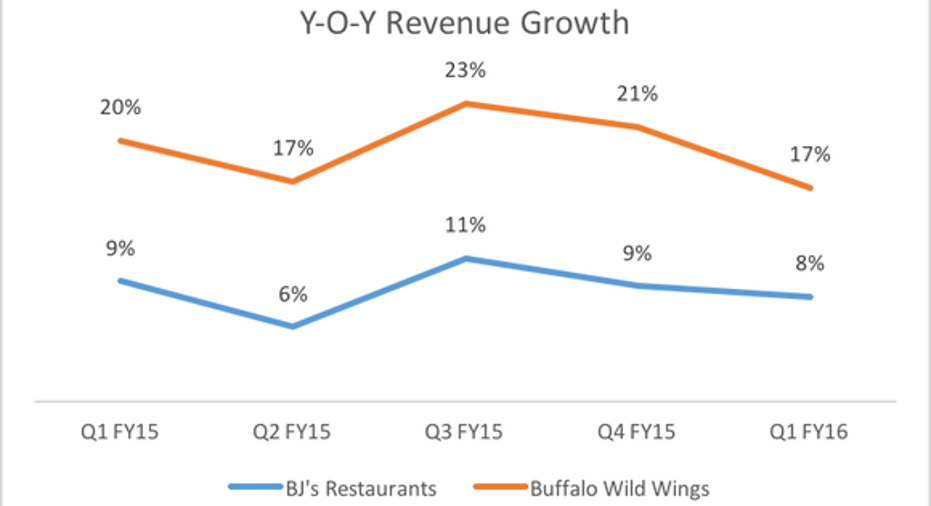 Image source: BJ's Restaurants
When BJ's Restaurants reported first quarter earnings, its stock climbed more than 9% the following day. Buffalo Wild Wings shares, on the other hand, declined nearly 11% after its own earnings call just a few days later. While investors shouldn't focus on just one quarterly report -- the stock performances between the two companies are vastly different over the past five years --there are still some takeaways from the latest results that indicate the script may have suddenly flipped for the two popular restaurants.
Data by YCharts
Comparable restaurant growthThe biggest eye-opener for Buffalo Wild Wings this past quarter was the sudden decline in same-store sales growth, which fell 1.7% year-over-year at company-owned restaurants -- the company's first year-over-year decline since the fourth quarter of 2010.
It should be noted that the negative comps this quarter went up against a very strong first quarter in 2015 when same-store sales grew 7%. However, the consistent downward trend is concerning.
Data source: Company filings
Buffalo Wild Wings is looking at a variety of ways to bring customers back through its doors. CEO Sally Smith had this to say during the earnings conference call:
Time will tell if Smith can execute on these efforts, but given the company's prior success, I wouldn't put it past her. A year after the company logged its negative comps back in 2010, Buffalo Wild Wings was able to grow sales an impressive 9%. That type of rapid turnaround will be tougher to come by now, as the revenue base is higher, but any return to positive comps should alleviate some investor concerns.
Efficiency trumps growthDespite negative same-store sales growth, Buffalo Wild Wings managed to increase company restaurant sales 17% and total revenue 15%. It opened 102 company-owned restaurants over the year. But even with these strong results, the trend at Buffalo Wild Wings is still downward.
Data source: Company filings
Growth wasn't too shabby at BJ's as its revenue increased 8% year-over-year. Although the pace was slower than at its counterpart, BJ's was able to convert more of its sales growth into bottom line profits. In the first quarter, BJ's grew operating income 25%.This performance marked the seventh consecutive quarter during which the company was able to grow operating income faster than revenue. Meanwhile, Buffalo Wild Wings grew operating income just 7%.
This increased productivity has been a focus of BJ's management team. During the earnings call, CFO Gregory Levin emphasized:
These initiatives proved successful over the past year, as revenue has grown faster than the three largest components of restaurant-level expense categories: food, labor, and occupancy costs.
Data source: Company filings
Buffalo Wild Wings, on the other hand, has struggled to maintain the same level of efficiency. Over the past five quarters, food, labor, and occupancy costs have consistently outpaced sales growth.
Data source: Company filings
Looking aheadAlthough BJ's Restaurants turned out stronger numbers for some of the key metrics discussed above, it may not be the better investment going forward.
Both BJ's and Buffalo Wild Wings are priced at about 22 times projected 2016 earnings. Meanwhile, analysts expect Buffalo Wild Wings to grow revenue more than 13% over the next two years and earnings to grow over 22% the next five years. For BJ's, analysts believe revenue and earnings will grow about 10% and 18%, respectively, over the same time horizon. If those projections hold true, investors today will be paying the same multiple for less growth with BJ's than with Buffalo Wild Wings.
Also, even though the stock rose 9% during its earnings release, the market hasn't given BJ's much credit for being an efficient operator. The stock is trading down about 6% over the past year. For the stock price to start logging bigger gains, the market will most likely look for higher same-store sales growth. The past five quarters have only brought comparable sales growth between 0.5% and 3.2%. Besides, the company can only manage costs for so long before it begins to compromise food quality and service.
At 1,190 restaurants as of the end of March, Buffalo Wild Wings has found pizza, wings, and beer to be a successful concept. With a goal of over 3,000 restaurants, it has a long growth trajectory ahead of it. The first quarter proved to be challenging one for the company, but if it can get back to positive comps growth, its recent decline could prove to be a great buying opportunity.
The article Pizza Over Wings: BJ's Restaurants Inc. Sizzles as Buffalo Wild Wings Cools Down originally appeared on Fool.com.
Palbir Nijjar has no position in any stocks mentioned. The Motley Fool owns shares of and recommends Buffalo Wild Wings. The Motley Fool recommends BJ's Restaurants. Try any of our Foolish newsletter services free for 30 days. We Fools may not all hold the same opinions, but we all believe that considering a diverse range of insights makes us better investors. The Motley Fool has a disclosure policy.
Copyright 1995 - 2016 The Motley Fool, LLC. All rights reserved. The Motley Fool has a disclosure policy.