Pioneer Natural Resources Betting Big on the Permian Basin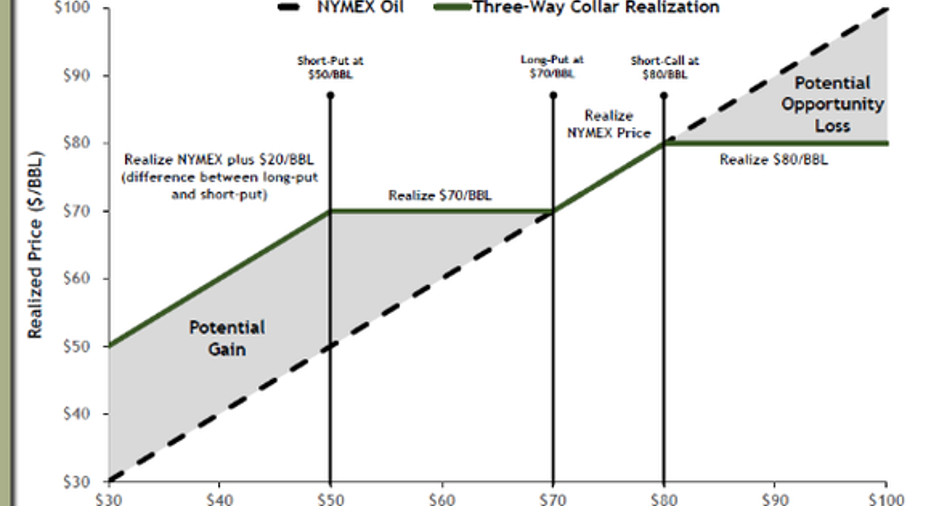 Image source: Pioneer Natural Resources.
Investing in the oil and gas industry over the past year has been like playing a game of craps: it could pay off big, but the bottom could fall out at any time. The issue is that oil prices remain so volatile; it is incredibly difficult to ascertain what can shock the market, or how a company might respond to remain afloat. Instead of trying to invest based on market conditions, though, we can identify companies that have taken steps to capitalize on rising oil prices, while protecting themselves against unexpected price drops. Take Pioneer Natural Resources , which has improved cost efficiencies and laid out a strategic plan for increased production in 2016. All in all, Pioneer is a strong target for investors looking to roll the dice on oil. Here's why.
Fifty-dollar oil
In its first-quarter report, Pioneer indicated that it expected to add five to 10 horizontal rigs when oil reached $50 per barrel. After several painful months that saw oil dip into the mid-$20 range, it has finally surpassed the $50 mark. But as oil moves higher, companies will feel incentivized to increase production, thereby flooding the market and potentially sending oil back into the forties or even lower. This should be a cause for caution, but Pioneer's leadership, at least publicly, appears to be bullish on the company's ability to effectively operate within current market conditions.
Chairman and CEO Scott D. Sheffield certainly hasn't minced words in this respect, stating: "We have the financial flexibility to prudently manage through the current commodity price downturn and quickly ramp up drilling activity when prices improve. We expect to add five to 10 horizontal rigs when the price of oil recovers to approximately $50 per barrel and when our outlook for oil supply/demand fundamentals is positive."
The rub here is that Pioneer still needs to feel confident that oil will remain at $50 or higher, and that's where we, as investors, need to feel confident about price stability. Unfortunately, with all the potential geopolitical and economic shocks to the market, it is nearly impossible to judge where oil will be in a year, let alone next month. Instead, we have to make an educated guess on how a company is positioned to perform regardless of oil price.
Image source: Pioneer Natural Resources investor presentation.
Primed for takeoff
Pioneer remains one of the biggest stakeholders in the Permian Basin, a major oil-producing region in West Texas. It is the largest acreage holder in the Spraberry/Wolfcamp area, with a combined 800,000 acres. The company expects its production in the region to grow by 33% in 2016, which is a major factor in its projections of 12% production growth this year.
Pioneer is putting all of its marbles in the Permian basket in 2016, mainly because of its substantial position, but also because of the company's relatively low operating costs in the region. Pioneer's drilling costs in its Permian plays have decreased 32% between 2014 and the first quarter of 2016, driven mainly by efficiency gains and low service costs. This has enabled it to drive production to 222,000 barrels of oil equivalent per day, or BOE/D, during the first quarter, almost entirely from the Permian Basin. To drive this point home, Pioneer's executive VP Joey Hall saidthe company is planning to allocate nearly 90% of its $2 billion budget in 2016 to operations in the Permian.
To bolster production potential, Pioneer recently agreed to purchase 28,000 acres in the Midland Basin within the Permian fromDevon Energy(NYSE:DVN). PXD plans to expand drilling in the area by 42% by the end of the year, bringing the rig count to 17. Along with the announcement, the company raised its 2016 budget from $2 billion to $2.1 billion and is planning to purchase adjacent areas to expand its horizontal wells.
On top of that, the company is sitting on $2.5 billion in cash and cash equivalents, expects $1.4 billion in annual operating cash flow for 2016, and will receive $500 million in July 2016 from the recent sale of its Eagle Ford Shale midstream business. Assuming oil prices remain above $40, the strong financial position these moves put Pioneer in should allow the company to increase production without increasing debt. This is key, as it makes paying off $940 million in senior note maturities in July 2016 and March 2017 possible as well.
Investor takeaway
Pioneer is by no means out of the woods: $3.65 billion in long-term debt will remain a burden as the company aims to bring more production online. The company's financials appear to be on sound footing, though, and its strong position in the Permian is a major asset on which to build. The price of oil will remain the single greatest factor affecting its future stock price, but Pioneer has a relatively solid balance sheet and a sound strategy to garner future investment.
The article Pioneer Natural Resources Betting Big on the Permian Basin originally appeared on Fool.com.
David Lettis has no position in any stocks mentioned. The Motley Fool has no position in any of the stocks mentioned. Try any of our Foolish newsletter services free for 30 days. We Fools may not all hold the same opinions, but we all believe that considering a diverse range of insights makes us better investors. The Motley Fool has a disclosure policy.
Copyright 1995 - 2016 The Motley Fool, LLC. All rights reserved. The Motley Fool has a disclosure policy.