Pickup Sales Soar at Ford and GM in December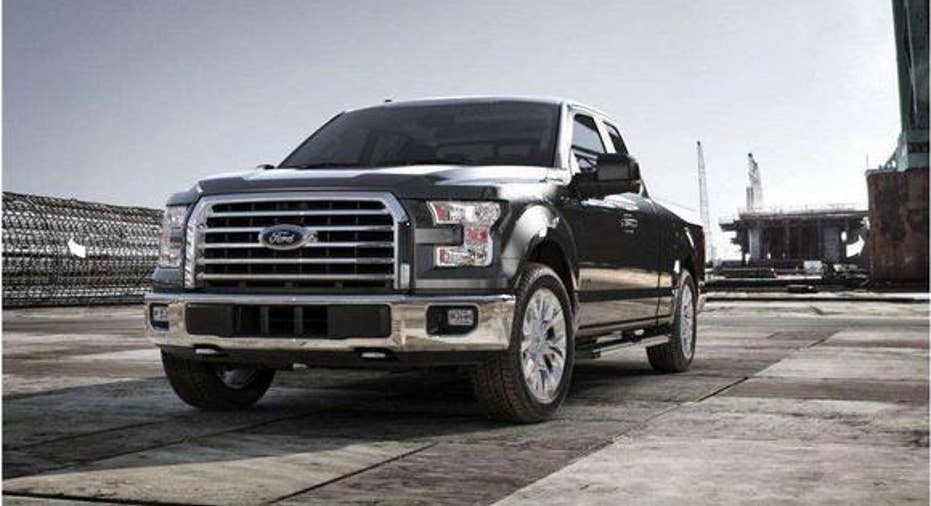 Ford and General Motors dominate the U.S. pickup market, which accounts for a substantial share of each automaker's earnings. Full-size truck sales plummeted during the Great Recession but have been on the rise ever since. In the past year or so, cheap gas prices have further boosted demand.
Of course, this is great news for Ford and GM. And not only are the two top Detroit automakers benefiting from strong demand for pickups -- they are also consolidating their joint dominance in the segment at the expense of would-be challengers.
Plenty of room for twoFor much of last year, General Motors gained share in the full-size pickup market from Ford, which was constrained by low inventory of the redesigned 2015 Ford F-150. In the first half of 2015, sales of Ford's F-Series trucks declined 2.4% year over year to 357,180.
The 2015 Ford F-150 was in short supply for much of last year. Image source: Ford Motor Company.
During the same period, combined sales of GM's Chevy Silverado and GMC Sierra full-size pickups jumped 12.8% to 376,672. By contrast, Fiat Chrysler didn't manage to capitalize on Ford's inventory issues. Ram truck sales rose a modest 4.3% in the first half of the year to 212,716 units, leaving Fiat Chrysler a distant third in the pickup market.
Ford's F-Series sales bounced back in the second half of the year as dealer inventories started to reach more normal levels. But with pickup demand surging, there was plenty of room for two in the market. Ford and GM both posted strong pickup sales numbers for the back half of 2015, with December being the strongest month of all.
A phenomenal monthDespite facing a tough comparison, Ford delivered double-digit growth in the pickup market last month. Total F-Series sales rose 14.6% year over year to 85,211. This marked the first time in a decade that Ford sold more than 85,000 F-Series trucks in a month.
As great as that performance was, GM posted even more impressive sales numbers. Combined sales of the Silverado and Sierra rose 11.3% year over year to 90,430 in December.
Additionally, sales of GM's midsize pickups (the Chevy Colorado and GMC Canyon), which had been reintroduced in late 2014, nearly doubled to 10,909 units. Thus, GM's total pickup sales crossed the 100,000 mark last month.
Strong Silverado sales helped GM move more than 100,000 pickups last month. Image source: General Motors.
GM and Ford's smaller rivals were unable to take advantage of the strong market conditions. Fiat Chrysler reported that Ram pickup sales declined 2.5% year over year to 43,135 units.
Meanwhile, No. 4 truck maker Toyota posted 6% year over year growth for its full-size Tundra and 20.4% growth for the mid-size Tacoma. Yet sales of the two models together totaled just 28,342 units in December. Fiat Chrysler and Toyota combined would still trail Ford and GM by a country mile in the pickup market.
Looking for more growth in 2016Full-size pickups generate an average profit per vehicle of around $10,000. Moreover, unlike large SUVs or most luxury cars, they are high-volume models. GM and Ford combined to sell more than 1.6 million in 2015, which translates to about $8 billion each in pre-tax profit. Would-be rivals appear to be as far as ever from snagging a greater share of this massive profit pool.
With gas prices continuing to crash lower, pickup demand is likely to continue rising in 2016. More consumers are starting to believe (rightly or wrongly) that gas prices will remain at a more moderate level for several years, making fuel-thirsty vehicles like pickups seem more affordable.
Recent sales trends show clearly that most Americans looking to buy a pickup want a Ford or Chevy/GMC truck. Perhaps the biggest question facing Ford and GM in the U.S. this year is whether they will be able to increase truck production enough to capture this demand. If they succeed, the resulting windfall should drive strong profit growth in 2016.
The article Pickup Sales Soar at Ford and GM in December originally appeared on Fool.com.
Adam Levine-Weinberg owns shares of General Motors. The Motley Fool recommends Ford and General Motors. Try any of our Foolish newsletter services free for 30 days. We Fools may not all hold the same opinions, but we all believe that considering a diverse range of insights makes us better investors. The Motley Fool has a disclosure policy.
Copyright 1995 - 2016 The Motley Fool, LLC. All rights reserved. The Motley Fool has a disclosure policy.