Photo Finish: Stocks Inch Lower in Light Trading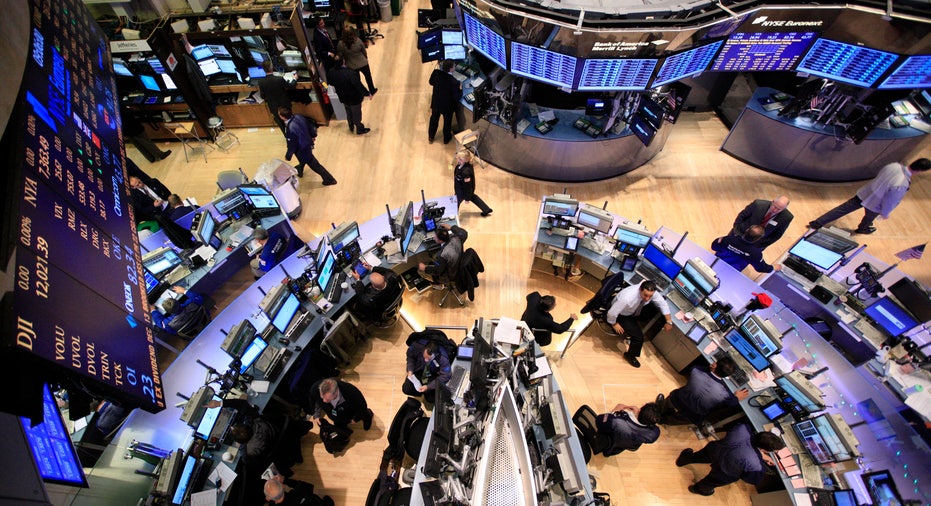 FOX Business: The Power to Prosper
Wall Street lost a sliver of ground on Monday, with telecommunications and consumer discretionary shares leading the way lower.
Today's Markets
The Dow Jones Industrial Average fell 3.6 points, or 0.03%, to 13272, the S&P 500 slipped 0.03 point, or 0.00%, to 1418 and the Nasdaq Composite slumped 0.38 point, or 0.01%, to 3076.
Trading was light on the day, with roughly 2.8 billion shares trading hands on the New York Stock Exchange, which is 20% below the average over the past three months.
The spotlight was on central banks on the day. German newspaper Der Spiegel reported over the weekend that the European Central Bank is planning on targeting sovereign bond spreads in a plan that could potentially put a cap on how much a country's borrowing cost could rise as compared to the German bund. Such a move could help countries like Spain and Italy that are facing painfully high borrowing costs.
However, Germany's Finance Ministry said Monday that it is unaware of any such plan.
"In purely theoretical, abstract terms, such an instrument would certainly be very problematic. But I know of no proposal along these lines," a spokesperson for the Ministry said, according to a report by Reuters.
In Asia, a publication run by the People's Bank of China said the central bank has no plans to cut banks' required reserve ratios (RRR). The RRR is a tool the bank sometimes uses for monetary policy -- lower rates would provide a boost to the banking system there and potentially work as a stimulus for the world's No. 2 economy.
Minutes from the Federal Reserve's last policy meeting are on tap for Wednesday. Fed watchers will be looking for signs that the central bank may take more action on the U.S. economy. Analysts will also be paying close attention to the Fed's economic symposium in Jackson Hole, Wyo.
There are no major economic releases slated for release on the day.
In corporate news, Aetna (NYSE:AET) revealed plans to buy rival Coventry Health Care (NYSE:CVH) for $5.7 billion in cash and stock. Best Buy (NYSE:BBY) tapped Hubert Joly, a former senior executive at Carlson, as its new chief executive.
Oil prices fell slightly after jumping 3.4% last week in the third-straight week of gains. The benchmark contract traded in New York dipped 4 cents, or 0.04%, to $95.97 a barrel. Wholesale New York Harbor gasoline gained 0.11% to $3.031 a gallon.
In metals, gold climbed $3.60, or 0.22%, to $1,623 a troy ounce.
Foreign Markets
The Euro Stoxx 50 fell 0.21% to 2466, the English FTSE 100 dipped 0.48% to 5824 and the German DAX slipped 0.1% to 7034.
In Asia, the Japanese Nikkei 225 gained 0.09% to 9171 and the Chinese Hang Seng fell 0.06% to 20104.