Philip Morris International Takes Another Hit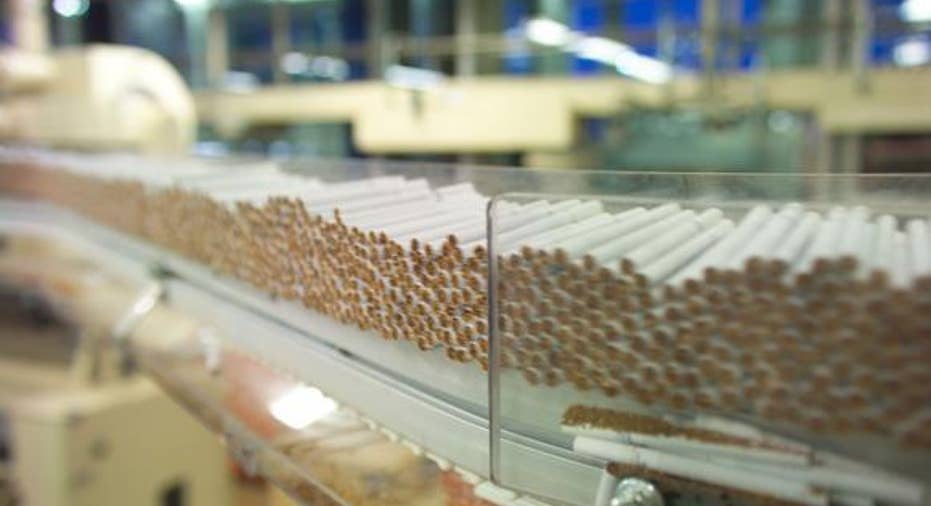 Image source: Philip Morris International.
The global tobacco market is huge, and Philip Morris International plays an important role in the industry, serving international customers from its U.S. headquarters. That exposure distinguishes Philip Morris from domestic peers like Reynolds American , because it leaves Philip Morris exposed to currency movements to a much greater extent than Reynolds American and other companies that focus all or most of their efforts on the U.S. market. Coming into Philip Morris International's first-quarter financial report Tuesday, investors expected the strong U.S. dollar to keep holding back the company's growth, but Philip Morris' results also showed some sluggishness that wasn't entirely dollar-related. Let's look more closely at how Philip Morris International did and what it says about the tobacco giant's future.
Philip Morris keeps seeing its growth go up in smoke Philip Morris International's first-quarter results continued a long string of currency-induced declines. Revenue was down 8% to $6.08 billion, which was almost double the decline that investors had expected to see from the tobacco company. Philip Morris' bottom line was equally disappointing, as net income fell 15% to $1.53 billion and worked out to earnings of $0.98 per share, which was $0.13 less than the consensus forecast among analysts.
Looking at the results more closely, currency impacts did play a role in the decline. Philip Morris said that the hit to revenue amounted to $691 million, reversing what would have been a 2.4% rise in sales. Yet the $0.18-per-share impact on earnings would still have left the company with a gain of just $0.01 per share compared to the year-ago quarter, suggesting other factors at play in holding back growth.
Other aspects of Philip Morris' report were mixed. Overall shipment volume fell 1.4% to 196 billion. All four geographical areas of Philip Morris' business operations showed declines in revenue and operating income, and the Asia market was the weakest, showing declines even on a currency-neutral basis on both the top and bottom lines. Latin America and Canada showed the best results excluding currency movements, while the Eastern Europe, Middle East, and Africa area suffered double-digit drops in sales and a 27% hit to operating income.
CEO Andre Calantzopoulos tried to put the less-than-stellar results into the proper context. "In line with our expectations," Calantzopoulos said, "our first-quarter financial results reflected a tough comparison with the exceptionally strong first quarter of last year." The CEO pointed out moderating declines in cigarette volume and strong pricing, which has been the business model success story for international tobacco in recent years.
What's ahead for Philip Morris International?That said, Philip Morris sees plenty to be excited about. Calantzopoulos in particular thinks that the growth of the Marlboro brand and the early success in the iQOS reduced-risk HeatStick product should foster further growth, especially in the second half of the year.
More important, Philip Morris was able to raise its guidance for the remainder of the year, counting on early growth trends pointing toward a recovery to continue into the future. The tobacco company still expects volumes to fall between 2% and 2.5%, but it boosted its earnings guidance by $0.15 per share to a range of $4.40 to $4.50 per share. The gain was entirely attributable to a reduction in the amount to which earnings will suffer from the strong dollar, and Philip Morris now believes that currency issues will cost the company only $0.45 per share in earnings.
One question Philip Morris faces is whether competition will heat up. In the U.S. market, Reynolds American's acquisition of Lorillard has given it a much stronger No. 2 position domestically, and successes in its Vuse line of e-vapor products and its Natural American Spirit ultra-premium cigarette brand have helped contribute to gains in revenue and solid earnings performance. Internationally, Philip Morris faces a host of different competitors in markets around the world, but making the most of its international distribution capabilities can give it an edge over more limited players with fewer economies of scale.
Investors in Philip Morris didn't respond well to the shortfalls in first-quarter results, with shares falling about 1.5% at midday following the announcement. Philip Morris will need to demonstrate its ability to capitalize on growth opportunities and watch the effect of currency impacts diminish in order to convince investors that the worst is over.
The article Philip Morris International Takes Another Hit originally appeared on Fool.com.
Dan Caplinger has no position in any stocks mentioned. The Motley Fool has no position in any of the stocks mentioned. Try any of our Foolish newsletter services free for 30 days. We Fools may not all hold the same opinions, but we all believe that considering a diverse range of insights makes us better investors. The Motley Fool has a disclosure policy.
Copyright 1995 - 2016 The Motley Fool, LLC. All rights reserved. The Motley Fool has a disclosure policy.