PepsiCo Inc. Reports a Tepid Start to 2016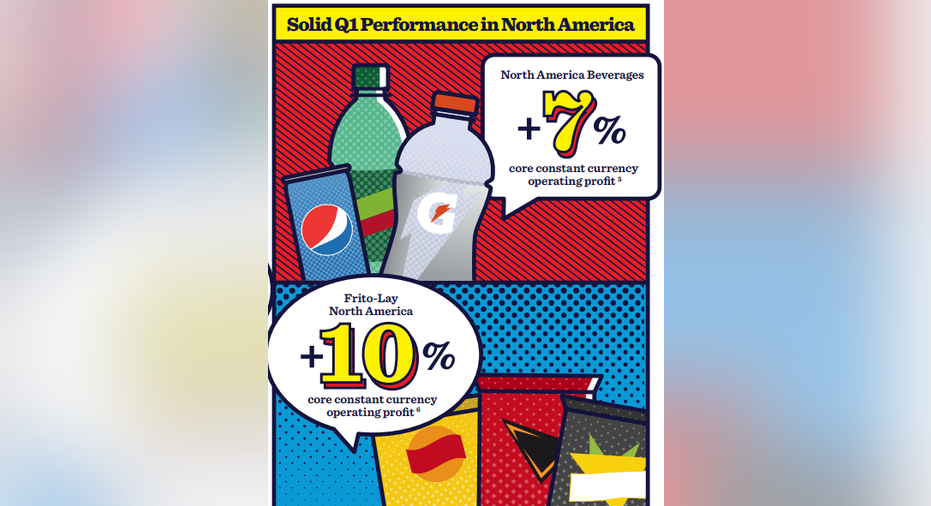 PepsiCo released credible, if not galvanizing, first-quarter 2016 results on Monday. The report didn't surprise investors, as management had previously projected that revenue would essentially be flat in 2016. Let's look at highlights of the filing, including management's comments, and peek ahead at what's in store for the remainder of 2016.
PepsiCo: The raw numbers
| Metric | Q1 2016 Actual | Q1 2015 Actual | Year-Over-Year Growth |
| --- | --- | --- | --- |
| Revenue | $11.9 billion | $12.2 billion | (2.5%) |
| Net Income | $931 million | $1.22 billion | (23.6%) |
| Diluted Earnings per Share | $0.64 | $0.81 | (20.9%) |
DATA SOURCE: PEPSICO 8-K FILING, April 18, 2016.
What happened with PepsiCo this quarter?
PepsiCo's revenue declined 3%. The company achieved organic revenue growth of 3.5%, just shy of its baseline 2016 goal of 4%. However, that was overwhelmed by a 4.5% drag due to foreign currency translations, and a 2% impact from the company's recent deconsolidation of its Venezuelan operations.
Gross margin increased 1.5 percentage points to 56.5%. Yet operating income margin declined by 1.1 percentage points to 13.1%. This was due to an impairment charge of $373 million, which the company took to reduce to fair value its 5% equity interest in Chinese beverage manufacturer and distributorTingyi-Asahi Beverages Holding Co. Ltd. (TAB).
PepsiCo's two largest segments, Frito-Lay North America (FLNA) and North American Beverages (NAB) continued their recent trends of reporting positive revenue and earnings growth. FLNA expanded its top line by 3% to $3.42 billion, and increased operating profit by 11% to $1.0 billion. NAB also improved its top line by 1.5% to $4.36 billion, and booked operating profit of $485 million, a 7% increase over the prior-year quarter.
FLNA and NAB have lately provided a hedge against the performance of other segments, not only because they jointly comprise two-thirds of PepsiCo's revenue, but because their sales are largely dollar-denominated. The continuing strength of the greenback against most foreign currencies is wreaking havoc in PepsiCo's smaller international segments. For example, its Latin America and Europe Sub-Saharan Africa segments booked revenue declines of 26% and 9%, respectively, in Q1, due in large part to currency effects.
Management continued to allocate more resources to advertising and marketing in order to compensate for a sluggish sales environment. PepsiCo's advertising and marketing expense increased by 65 basis points, which supported its 3.5% gain in organic revenue growth.
Interest expenses are rising due to an upswing in long-term debt over the last two years. In Q1, interest expense rose 17% to $246 million. Long-term debt has increased roughly 30% to $31.1 billion from the end of 2014 to date.
All five of PepsiCo's operating segments reported productivity gains during the quarter. PepsiCo has a current-year target of $1 billion in productivity savings as part of a broader multiyear plan to achieve $5 billion in cumulative productivity gains by 2019.
This piece of PepsiCo's quarterly earnings infographic emphasizes the contribution of the North American snack and beverages businesses to overall results in Q1 2016. SOURCE: PepsiCo,
What management had to sayPepsiCo's management has in recent quarters pointed to the sluggish global economy when discussing quarterly results. On Monday, CEO Indra Nooyi chose to highlight positive aspects of PepsiCo's business performance, including currency-neutral revenue growth and improvement in adjusted margins (i.e. margins which have been adjusted for items the company believes affect comparability with prior quarters):
Looking forward
PepsiCo reaffirmed its full-year guidance on Monday, which includes roughly flat revenue growth, and a 2% increase in adjusted earnings per share, to $4.66. As PepsiCo notes, if it hits this EPS target, the increase will be equivalent to 8% on a currency-neutral basis.
The company also reaffirmed a number of other targets, including its $1 billion productivity goal for 2016, total dividend issuance of $4 billion, and share repurchases of $3 billion. Crucially, the company still projects $10 billion in operating cash flow, and $7 billion in free cash flow, from which it will be funding its dividends and share buybacks.
As I discussed in my earnings preview, PepsiCo is attempting to reduce its reliance on carbonated soft drinks within its beverage business, as sales volumes of Pepsi, and especially Diet Pepsi, are experiencing a long downtrend. Expanding the company's portfolio of "still" beverages, including bottled waters, juices, energy drinks, teas, and coffees, will necessarily take time. Productivity improvements should free up additional cash flow over the next few years for the purchase of smaller, non-carbonated brands, and increased marketing for the still portfolio. But so far in 2016, PepsiCo's business results reflect the hard work it has done to balance out its revenue mix, and at least for the next two to three quarters, management is indicating that the company's growth prospects will remain tepid.
The article PepsiCo Inc. Reports a Tepid Start to 2016 originally appeared on Fool.com.
Asit Sharma has no position in any stocks mentioned. The Motley Fool owns shares of and recommends PepsiCo. Try any of our Foolish newsletter services free for 30 days. We Fools may not all hold the same opinions, but we all believe that considering a diverse range of insights makes us better investors. The Motley Fool has a disclosure policy.
Copyright 1995 - 2016 The Motley Fool, LLC. All rights reserved. The Motley Fool has a disclosure policy.