People That Use Apple Pay Really Like It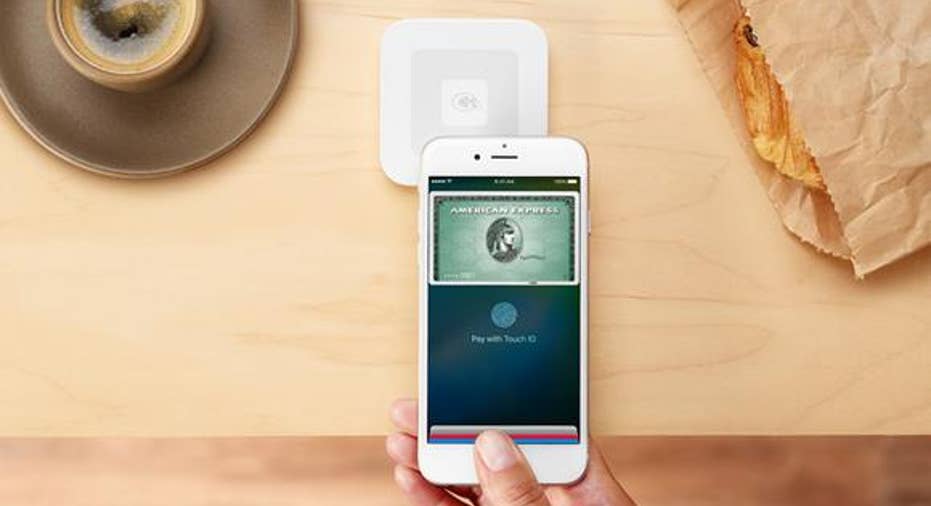 Image source: Apple.
In the nearly 14 months since it was introduced, Apple's mobile payment solution hasn't exactly caused a massive shift in how we buy things. Just 1% of all retail transactions in the U.S. are conducted using Apple Pay, according to research firm Aite Group, and those 1% of transactions are likely performed by the same small group of iPhone owners.
A recent survey from Phoenix Marketing International found that 79% of Apple Pay users have completely replaced their use of credit and debit cards. That's up from around 50% during the first half of the year. Phoenix says that 14% of all credit cardholders have linked a payment card to Apple Pay.As payment terminal technology catches up and more people upgrade their phones to those supporting Apple Pay, Apple stands to benefit from significant growth in mobile payments.
Payments isn't the business, it's a featureApple Pay isn't a business in itself. Although Apple is collecting a small fee for each transaction, it's positioning it as more of a feature for iPhone owners and a tool to sell them. We've seen rival Samsung follow suit with its advertisements featuring Samsung Pay.
The benefit is that Apple doesn't need to worry about attracting the largest user base possible; it doesn't need to focus on making it compatible with everything. Instead, it can focus on making it a product users prefer over other payment options whenever it's available. The early results indicate that it's succeeding, with almost 80% of users in the Phoenix survey preferring it over credit and debit cards. Those users aren't going to switch to another brand of phone any time soon, and that's where Apple really makes its money.
Last year, the iPhone accounted for about two-thirds of Apple's total revenue. That's a testament to Apple's ability to continue adding features to attract new buyers and its brand loyalty. Features like Apple Pay make the iPhone even stickier.
Why Apple Pay will growDuring Apple's fourth-quarter earnings call, Tim Cook told investors that 70% of iPhone users don't have an iPhone that supports Apple Pay. Simply upgrading everyone to newer iPhones could easily double Apple Pay usage (not triple because Apple Pay appeals to early adopters and is only available in more affluent markets).
Meanwhile, Apple Pay adoption among those that have an iPhone capable of using Apple Pay is low. Surveys put the number between 20.7% and 42%. This could be the result of Apple's short-lived promotion for Apple Pay or a lack of infrastructure in place. Some retailers refuse to take Apple Pay despite having the proper infrastructure while others have been slow to adopt new payment terminals that support the system. These barriers will come down as demand picks up.
And demand is expected to pick up. eMarketer forecasts that proximity mobile payments in the United States will more than triple next year. By 2019, the market researcher expects total transaction volume to reach $210 billion in the U.S., a whopping 24 times increase from 2015. During that same period, it expects total users to triple to nearly 70 million.
While Apple won't win all of that business -- Samsung Pay is certainly a worthy contender -- the increased demand for support of mobile payments will improve the functionality of Apple Pay and other mobile payment options.
That should help adoption of Apple Pay and help make iPhone loyalty even stronger. On the flip side, it will also strengthen loyalty to other phone manufacturers, so the next couple of years could be crucial to Apple's future iPhone sales. With a huge percentage of sales in markets where Apple Pay is available (U.S., Canada, U.K., Australia), Apple is sitting pretty.
The article People That Use Apple Pay Really Like It originally appeared on Fool.com.
Adam Levy owns shares of Apple. The Motley Fool owns shares of and recommends Apple. Try any of our Foolish newsletter services free for 30 days. We Fools may not all hold the same opinions, but we all believe that considering a diverse range of insights makes us better investors. The Motley Fool has a disclosure policy.
Copyright 1995 - 2015 The Motley Fool, LLC. All rights reserved. The Motley Fool has a disclosure policy.