Pennsylvania cities try to lure Amazon, touting bikes, food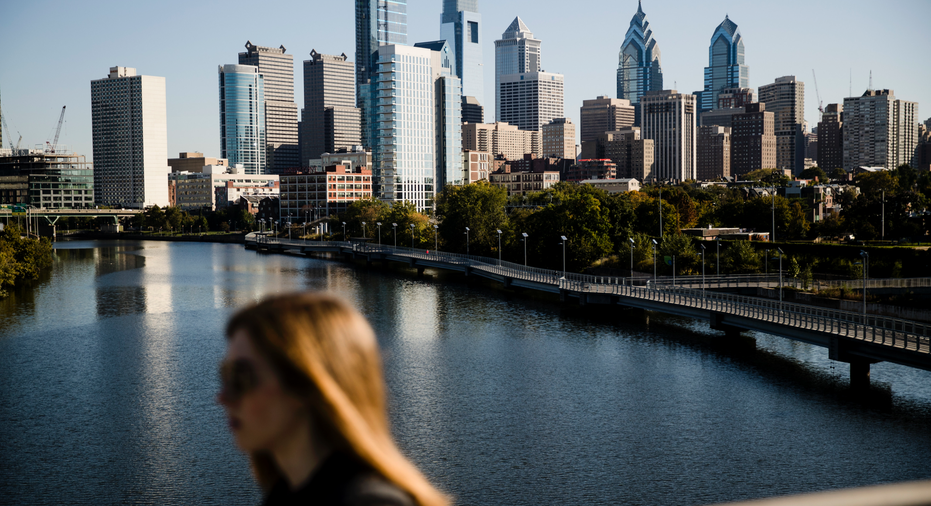 Philadelphia is highlighting its bike lanes and LGBT-friendly ratings, while Pittsburgh is touting its manageable cost of living and signature sandwich freebies.
Communities around Pennsylvania are hoping to become the site of Amazon's much-vaunted second headquarters, with the e-commerce giant's promises of $5 billion in investment and 50,000 jobs over the next decade and a half.
Smaller Pennsylvania cities are making a bid for HQ2 , too, even though they don't meet some of Amazon's criteria for population and access to mass transit.
Harrisburg and Allentown both are telling Amazon not to count them out.
The deadline for submissions is Thursday.
Here's a look at how some Pennsylvania cities and communities are making the pitch:
PHILADELPHIA
The home of cheesesteaks and Rocky Balboa isn't highlighting either in its pitch to Amazon. In addition to the standard tax and financial incentives , Philadelphia is selling its quality-of-life attributes, said Lauren Cox, the spokeswoman for Philadelphia's commerce department.
Walkability and bike-ability are key features: the city has over 400 miles of bike lanes, an ever-expanding bike share program, and it offers the second-shortest commute times of any city on the east coast, she said.
The cheesesteak might be not be front and center, but food is still a part of the pitch. The city has over 400 sidewalk cafes and more 2017 James Beard Award winners than any other U.S. city. Art is being touted, too. Philadelphia has more public art than any city in the country, and is home to 4,000 murals, she said. It also is home to the nation's first zoo.
Cox said all of the amenities come at a much lower cost than other cities: Philadelphia's cost of living comes in 48 percent lower than Manhattan; 21 percent lower than Washington, D.C.; 20 percent lower than Boston; and 18 percent lower than Seattle.
"Amazon employees are sure to enjoy calling Philadelphia home," she said.
___
PITTSBURGH
Pittsburgh is showcasing its manageable cost of living and its place as a research and industry hub. Local sandwich maker Primanti Bros. is trying to lure Amazon with its sandwiches stuffed with french fries and coleslaw, free to all Amazon workers in the city.
Mayor William Peduto says Pittsburgh is an extraordinary place to make a living and make a life.
He notes the city already has lured innovative companies like Google, which has an outpost in Pittsburgh, and Uber, which has been testing its self-driving cars there.
"We don't have to change who we are or what we do to attract Amazon, or anyone," he said in a statement. "We're proud to highlight our best assets as a region, we're a good partner to do business with and we're ready to go to work to build this together."
Primanti's signature sandwiches involve freshly sliced meats and cheese with french fries and coleslaw piled on top. The sandwich maker hopes the offer of a free sandwich for each Amazon worker is something the retailer can sink its teeth into.
"Why not sweeten the pot with something delicious and Pittsburgh-related?" said Amy Smith, a spokeswoman for the local restaurant chain told the Post-Gazette newspaper Tuesday.
___
HARRISBURG, SCRANTON, ALLENTOWN: DON'T COUNT US OUT
Smaller Pennsylvania cities are making a bid for HQ2, too, even though they lack some of what Amazon says it wants — including a population of at least 1 million and easy access to mass transit.
In the Harrisburg area, economic development officials are pitching the grounds of a shuttered state hospital in Susquehanna Township.
Frank Lynch, a board member of the Dauphin County Redevelopment Authority, readily acknowledges Harrisburg's long-shot status. But he views the application process itself as useful, saying it'll help the region perfect its appeal to other businesses looking to relocate. Besides: Why not? The Harrisburg area is affordable, it offers a high quality of life and business-friendly climate, and it's relatively close to major cities like New York, Philadelphia and Washington, Lynch says.
"It's something worth trying. If you don't try, you never know," he said.
The Lehigh Valley — a region 60 miles north of Philadelphia that includes the cities of Allentown, Bethlehem and Easton — is another dark horse. Officials cite a healthy and growing economy, plenty of available land and proximity to major markets. Amazon already operates two large warehouses there.
Northeast Pennsylvania will submit a joint application with five counties: Lackawanna, Luzerne, Wayne, Monroe and Schuykill.
"One city is going to win this. Who knows what Amazon might decide?" said John Augustine, president of a cooperative that aims to attract large firms to the region. "You don't know, and if you don't try, you have no chance."
___
PUSHING PENNSYLVANIA
Gov. Tom Wolf says he's built bipartisan support to bring Amazon to the state, and he's supporting all communities' efforts to land the headquarters. The state has even set up a website touting all the attributes that make Pennsylvania the perfect spot including location, workforce, business climate, infrastructure and education.
"We believe we have the strongest proposal and are extremely well-positioned to win this project," Wolf said in a statement.