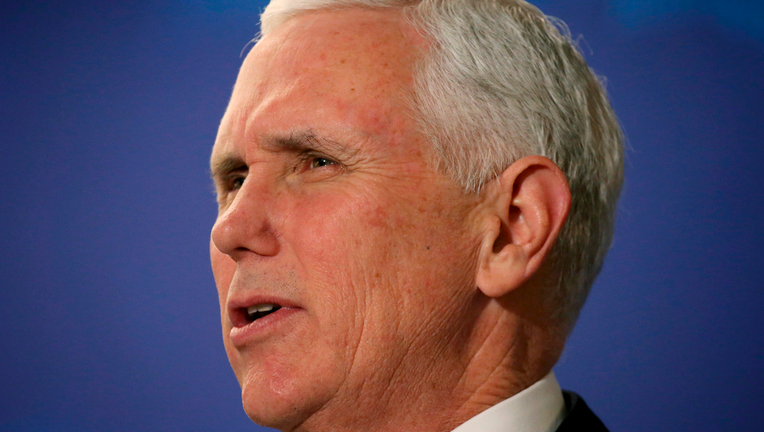 Vice President Mike Pence plans to meet with four Latin American leaders during his weekend trip to Peru for an international summit where he is filling in for President Donald Trump.
At the Summit of the Americas, Pence will meet Saturday with Chilean President Sebastian Pinera, Colombian President Juan Manuel Santos, Peruvian President Martin Vizcarra and President Mauricio Macri of Argentina. The White House said Thursday that the vice president is also expected to hold a multi-lateral meeting with several Caribbean leaders.
The White House said Pence will also meet Saturday with Canadian Prime Minister Justin Trudeau, conferring with America's northern neighbor as the U.S., Canada and Mexico have been discussing the terms of the North American Free Trade Agreement.
Pence is expected to use the summit to push for regional partners to continue to isolate Venezuela while pointing to the United States as a trade partner of choice in relation to China and to promote democratic institutions.
Trump pulled out of the summit to oversee the U.S. response to an apparent chemical weapons attack on civilians in Syria and asked Pence to attend in his place. White House aides said Pence's presence will reassure allies of the administration's commitment to the region.
It will be Pence's second trip to the region — he traveled to Argentina, Chile, Colombia and Panama last August.
With the White House's support, Venezuelan President Nicolas Maduro has been barred from the summit over his plans to hold a presidential election that the opposition is boycotting and many foreign governments consider a sham. The U.S. has sanctioned Maduro and dozens of top officials, accusing the country of human rights abuses and sliding into a dictatorship.
The vice president is also expected to try to counter Chinese attempts to increase its economic influence in the Americas. Pence's visit to the region will come as the Trump administration is embroiled in an escalating trade fight with China, seeking a renegotiated version of NAFTA and floating the possibility the U.S. could eventually rejoin the Trans-Pacific Partnership.
Pence will also arrive as Trump has been pushing a tougher line on immigration and seeking stronger protections along the U.S.-Mexican border. White House aides said Pence does not have any meetings planned with the Mexican delegation.
Trump had planned to attend the summit and also travel to Bogota, Colombia, but backed out after the attack in Syria. Pence will not be traveling on to Colombia and is expected to return from the summit early Sunday.
__
On Twitter follow Ken Thomas at https://twitter.com/KThomasDC