PayPal's One Touch Is Driving Mobile Growth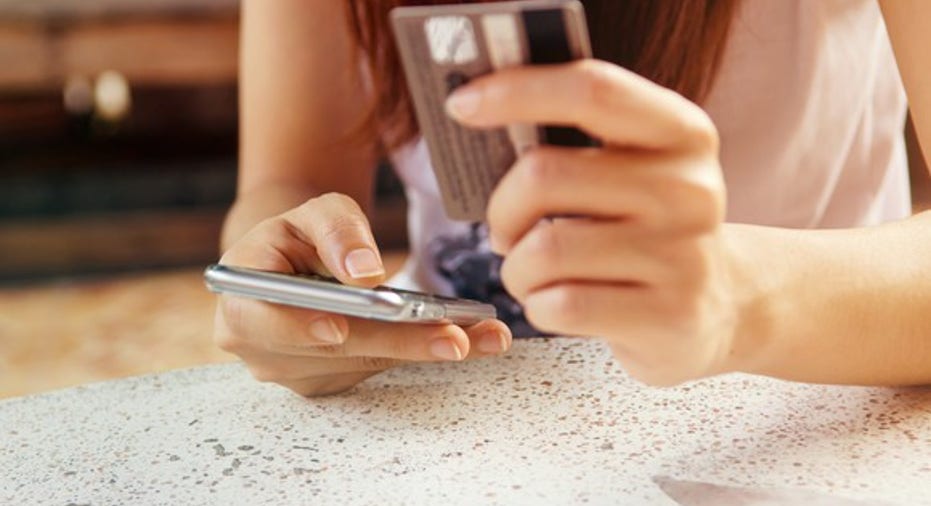 Just as holiday sales were starting to ramp up, PayPal Holdings Inc (NASDAQ: PYPL) issued a press release on Cyber Monday revealing trends in holiday spending the company was seeing. Among other information, the release stated, "We've seen double digit growth in mobile payment volume for Thanksgiving, Black Friday and during the first eight hours of Cyber Monday." An increase in shopping from mobile devices was a theme again when PayPal recently reported earnings..
Image source: Getty Images.
While shares fell the day after PayPa Kl reported earnings, long-term investors know to concentrate on business fundamentals. And, when viewed in that light, PayPal's numbers showed strong growth. The company's fourth-quarter revenue grew to $2.98 billion, up 17% year over year, and non-GAAP EPS increased to $0.42, also up 17% year over year.
Two other important metrics, the number of active accounts and transactions per active account, also showed healthy growth. The number of active accounts grew by 18 million over 2015's fourth quarter to a total of 197 million and active accounts averaged 31.1 transactions during the quarter, a 13% year-over-year increase.
Mobile is fueling growth
Throughout the quarterly conference call, PayPal's management kept coming back to mobile as the driver of PayPal's growth. Indeed, CEO Dan Schulman began his prepared remarks talking about how mobile was transforming the payments industry:
Image source: PayPal Holdings Inc
During the question-and-answer session, Schulman said that he expected "mobile to continue to fuel our growth." He said that over half of online sales were currently being driven by mobile and he expected that number to only increase going forward.
Why is PayPal's management team so confident that the growing mobile trend plays right into their hands? Simple. PayPal has a weapon in its arsenal that, thus far, no payments industry competitor has been able to match: One Touch, which lets users stay logged in, which makes buying things on various sites easier.
One Touch's clear lead
Schulman was enthusiastic about the company's One Touch platform in the conference call:
Conversion refers to getting someone to follow through on a purchase rather than clicking away when, say, a username and password needs to be entered. One Touch solves this problem by allowing consumers to complete transactions easier and quicker. Once a PayPal account holder logs into their account on any given device, opting into One Touch allows them to stay logged onto PayPal for all future purchases on that same device. This saves the consumer the inconvenience of having to retrieve their login information for each and every purchase. This becomes especially important when trying to enter all this information onto the small screens of mobile devices.
Retailers love the product because it largely solves the problem of cart abandonment. Cart abandonment can be described as online shoppers placing items in a website's shopping cart but then "abandoning" the cart before completing the purchase. Schulman referenced a comScore study released in 2016 that showed PayPal's One Touch converts 87.5% of online sales, far better than the industry average of 45%.
COO Bill Ready noted that what makes it even better from a merchant's perspective is that implementing One Touch requires no work on the retailer's part. He said that while "others in the industry are out there trying to convince merchants to integrate" different checkout experiences and features, PayPal basically just shows up and starts "solving problems for them without them having to do work."
One Touch is now available in over 200 markets. In PayPal's fourth-quarter conference call, Schulman said 40 million consumers and more than 5 million merchants were using the product. E-commerce is PayPal's bread and butter. With the rapid adoption and use of One Touch, PayPal could well continue to dominate this arena for years to come.
Find out why PayPal Holdings is one of the 10 best stocks to buy now
Motley Fool co-founders Tom and David Gardner have spent more than a decade beating the market. (In fact, the newsletter they run, Motley Fool Stock Advisor, has tripled the market!*)
Tom and David just revealed their ten top stock picks for investors to buy right now. PayPal Holdings is on the list -- but there are nine others you may be overlooking.
Click here to get access to the full list!
*Stock Advisor returns as of January 4, 2017
Matthew Cochrane owns shares of PayPal Holdings. The Motley Fool owns shares of and recommends PayPal Holdings. The Motley Fool has a disclosure policy.