PayPal Stock Downgraded: Here Are 3 Reasons Not to Panic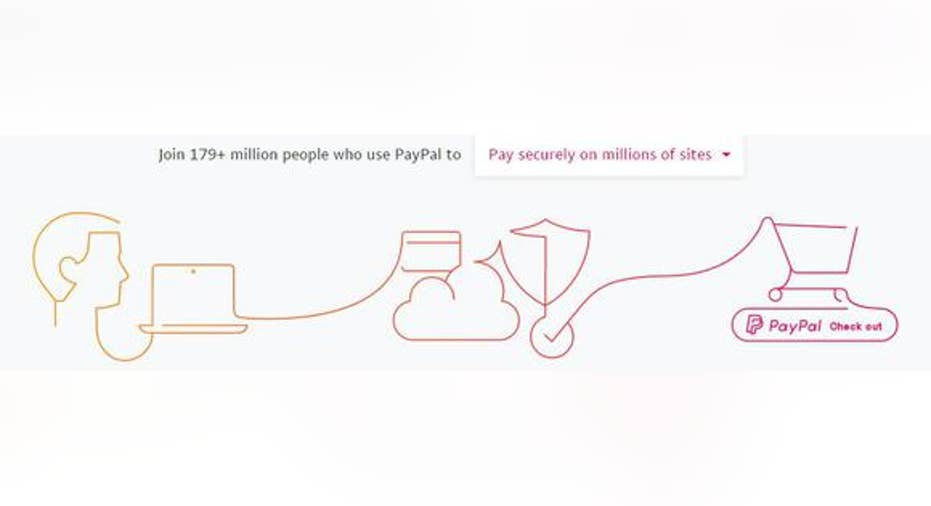 It's Friday, and the stock market is again looking rather red. And to add insult to injury, investors in PayPal Holdings have this to contend with:
Their stock just got downgraded.
The newsEarly Friday morning, analysts at brokerage Compass Point announced they're pulling their buy rating on PayPal stock, and downgrading the shares to neutral." The target price, however, isn't changing much. Compass Point previously valued PayPal stock at $41 per share; today they're dropping that price target by just a buck, to $40.
Meanwhile, PayPal stock still costs less than $39 today -- so despite the downgrade, it's apparent that Compass Point does still see at least some value in the stock. So why is Compass Point downgrading?
Let's find out.
PayPal's user base is already bigger than the adult populationof the entire United States. Image source: PayPal.
Thing No. 1: This is a downgrade -- but not a "bad" downgradeWhile it's true that Compass Point is downgrading PayPal stock today, the analyst is not exactly negative on the stock. Characterizing Compass Point's new opinion on the stock as "balanced," StreetInsider.com notes that the downgrade was primarily prompted by strong price growth in PayPal shares, which are up "+30% from their recent lows."
And that's not all. Perhaps in an attempt to assuage the sting of the downgrade and lowered price point, Compass Point heaps praise upon PayPal, calling the company "a clear [financial tech] disruptor," boasting "much runway for growth and share gains over the next 3-5 years," and supported by "strong secular tailwinds" as consumers look for alternatives to traditional banking and bill payment.
Thing No. 2: For a money company, PayPal isn't very good with moneySo why downgrade at all? Well, after running through the points in PayPal's favor, Compass Point does allow for a few reservations about PayPal management. In particular, the analyst wasn't enthused by PayPal's decision to spend $890 millionto buy international money transfer company XOOM last year.
Compass Point characterizes this as a worry over "capital allocation discipline." But in plain English, they mean that they're worried PayPal will continue to overpay for new subsidiaries given "the company's continued focus on acquisitions in a seller's market."
Thing No. 3: Forget about a buyout And speaking of acquisitions, Compass Point throws cold water on the theory that PayPal itself might be acquired so soon after splitting off from eBay. Compass Point discounts the possibility that such an acquisition will provide a catalyst to grow PayPal's stock price.
Why? Quoting directly, the analyst says "anacquisition of PYPL is unlikely near-term given that such a deal would be quite large (likely $55bn+) and few buyers could pay that price." (Granted, PayPal currently has an enterprise value of "only" $44 billion. But Compass Point is assuming any acquirer would be asked to pay a premium for PayPal stock -- and probably something on the order of the size premium PayPal itself had to pay to acquire XOOM).
The most important thingPut it all together, and Compass Point is forced to conclude that much as it likes the stock,you should probably forget about buying PayPal stock, too -- at least at its current share price -- and I agree.
Priced just south of 39 times earnings today, PayPal is pegged by most analysts surveyed on S&P Global Market Intelligence for no more than 15% long-term annualized earnings growth. (Put away your calculators. It works out to a PEG ratio of 2.6 -- which is pretty pricey.)
Even acknowledging that PayPal is a better cash generator than meets the eye, and that it produced $1.8 billion in free cash flow last year, versus only $1.2 billion in GAAP earnings, the stock's enterprise value-to-free-cash-flow ratio sits north of 24 today. While that's not an unheard-of valuation in the red-hot financial tech sector, it's not exactly a bargain price.
Long story short: Compass Point is right to be cautious. PayPal's a great company at the right price, no doubt. But today's price just isn't quite right.
The article PayPal Stock Downgraded: Here Are 3 Reasons Not to Panic originally appeared on Fool.com.
Fool contributorRich Smithdoes not own shares of, nor is he short, any company named above. You can find him onMotley Fool CAPS, publicly pontificating under the handleTMFDitty, where he's currently ranked No. 283 out of more than 75,000 rated members.The Motley Fool owns shares of and recommends eBay and PayPal Holdings. Try any of our Foolish newsletter services free for 30 days. We Fools may not all hold the same opinions, but we all believe that considering a diverse range of insights makes us better investors. The Motley Fool has a disclosure policy.
Copyright 1995 - 2016 The Motley Fool, LLC. All rights reserved. The Motley Fool has a disclosure policy.