Paying the Mortgage by Passing the Buck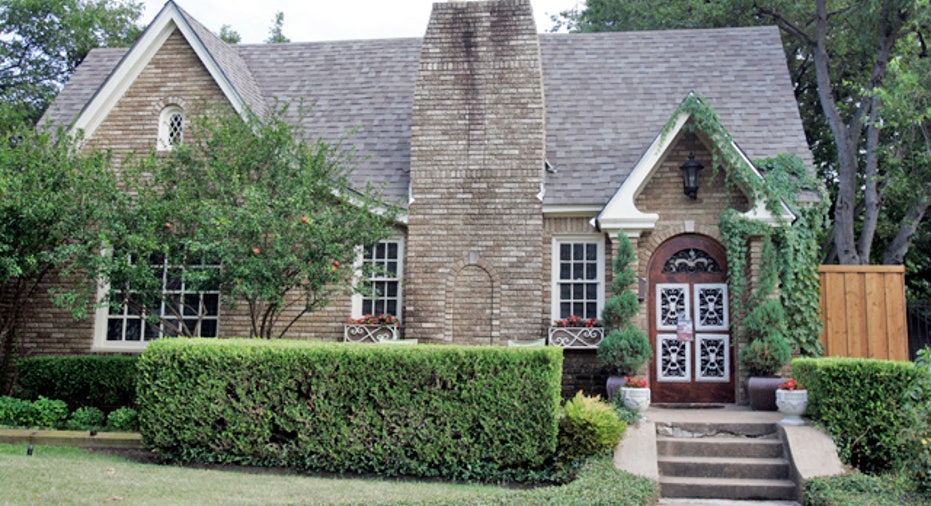 Mark Mangum, who lives deep in the heart of Texas football country, has found a way to capitalize on his location. He periodically rents his house to football fans, a move that takes the sting out of his $1,300 monthly mortgage and helped pay for costs associated with refinancing last year.
"It's huge for us," says Mangum, who expects this year to charge up to $1,600 for a weekend in his 1,650-square-foot ranch house. During Texas A&M football weekends, the couple decamps to his wife's parents' house.
"It helped us tremendously," says the 34-year-old director of a nonprofit organization in College Station, Texas. He and his wife purchased the home in 2011 for $185,000. To handle niggling details such as marketing, Mangum pays a 20% commission on the football rentals to outside company Gameday Housing.
Mangum is one of a group of savvy owners who are finding creative ways to pass along some of the financial burdens of home ownership to others. For many, the fiscal benefits offset concerns about troublesome tenants and privacy. It can be a wise move, but hopeful homebuyers should be aware of running afoul of zoning laws. They may also need to find co-signers and be aware of how different banks account for income when it comes to obtaining a loan.
No organization collects data on homeowners who seek to offset their mortgages by turning to part-time or full-time renters. But for those who wish to subsidize, or cover their expenses entirely, today's buyers can turn to the Internet, or to do-it-yourself shows such as "House Hunters," "Flip This House" and "Run My Renovation" to learn the risks and rewards of lightening their burden by sharing their house with someone other than a spouse, says Dorcas Helfant-Browning, a realtor in Norfolk, Virginia, and past president of the National Association of Realtors.
"The age of information is allowing young people to make those arrangements," she says, adding, "I think it's part of the lifestyle. It can be economically advantageous."
TEMPTING RATES
Temptingly low mortgage interest rates hovering below 4% have prompted some buyers to join the ownership ranks despite the worryingly unstable job market, realtors say. By sharing their space and collecting rent checks, these buyers are more protected from falling behind on the mortgage if they should lose their jobs.
Average 30-year mortgage rates touched 3.31% last November, the lowest in history. They have slightly risen since, averaging 3.57% on April 9, according to Bankrate.com.
"It's cheaper to buy something now than to lease something of comparable value," says Josh Breaux, a Keller Williams agent in the Los Angeles market, adding that properties with rentable in-law suites and coach houses, as well as fixer-uppers, are hot commodities in his area.
Breaux notes, however, that not all municipalities are zoned to allow for subdivided rentals, which tend to be permitted more in urban areas.
One of Breaux's clients is 34-year old Steven Chen, a full-time musician. Chen was on the hunt for a multi-unit property with rental units as the means to cover his mortgage and ultimately entered a bidding war in Los Angeles' up-and-coming Echo Park neighborhood.
"I didn't want to continue to pay rent," says Chen, who with help from his family bought a three-unit property for $660,000 - more than $60,000 above the asking price - at the end of 2011. He charges about $1,500 a month for each of his rental units, which came with tenants.
"It covers all of my mortgage and property tax," says Chen.
To be sure, buyers seeking properties with mortgages that stretch their means may have to find a parent or other co-signer to back them up and brace for the third-degree about their personal finances from banks in order to secure a loan. Sometimes rental income that comes with a house or multi-unit dwelling is not factored in as income by the bank.
"Because we're in a tight credit environment, you really have to be well-qualified to buy a place," says Frank Donnelly, chairman of the Mortgage Bankers Association of Metropolitan Washington, D.C.
NOT WITHOUT RISK
And of course there are other downsides, such as discovering the person you selected to share your property is inconsiderate or financially unreliable. That is why real estate attorneys recommend that agreements for sharing of space be drawn up in a contract.
It was those concerns that prompted Chicago police officer Barry Hager, who originally sought a roommate using an ad, to opt instead for a friend when he purchased a house five years ago. That same roommate has stayed with him, moving from the home to a three-bedroom condo three years ago.
"I was not interested in taking anyone I found off of Craigslist," says Hager, 42, whose $1,800-a-month mortgage is lowered by $750 he charges in rent. "I was just lucky enough that my roommate turned out to be someone I already knew."
The shaky economy worried Shira Fisher and Kristen Cirullo, both educators in Chicago, so they specifically sought properties that came with rental income.
"We were worried about money," says Fisher, 34, an elementary school counselor. "We were looking at short sales and regular properties that needed a lot of work."
The couple settled on a modest house on the city's North Side with a basement that had been converted into a separate apartment. When the tenants' lease expired last year, they gutted the space, spending about $25,000 to update it with granite countertops, new floors and track lighting.
After a bout with problem tenants, they found stable renters able to pay $1,100 a month, an increase of $300 over the price charged for the unit when they initially bought the house for $230,000 in 2010. That income, combined with $500 rent from a roommate who shares their upstairs two-story home, covers the monthly mortgage.
"It's a weight off our shoulders," says Cirullo, 36, who recently completed her teacher's certification and is seeking a full-time job in education.
Says Fisher: "Because of this we're able to take trips - go out with friends and not freak out."