Patriots-inspired lottery tickets debut in New Hampshire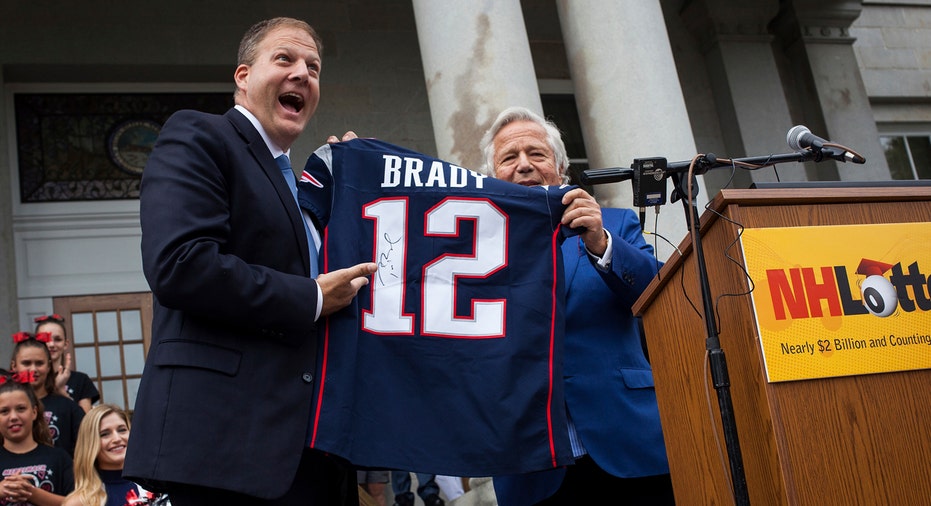 The Super Bowl champion New England Patriots are part of a new lottery game in New Hampshire.
The team's owner, Robert Kraft, joined Republican Gov. Chris Sununu on Tuesday on the steps of the Statehouse for the launch of the New England Patriots $5 scratch tickets.
The game, which is available in 1,200 stores starting Tuesday, features four, $100,000 grand prizes and the chance to enter a series of second-chance drawings to win Patriot tickets. Other prizes range from $5 to $100.
It's the sixth year a Patriots' lottery game has been offered— a partnership Kraft said has generated over $26 million in sales and netted $7 million for state education programs. Previously, the lottery offered a game tied to the Boston Red Sox in 2011 and 2014, and a promotion with the NHL's Boston Bruins in 2015.
"We feel very close to the state of New Hampshire," Kraft told a crowd of about 100. "I love the people. All the people I meet here have that live free or die mentality. It's about living free and being entrepreneurial and being good to your neighbors, which is so important."
Kraft then offered Sununu a signed Tom Brady jersey "for all the people," which the governor joked was "like an American flag. I'm not putting this on the ground."
Sununu praised the Patriots for signing onto the partnership, saying their brand would only be good for the state's lottery which "helps schools, helps education, is making a difference."
Sununu also joked he tried to persuade Kraft to move the team here — noting there is no sales tax or income tax in New Hampshire.
"I don't know if they will be moving to New Hampshire just yet, but we are working on it," he said. "I'm convinced I can get anyone up here."
The event brought out scores of die-hard fans hoping to get a photo of Kraft and, in a few cases, a hug.
Among them was Erica Peaslee and her children, 8-year-old Jacob and 9-year-old Michael. Jacob was dressed from head-to-toe in Patriots attire and wearing a helmet with the team's logo.
"It was really exciting. Honestly, my kids are huge fans, so that is why we are here," Peaslee, of Pembroke, New Hampshire, said.
Jacob chimed in that "it was pretty cool" to see Kraft up close. "It's better than seeing him on TV," he said.
After the ticket launch, the Patriots held a mini training camp on the Statehouse lawn for 100 players from the Merrimack Cardinals Pop Warner Football League. Twenty-five Merrimack youth cheerleaders trained with two New England Patriots cheerleaders.
Since 1964, the New Hampshire Lottery has raised $6 billion and brought in $1.7 billion for state education.