Paris food co-op gets an American-style start _ opening during vacation season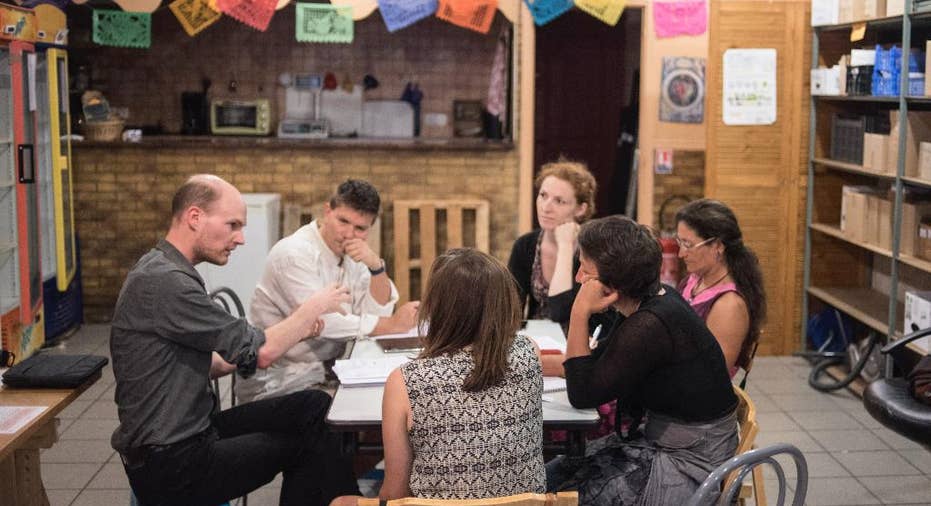 The government has shut down, the corner baker is away for a month, and traffic is running with uncanny finesse. It's August in Paris, and the entire city seems to be taking a siesta — not the best time to ask Parisians to take on extra work.
Unless perhaps they're being rewarded with food.
French culture celebrates gourmet cuisine, but it often has been the province of the well-to-do. In an effort to change that, the American founders of a new cooperative grocery association in Paris are trying to democratize access to quality ingredients, but they're asking people to labor a bit for all that flavor.
Residents of France since the early 2000s, co-founders Brian Horihan and Tom Boothe launched La Louve Cooperative this summer, and the food "buyer's club" already is nearly 1,500 members strong.
The club operates out of Paris's traditionally working class Goutte d'Or neighborhood. Members pay a 100-euro ($110) annual fee and agree to work a three-hour shift once a month. Other consumer cooperatives do exist in France, but La Louve is pioneering the idea of obliging members to contribute labor — if you don't work, you can't shop.
In exchange, members get access to higher-end groceries at discounted prices. At the moment, it's mostly a virtual operation. Members order groceries online, then pick them up. But the owners are speaking with architects in hopes of opening a storefront and expanding operations by next spring.
They aspire to eventually mirror the 6,000-member Park Slope Food Co-op in Brooklyn, New York, a business that has offered them guidance throughout the process. But unlike that operation, which serves one of Brooklyn's priciest neighborhoods, La Louve is in an area Horihan says is traditionally underserved, particularly with regard to quality food. Those with low-incomes who qualify for social assistance can join for 10 euros ($11), but still work three-hour shifts.
Co-op members essentially become owners and participate in meetings to determine how the business will run, including what products are offered. Horihan says that by asking members to contribute labor and time, they build a sense of community. "There's a strong feeling of belonging. There's more pride in the co-op," Horihan said. "And just for the practical reasons — it keeps prices down."
Hajar El Karmouni became a founding member of sorts in February 2013, more than a year before La Louve's official launch. She said belonging to the association promotes values important to creating a future that favors conscious consumption, as well as fostering unity in a society that's growing increasingly individualistic.
"We are renewing principals of capital liberalism," she said. "But recreating them in a collective project, for the good of the group."
Consumer co-ops used to carry a lot of weight in France, but that was before World War II "did tremendous damage" to that sector, said David Thompson, a historian and business consultant who has written extensively on international co-op movements. Between anti-cooperative fascist ideologies and the post-war rise of supermarkets, he said most small member-owned consumer co-ops in France folded by the mid-20th century.
The model is reemerging, though, with the help of associations like La Louve, which translates to she-wolf, Horihan said. The female wolf is a symbol of protection, he noted, and the name is consistent with the idea of banding together to protect the future of everyone.
But will Parisians really agree to work, in a country known for taking its leisure time seriously? Thompson is optimistic, as long as the store embeds itself in the community. "It has to do with the loyalty engendered," he said. The success of "a Park Slope model seems to be higher in dense cities, where there's a certain loyalty to it because of it being in a certain neighborhood."
Horihan said the work requirement will enable those community bonds to crystalize. "It's a feeling like investing in a company, like buying equity," Horihan said. "But giving time, that's more important."