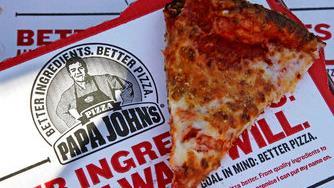 Papa John's Pizza is offering financial relief to U.S. and Canadian franchisees to offset a sales slump that worsened after company founder John Schnatter's use of a racial slur during a media training session was made public in July, according to a report Friday.
The embattled pizza chain is slashing royalty payments for its franchises through the end of fiscal 2018 and contributing funding to help cover food supply and marketing costs, according to an internal memo obtained by Forbes. Papa John's expects the relief efforts to cost roughly $15 million in total, $2.5 million of which will go toward food costs.
"We had an open conversation about this unprecedented situation and the impact the severely disappointing words and actions by our founder have had on the business," Papa John's CEO Steve Ritchie said in the memo.
Papa John's representatives did not immediately respond to a request for comment.
The memo was sent out just days after Papa John's reported a same-store sales decline of 6% in its second quarter. Company officials said sales fell more than 10% in July, when Forbes reported that Schnatter had used the N-word during a conference call with marketing executives in May.
Papa John's also slashed its full-year earnings guidance and said it would spend up to $50 million to revamp its marketing at store locations to address negative consumer reaction to recent events.
"If sales are able to improve more quickly, or we strike the right balance with our franchisees, clearly there's less likelihood that we would see that significant of closures in the U.S. and clearly we're going to do everything within our power to prevent closures," Ritchie said during a conference call with analysts this week. "We're not in the business of closing restaurants."
Schnatter resigned as company chairman within hours of the initial report on his comments. However, the company founder has since vowed to fight any attempt to oust him from the board entirely, accusing company officials of failing to conduct a proper investigation into the situation.
Papa John's has banned Schnatter from making media appearances, removed his image from its marketing and enacted a "poison pill" provision to prevent him from acquiring a controlling stake in the company.