Panera Had an Amazing Quarter. Don't Get Used to It.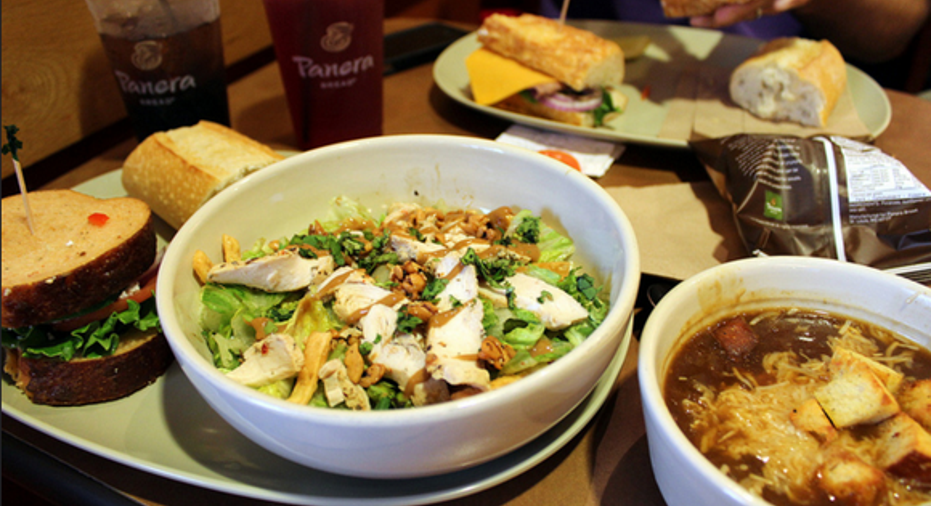 Image source: Panera.
During Panera Bread's fourth-quarter report back in February, CEO Ron Shaich revealed a solid quarter. Overall, comparable sales at company-owned cafes grew 3.6% over the previous year's corresponding quarter, with franchised cafes increasing 1.1%. That's a solid result for a restaurant that has increased its store counts more than 25% in the last five years, as it becomes harder to grow comparable sales as the comparable-store base increases.
However, at that time it was Shaich's statement in regard to first-quarter comparable sales that had investors enthusiastic about the company's path forward. During the Q4 conference call, Shaich said comparable sales at company-owned locations were up 6.4% throughout the first 41 days of the quarter. At that time I noted that investors might be undervaluing the company if Panera was able to report 6%-plus comparable sales.
Well, the company did just that. Last week, Panera reported its first-quarter results, and the company reported company-owned comparable sales up 6.2%. Shaich credited strategic initiatives, which include things like digital ordering and payment and store design, but it's probable that an external factor helped the company overachieve.
Panera 2.0 is working First, the strategic initiatives.Shaich enthusiastically reported the company's financial results on the conference call, after noting he has "been looking forward to this conference call for some time." Shaich went on to credit the company's new strategies for the strong comparable-sales results, 6% year-on-year top line growth, and 21% EPS growth. Additionally, the company raised 2016 EPS and comparable-sales guidance.
One of the larger new strategies, dubbed Panera 2.0, is aimed at reducing the friction for the guest to improve the customer experience. To that end, Panera has improved technology within its restaurants with tablets and an improved mobile-ordering app. Additionally, the company has invested in labor for experience-improving procedures such as table delivery and an increased focus on order accuracy.
While Shaich is correct these strategies are responsible for increased sales, a competitor's struggles likely helped Panera post 6%-plus comparables this quarter.
Chipotle's loss, Panera's gain? But there could be another reason for Panera's blowout quarter. While the menus are different, Panera and Chipotle Mexican Grill have similar value propositions. Within the fast-casual restaurant space, where buying decisions are made daily, the risk of losing a customer to a competitor is quite high. During this time frame, Chipotle endured a massive 30% same-restaurant-sales drop as concerns about food safety continued to dog the company.
Mediterranean Sandwich, Thai Chicken Salad, and French Onion Soup at Panera. IMAGE SOURCE: FLICKR USER SHOSHANA.
Overall, Chipotle's revenue fell 24% as newly opened restaurants offset the company's same-restaurant performance at existing locations. Chipotle seems positive about winning back consumer trust, partly through the use of coupons. An earlier study from analyst firm Cowen and Company points to Chipotle's win-back strategy as being effective. Cowen and Company's data show a marked difference in visits over the prior 30 days from Chipotle customers who used a coupon the company sent, averaging 3.8 visits, versus the 1.4 visits from consumers who did not use a coupon.
It stands to reason that Chipotle's loss was a gain for the rest of the restaurant industry, with similar competitors, like Panera, being the biggest beneficiaries of the burrito maker's stumbles. During the first-quarter conference call, Panera's Shaich noted that for the first 27 days of the current second quarter, company-owned same store sales are up a respectable 4.4% and the company expects full-year comparables in the range of 4%-5.0%.
In the end, Panera's amazing 6.2% year-on-year comparable-store sales growth was most likely aided by Chipotle's struggles and should slow as Chipotle wins back trust. That said, the company should be commended for its Panera 2.0 success and should continue to outperform the overall industry.
The article Panera Had an Amazing Quarter. Don't Get Used to It. originally appeared on Fool.com.
Jamal Carnette has no position in any stocks mentioned. The Motley Fool owns shares of and recommends Chipotle Mexican Grill and Panera Bread. Try any of our Foolish newsletter services free for 30 days. We Fools may not all hold the same opinions, but we all believe that considering a diverse range of insights makes us better investors. The Motley Fool has a disclosure policy.
Copyright 1995 - 2016 The Motley Fool, LLC. All rights reserved. The Motley Fool has a disclosure policy.