Pandora Media Inc.: Buy, Sell, or Hold?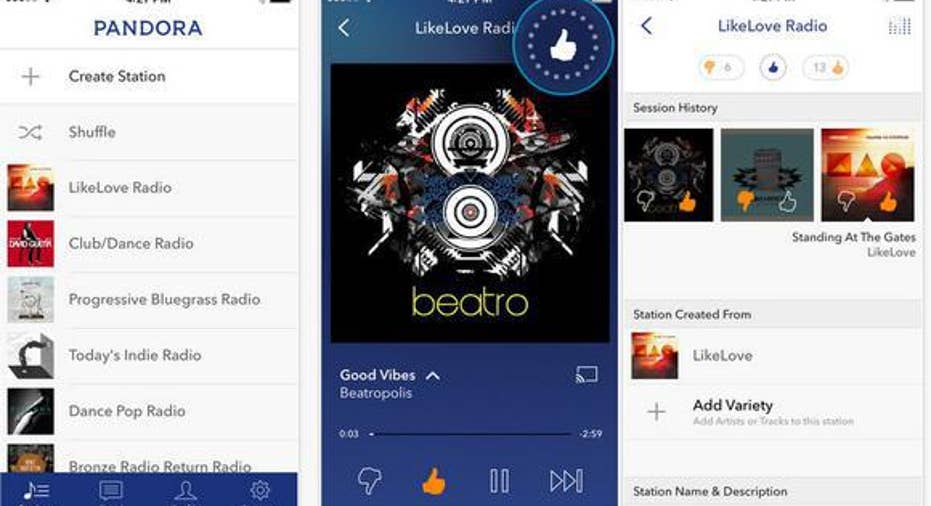 Shares of Pandora Media have fallen more than 20% over the past year because of concerns that rising streaming royalties would keep the company's bottom line deep in the red. Nonetheless, Pandora remains the largest music streaming service in the world, with over 78 million active listeners worldwide. Its closest rival, Spotify, has 75 million active listeners.
Source: Pandora.
But as big new competitors such as Apple enter the streaming market, could Pandora lose listeners and be rendered obsolete? Let's look at the bull and bear cases for Pandora and decide if its stock is a worthy investment.
Reasons to buy PandoraPandora's top-linegrowth is impressive. Last quarter, revenue rose 30% annually to $311.6 million, with 77% of revenue coming from mobile devices and its higher-growth local ad revenues surging 52% to $63.5 million. Total advertising revenue grew 31% to $254.7 million, as total RPMs (revenue per 1,000 ad-supported listener hours) rose 26% to $60.52.
Pandora also recently won several victories in securing lower-than-expected royalty rates. The U.S. Copyright Royalty Board (CRB) recently set its 2016 rate at $0.0022 per performance for paid streaming services, and $0.0017 per performance for free streaming services. While that represents a moderate increase from the $0.0014 rate for free streams in 2015, it wassignificantly lower than the rate of $0.0025 that dominant trade group SoundExchange had requested.
Moreover, Pandora recently signed multi-year licensing deals with ASCAP and BMI, two smaller trade groups, to lock in more stable royalty rates. It also signed direct deals with musicpublishers Warner/Chappell, Sony/ATV, Downtown Music Publishing, and Merlin, acquired streaming rival Rdio's assets, and took over a South Dakota radio station. All these moves could reduce or stabilize Pandora's content acquisition costs, which rose 41% annually and claimed 56% of its revenue during the first nine months of 2015. Looking ahead, Pandora plans to expand into new international markets such as the U.K., and recently acquired ticket vendor Ticketfly should help diversify its top line away from its core streaming business.
Reasons to sell PandoraThose are all promising moves, but Pandora's dependence on ad revenues remains a double-edged sword. While ad-supported streaming attracts more free listeners, it provides less stable returns than subscription-based revenue. Fewer than 4 million paying listeners currently subscribe to Pandora's ad-free tier. By comparison, Spotify has over 20 million paid subscribers, and Apple Music claimed 6.5 million paid subscribers and 8.5 million trial listeners within its first four months.
Apple Music's rapid growth and market clout are troubling. In June, Apple persuaded Taylor Swift to stream her latest album, 1989, on Apple Music. That move was surprising, since Swift had previously pulled her entire catalog from Spotify and refused to offer 1989 on all streaming platforms. Apple alsodeepened its ties with Swift in December by offering her 1989 World Tour Live video exclusively to Apple Music subscribers. If Apple inks similar exclusive deals with top-tier musicians such as Swift, Pandora and Spotify could be cut out of the picture.
Although Pandora's revenue growth looks impressive, its user growth isn't. Last quarter, its monthly active listeners fell 1.6% sequentially to 78.1 million. A recent Morgan Stanley survey also found that 23% of Pandora listeners also use Apple Music. If Pandora's user growth keeps declining and its efforts to reduce royalties don't pay off, its net losses could widen. Pandora's $300 million convertible debt offering in early December also raised concerns regarding its cash burn rate and itsacquisition strategies.
Moreover, Pandora stock still trades at 2.7 times trailing sales, which is pricier than the industry average P/S of 0.9 for radio broadcasting companies. The stock also has a five-year PEG ratio of 3.2, which indicates that analysts don't expect its bottom line to firm up anytime soon.
The verdict: Sell PandoraPandora might have won a temporary victory with the CRB ruling, but royalty rates are still rising year over year and its overall user growth is slowing down. The company still has far fewer paid subscribers than Spotify or Apple Music, which leaves it in the precarious position of mostly using advertising revenues to offset rising royalties. This formula hasn't pumped out a profit for Pandora yet, and it could become even harder to execute if it loses users to rival platforms such as Apple Music.
Lastly, Pandora's high valuation indicates that the stock has a lot to live up to in order to avoid sliding in the future.
The article Pandora Media Inc.: Buy, Sell, or Hold? originally appeared on Fool.com.
Leo Sun has no position in any stocks mentioned. The Motley Fool owns shares of and recommends Apple and Pandora Media. Try any of our Foolish newsletter services free for 30 days. We Fools may not all hold the same opinions, but we all believe that considering a diverse range of insights makes us better investors. The Motley Fool has a disclosure policy.
Copyright 1995 - 2016 The Motley Fool, LLC. All rights reserved. The Motley Fool has a disclosure policy.