PACCAR Inc Sells Fewer Trucks, but Grows Market Share in Third Quarter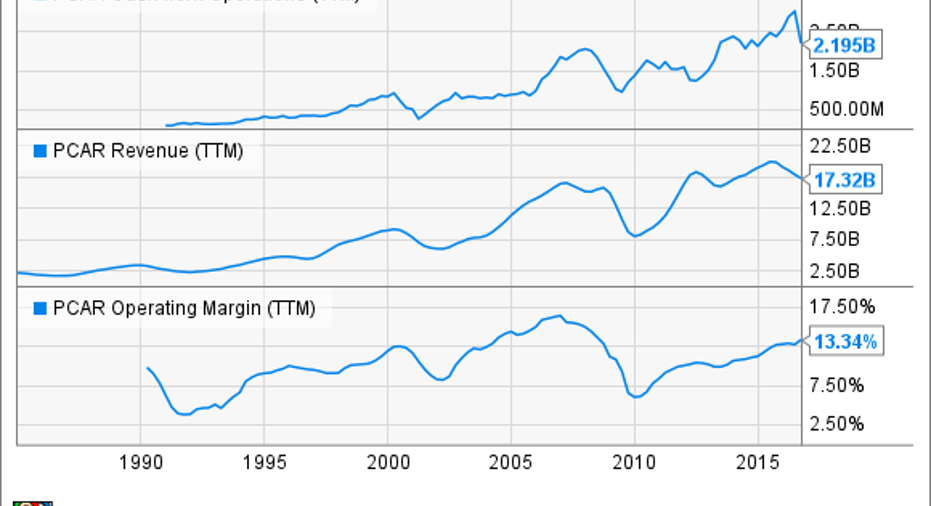 PACCAR's Kenworth and Peterbilt continue to gain market share in North America. Image source: PACCAR Inc.
PACCAR INC(NASDAQ: PCAR) reported third-quarter financial and operating results on October 25, delivering revenue and earnings that were well down from the year-ago period. However, this wasn't an unexpected result, as sales of trucks in North America -- PACCAR's biggest market by far -- are well down from 2015, which was the best year of truck sales since before the Great Recession.
While fewer truck sales have impacted PACCAR's operating leverage, squeezing margins and pushing profits down more than revenues, years of steady investments in product development continue to pay off. Peterbilt and Kenworth passed the 30% market share mark in North America, while DAF has held steady at nearly 16% of the European market in 2016.
Let's take a closer look at PACCAR's results in the third quarter, as well as what management has to say about the rest of the year and beyond.
The financial results
| Metric | Q3 2016 | Q3 2015 | Change (YOY) |
| --- | --- | --- | --- |
| Revenue | $4,249 | $4,847 | -12.3% |
| Net income | $494.9 | $624.5 | -20.8% |
| Earnings per share | $0.98 | $1.21 | -19% |
| Gross margin % (truck, parts & other) | 14.7% | 15.3% | -60 BPS |
Revenue and net income in millions. Data source: PACCAR. YOY = year over year.
What happened in the quarter
While the results this year are well down from 2015, it's important to note that 2016 has been a relatively strong year overall despite the decline. Heavy truck sales can swing relatively widely from one year to the next, as both macro- and micro-economic factors affect fleet and owner-operator decisions on purchasing new equipment.
Here'sa breakdown of PACCAR's sales by region:
U.S. & Canada revenue of $2.6 billion, down 20% year over year.
Europe revenue of $1.1 billion, up 2% YOY.
Other (includes Brazil) revenue of $555 million, up 6% YOY.
New truck deliveries by region:
18,800 in U.S. & Canada, down 22% YOY.
11,600 in Europe, up 5% YOY.
4,500 in Other, up 10% YOY.
As you can see, the softness in North America has been somewhat offset by a strong European market -- and what looks to be a market in Brazil that has started recovering. This was the second quarter in a row with sales growth in this segment.
50% of PACCAR's sales now include its MX diesel engines. Image source: PACCAR.
Still, North America remains PACCAR's biggest market by far, and the growth in its other markets wasn't enough to offset the declines in truck sales in North America. The good news? PACCAR increased its market share in North America, taking 31% of the market in the third quarter, while holding relatively steady in Europe, just under 16%.
However, lower overall truck and parts sales continue to reduce the benefits PACCAR gets from higher operating leverage. This is reflected in the 60 basis point drop in gross margin percent to 14.7% from "Truck, Parts, & Other" sales, and it was the key reason profits fell farther than revenue.
A look at Q4 and 2017
Management expects the fourth quarter to be similarly mixed, with a sequential decline in volume in North America thanks to the holidays and slower build rates offsetting higher build rates and more production days in Europe. CEO Ron Armstrong said management expects gross margins to fall again in the fourth quarter, somewhere between 50 and 100 basis points below the third quarter's 14.7%.
The biggest factor behind this lowered expectation is that overall North American heavy truck sales have fallen well short of PACCAR's estimates in 2016. At the beginning of the year, the company estimated that 230,000 to 260,000 class 8 trucks would be sold this year. In the second quarter, management revised its estimate down to 220,000 to 240,000 trucks, and then again reducing its estimate this quarter to 215,000 to 225,000.
Looking at 2017, Armstrong said they are anticipating North American truck sales of 200,000 to 230,000 and European sales of 290,000 to 300,000. With North American sales likely heading for another decline in the first half of the year, PACCAR's gross margins for 2017 are expected to be in line with the fourth quarter's result. Management expects Europe and Brazil to continue to strengthen in 2017, but smaller shares in those markets won't be enough to offset what's looking to be a weak 2017 in North America -- at least compared to 2016 and 2015.
Looking ahead
One of the challenges with investing in a company like PACCAR is that the cyclical effects of demand can have a relatively big impact from one year to the next, as investors have surely seen in 2016, following a very strong 2015. However, it's important to consider the difference between a good year and a bad year. And historically speaking, 2016 has -- so far, and with the notable exception of the $800 million settlement with the European Union -- been a relatively good year.
PACCAR's profits (both GAAP and adjusted for the fine) are down from 2016, but looking at the longer-term result, the company's revenue, operating cash flows, and operating margins are quite strong:
PCAR Cash from Operations (TTM) data by YCharts.
In other words, PACCAR is often best measured in terms of its performance in relation to the overall truck market (pretty good based on its market share gains), as well as its historical profitability (also strong, when adjusted for the one-time EU settlement impact).
Bottom line: PACCAR's results this year may seem middling at best, compared to 2015. But from a historical perspective, the company has executed quite well given the market conditions.
A secret billion-dollar stock opportunity The world's biggest tech company forgot to show you something, but a few Wall Street analysts and the Fool didn't miss a beat: There's a small company that's powering their brand-new gadgets and the coming revolution in technology. And we think its stock price has nearly unlimited room to run for early, in-the-know investors! To be one of them, just click here.
Jason Hall has no position in any stocks mentioned. The Motley Fool owns shares of and recommends Paccar. Try any of our Foolish newsletter services free for 30 days. We Fools may not all hold the same opinions, but we all believe that considering a diverse range of insights makes us better investors. The Motley Fool has a disclosure policy.