PACCAR Inc. Reports Big Loss in Q1: Key Earnings Takeaways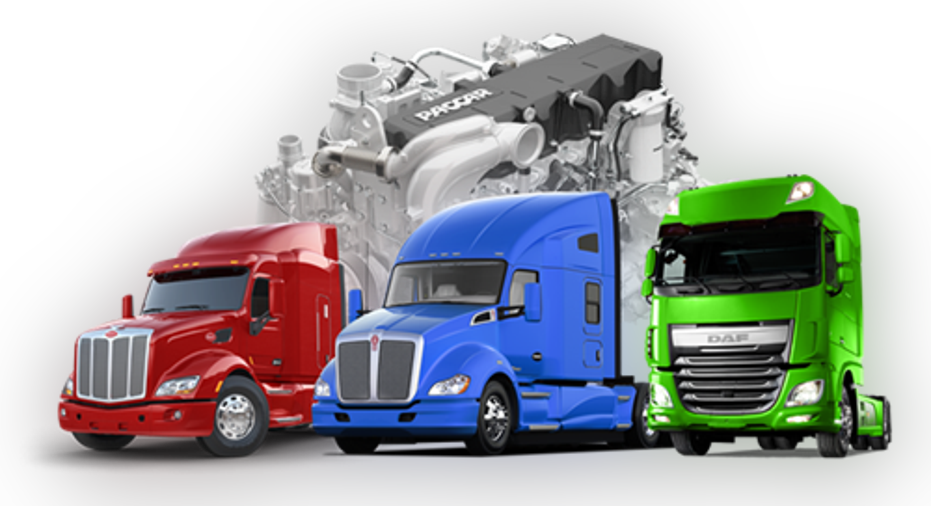 PACCAR's market share and sales are doing well, considering the market environment. Image source: PACCAR.
PACCAR announced first-quarter financial results on April 26, reporting a surprise loss, because of a $942.6 million one-time charge related to a European Commission investigation of the company, along with its peer truck manufacturers.
But excluding that charge from the results, PACCAR turned in a very solid quarter, growing its market share both in North America and Europe, maintaining solid margins even with unit sales down from last year, while also making progress in its efforts to sell more of its own engines, versus engines made by suppliers includingCummins
Let's take a closer look at the results, as well as what management had to say on the earnings call.
The numbers
| Metric | Q1 2016 | Q1 2015 | Change |
| --- | --- | --- | --- |
| Revenue | $4,300 | $4,832.7 | (11%) |
| Net income | ($429.6) | $561.7 | (176.5%) |
| Adjusted net income | $348.00 | $561.70 | (38%) |
| Earnings per share | ($1.69) | $1.06 | (259.4%) |
Revenue and net income metrics in thousands. Source: PACCAR.
What happened in the quarterWhile the significant one-time charge to deal with likely fines from the European Commission investigation drove the quarterly GAAP loss, the company's operating results were relatively solid:
Truck deliveries fell 24% in North America, and sales market share of 26% to date is slightly down from 27.4% in 2015, but net order share (which includes trucks ordered but not yet delivered) was 37% in the first quarter.
Class 8 truck sales in U.S./Canada are expected to be 220,000 to 250,000 this year, well off last year's levels, but on track to be third highest in a decade.
In Europe, truck sales are up 30% so far in 2016, and DAF -- PACCAR's European nameplate -- has commanded 16.6% of the heavy-duty market, highest ever for the company.
European heavy-duty truck sales are expected to be 260,000 to 290,000, well up from 2015 and one of the best years in over a decade there.
Parts and accessory sales fell slightly in the quarter, while margins remained steady. Management expects low-single-digit growth in this segment in 2016.
PACCAR engine penetration continues to increase, moving to 46% of sales, up from 40% in 2015. The company says the near-term goal is 50%.
This mix change is largely coming at the expense of Cummins, which has been a primary engine supplier for PACCAR in North America for many years. Cummins has already seen its on-road engine sales fall (including a 20% drop in heavy-duty truck revenue) over the past year because of a number of factors. But at the same time, PACCAR benefits from higher margins when it sells its own engine with a truck.
Operating cash flow increased to $796 million, up from $476 million in the year-ago quarter.
The balance sheet stayed largely unchanged from one year ago, though the non-cash adjustment probably means a big cash expense at some point in 2016.
What management saidCEO Ron Armstrong, on key economic metrics that indicate strong demand for new trucks in North America, if below 2015's huge sales figures:
Armstrong on Europe:
Looking aheadThis year isn't likely to approach 2015's record revenue levels, driven by a huge year for truck sales in North America. Furthermore, it looks inevitable that PACCAR is going to have to write a pretty sizable check this year over the European Commission's investigation into price-fixing. And it's not out of the realm of possibility that the company's "special" dividend it usually announces and pays at year-end could be affected, though its regular dividend of $0.24 per share this quarter was declared again and is almost definitely safe.
But at the same time, the company continues to drive its market share higher in both U.S./Canada and in Europe, as well as delivering solid margins and profitability through improved operating efficiency and increased sales of its own engines.
Put it all together, and don't count on a record-breaking year. But if Q1 was any indication, 2016 should be another solid year for PACCAR and its shareholders.
The article PACCAR Inc. Reports Big Loss in Q1: Key Earnings Takeaways originally appeared on Fool.com.
Jason Hall has no position in any stocks mentioned. The Motley Fool owns shares of and recommends Cummins and Paccar. Try any of our Foolish newsletter services free for 30 days. We Fools may not all hold the same opinions, but we all believe that considering a diverse range of insights makes us better investors. The Motley Fool has a disclosure policy.
Copyright 1995 - 2016 The Motley Fool, LLC. All rights reserved. The Motley Fool has a disclosure policy.