Own Trucking Stocks? Here's What Navistar's Latest Earnings Mean to You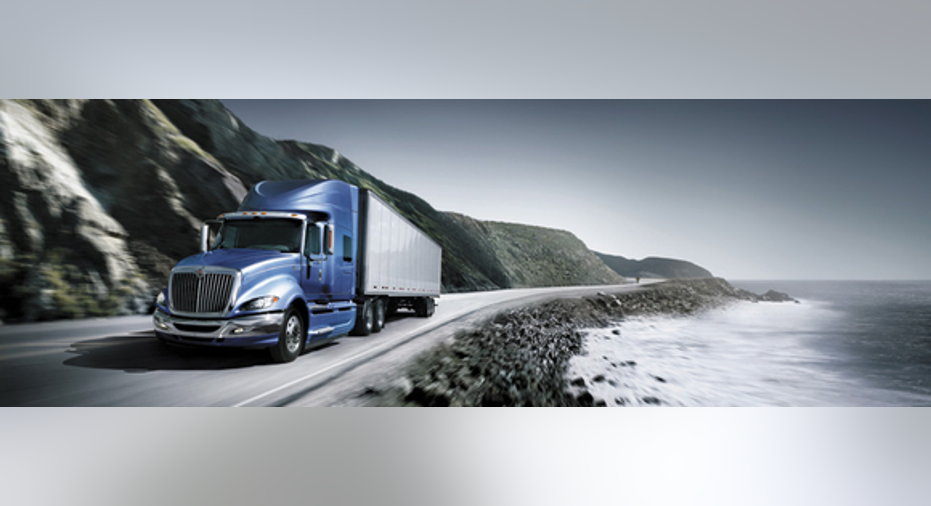 The trucking sector has been on fire since the start of 2016, and anyone buying a basket of stocks in the industry would have generated handsome returns. At top of the bunch lies truck and engine manufacturer Navistar International Corp.(NYSE: NAV), whose ongoing turnaround and alliance with Volkswagen (NASDAQOTH: VLKAY) helped the stock soar 176% in the period.
In light of Navistar's recent earnings, let's look at the company's turnaround progression and what its earnings and outlook say about the trucking market in 2017.
Image source: Getty Images
Industry outlook
The following table outlines the outlooks for heavy-duty truck sales in 2017. Navistar didn't adjust its outlook, and companies across the industry are calling for a decline in truck sales compared with last year.
| Company | Outlook | 2017 | Previous 2017 Outlook | 2016 Actual |
| --- | --- | --- | --- | --- |
| Navistar International Corp. | Class 8 industry retail deliveries, U.S. and Canada | 190-220 | 190-220 | 227 |
| PACCAR Inc. | Class 8 trucks, industry retail, U.S. and Canada | 190-220 | 200-230 | 216 |
| Dana Incorporated | Heavy truck Class 8, North America | 190-210 | -- | 227 |
| Cummins Inc. | Heavy-duty NAFTA Class 8, Group 2 | 178 | -- | 201 |
| Meritor Inc. | Heavy-duty (Class 8) North America | 190-210 | 190-210 | 253 |
Data source: company presentations. Data in thousands of units
In case you're wondering about the rest of the world, axle and brake company Meritor expects flat industry sales in Western Europe, and the midpoint of axle and transmission company Dana Incorporated's medium- and heavy-duty truck sales guidance for 440,000 to 470,000 in Europe implies a low-single-digit decline. Meanwhile, engine manufacturer Cumminsis forecasting China's medium- and heavy-duty truck sales to be flat at 962,000.
In short, none of the companies raised their guidance for 2017, and global conditions look set to be flat to slightly down.
An improving trucking market
However, the full-year 2017 outlooks are only half the story. In reality, the industry is entering the year in decline, but the second half looks set to be far stronger. For example, Navistar's sales declined 5.8% in the first fiscal quarter of 2017, and CEO Troy Clarke expects "industry headwinds to continue in our second quarter," but "we are well positioned for improved profitability in this second half of the year as the Class 8 industry rebounds."
Indeed, this viewpoint is backed up when looking at orders from the industry and from Navistar. For example, a leading commercial-vehicle market analyst, ACT Research,claimedthat "North American Class 8 net orders hit a 14-month high at 23,200 units in February, a second consecutive month of orders rising above both trend and expectations." Moreover, Clarke said Navistar's "Q1 2017 order volume in our U.S. and Canada truck markets increased 4% year over year."
All told, Navistar and industry order data suggest the heavy-duty truck industry will pass a trough in 2017, and the outlooks in the preceding table may need an upward revision. Time will tell.
Image source: Navistar
Why Navistar can outperform
Let'sturn to Navistar's specific earnings drivers over the next couple of years. Here, investors have three reasons to be optimistic:
Clarke claimed Navistar's share of orders had increased by 4% in the quarter.
A series of new product introductions in the next couple of years -- including its new long-haul Class 8 heavy-duty LT series trucks -- should drive growth at a time when the industry outlook is improving.
The Volkswagen deal has been completed, and management is looking forward to generating synergies, collaborating on R&D, and offering its customers new products possibly using Volkswagen's engines in Navistar trucks.
An example of the collaboration with Volkswagen comes with the recent launch of the International A26 LT Series truck, which uses an engine derived from a MAN product, a Volkswagen brand, and Clarke said Navistar had a "technical exchange" with the company over the engine.
The Volkswagen deal notwithstanding, Navistar already plans to introduce new products every four to six months, including reentering the medium-duty market in late 2018, so that its entire product portfolio will be new by the end of 2018.
Image source: Navistar
Navistar and trucking industry
All told, it was a positive update for the trucking industry. Although Navistar didn't raise its industry or company forecast, the data on orders for both Navistar and the industry is positive, and there are signs Navistar's turnaround is set to gather steam in 2017. If the industry really is about to pass a trough, then the wave of new products and the potential in the Volkswagen deal should see Navistar having a good year.
10 stocks we like better than Navistar InternationalWhen investing geniuses David and Tom Gardner have a stock tip, it can pay to listen. After all, the newsletter they have run for over a decade, Motley Fool Stock Advisor, has tripled the market.*
David and Tom just revealed what they believe are the 10 best stocks for investors to buy right now... and Navistar International wasn't one of them! That's right -- they think these 10 stocks are even better buys.
Click here to learn about these picks!
*Stock Advisor returns as of February 6, 2017
Lee Samaha has no position in any stocks mentioned. The Motley Fool owns shares of and recommends Cummins and Paccar. The Motley Fool has a disclosure policy.