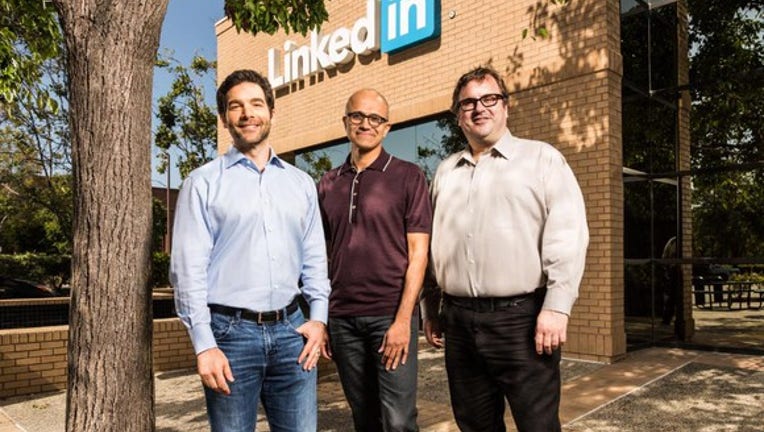 Stocks declined on Monday. After briefly touching positive territory in the morning hours, indexes fell throughout the afternoon to end near their session lows. By the closing bell the Dow Jones Industrial Averagehad shed 117 points, or 0.7%, and the S&P 500 lost 17 points, or 0.8%:
Mergers and acquisitions drove individual stock swings, as companies making notable moves included Microsoft (NASDAQ: MSFT), LinkedIn (NYSE: LNKD), and Symantec (NASDAQ: SYMC), which were all involved in multibillion-dollar transactions.
Microsoft and LinkedIn
Microsoft was the Dow's worst daily performer following its announcement of a $26 billion deal to buy professional networking giant LinkedIn. The agreement represents a 50% premium over the stock's prior closing price -- yet LinkedIn shareholders remain down 15% in 2016. LinkedIn will retain its management team, with CEO Jeff Weiner at the helm, and Microsoft plans to fund the deal through new debt.
Image source: Microsoft.
In an investor presentation, Microsoft sought to build confidence around what will be its biggest acquisition to date. The two companies share a common mission of "bringing together the world's leading professional cloud and network," executives explained. There are numerous opportunities for synergies, for example by targeting both Microsoft Office users and LinkedIn members, and by opening up Microsoft's distribution channels to LinkedIn's sales and marketing staff. "Together we can accelerate the growth of LinkedIn, as well as Microsoft Office 365 and Dynamics," Microsoft CEO Satya Nadella said in a press release.
Still, Mr. Softy doesn't have the best record on acquisitions, having most recently taken a huge writedown on its Nokia handset business. Given that spotty history, and the premium valuation attached to the deal, it's understandable that Microsoft shareholders greeted the news with some skepticism.
Symantec and Blue Coat
Symantec shares spiked 6% higher after the cybersecurity giant reached a deal to buy web security specialist Blue Coat for $4.65 billion. Symantec gets far more than just a new business segment out of this agreement, though. The terms call for Blue Coat CEO Greg Clark to head up the company, and it also brings in fresh investor capital from private-equity firms Silver Lake and Bain Capital.
"Once combined, we will offer customers around the world -- from large enterprises and governments to individual consumers -- unrivaled threat protection and unmatched cloud security," Clark said in a press release.
Image source: Getty Images.
Symantec executives believe the purchase will save $150 million of annual costs and become "significantly accretive" to non-GAAP earnings over time. To that end, the company reiterated its guidance for the current quarter that calls for a 5% sales decline and earnings of $0.25 per share.
Look further out, and the picture brightens a bit. Earnings for the next fiscal year are projected to be $1.75 per share, or well ahead of consensus estimates of $1.40 per share. Of course, Symantec has to execute on its growth initiatives while integrating the Blue Coat business over that time in order to succeed. But at least the merger ends the uncertainty around its CEO hunt and provides the new executive team with fresh capital to put to work.
The article Overview of the Stock Market Today originally appeared on Fool.com.
Demitrios Kalogeropoulos owns shares of LinkedIn. The Motley Fool owns shares of and recommends LinkedIn. The Motley Fool owns shares of Microsoft. Try any of our Foolish newsletter services free for 30 days. We Fools may not all hold the same opinions, but we all believe that considering a diverse range of insights makes us better investors. The Motley Fool has a disclosure policy.
Copyright 1995 - 2016 The Motley Fool, LLC. All rights reserved. The Motley Fool has a disclosure policy.