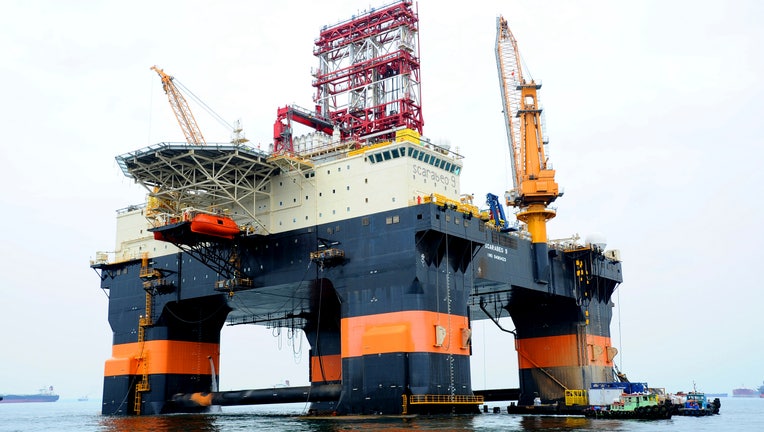 Oil prices are expected to fall slightly over the next year as high production feeds softening demand at a time of slowing global economic growth, a Reuters poll shows.
Reuters' monthly oil price survey of 29 analysts forecasts North Sea Brent crude oil will average $107.50 per barrel in 2013, down $1.30 from the forecast in the October poll and compared with an average of around $111.90 so far in 2012.
Five analysts now expect Brent to average less than $100 in 2013, compared with three in last month's poll.
Only three analysts forecast Brent will average more than $115 next year, compared with five analysts last month.
"We are notably bearish on the near term oil price environment given that we see a fundamental oversupply of oil," said Raymond James analyst Praveen Narra, who has the lowest 2013 Brent price forecast of $80 per barrel in the poll.
Gain Capital Group analyst Chris Tevere is also bearish:
"Our overriding outlook continues to foresee slowing global growth (which) consequently should persist in undermining (oil)demand," Tevere said.
The Organization for Economic Cooperation and Development has cut its outlook for global growth, reducing its forecast for 2013 to 3.4 percent from 4.2 percent, saying the euro zone debt crisis was a serious threat to the world economy.
Expectations of slowing growth have led many analysts to trim their oil price projections, although most institutions are less bearish than Narra at Raymond James.
"Our analysis of supply and demand in 2013 suggests the oil market will be in comfortable surplus next year (barring an unforeseen disruption to supply) and thus we expect prices to fall back," said Caroline Bain at the Economist Intelligence Unit.
SPIKE
Many analysts argue loose monetary policies being followed by leading central banks should keep a floor on oil prices, and geopolitical tensions may lead to price spikes, but most say upside risks have diminished.
"While geopolitical concerns in the Middle East have increased of late, namely in the Gaza strip, since this is not an export heavy region, it is unlikely to lead to supply disruptions," Gain Capital's Tevere said.
"Tensions between Turkey and Syria still persist, and this could potentially effect the supply of oil should this escalate to other nations within the Middle East. While we ultimately believe cooler heads will prevail, these elevated risks could see crude spike at times," he added.
Harry Tchilinguirian, head of commodity market strategy at BNP Paribas, said the prospect for further quantitative easing in the United States with a resulting weakening of the U.S. dollar and a seasonal upturn in demand could support oil prices this northern hemisphere winter.
Barclays had the highest Brent price forecast in the poll with $125 per barrel for 2013.
Analysts also saw a narrowing of the Brent/WTI spread due to easing geopolitical tensions in the course of next year. The poll projected a spread of $12.8 for next year.
"New pipeline capacities in the U.S. should help to reduce oversupply in the U.S. Midwest and to narrow the price gap between Brent and WTI next year," said Carsten Fritsch, senior oil analyst at Commerzbank in Frankfurt. (Additional reporting by Ratul Ray Chaudhuri in Bangalore; editing by Christopher Johnson and James Jukwey)