Over 100 Years of Average Movie Ticket Prices in 1 Chart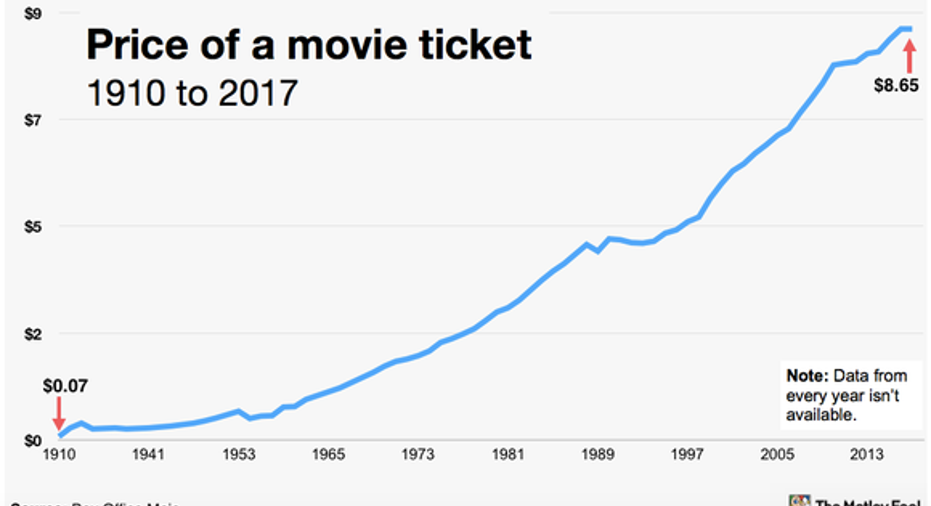 I used to tell my friends that when the cost of a movie ticket hits $10, I'd be done. No more films at the theater for me, thanks. I'll just wait for them to come out on video.
Today, $10 ticket prices have come and gone for manymovie-goers living in urban areas, but the average ticket price in America still comes in at under $9 --$8.65 to be exact, according to data from Box Office Mojo.
Image source: Getty Images.
Recently, the box-office reporting website traced the average cost per ticket over the past 107 years (give or a take a few years when data wasn't available), starting with average ticket price of just $0.07 in 1910.
Here's what the price changes look like charted out since 1910.
Data source: Box Office Mojo.
Box Office Mojo noted the prices are averages based on data from the Motion Picture Association of America (MPAA), and that the figures aren't adjusted for inflation.
What the data shows is that average ticket prices have jumped 25% over the past 10 years, and skyrocketed 60% since the year 2000.
But what happens when we adjust for inflation?In 1967, you would have paid just $1.20 to see a movie, but in today's prices, that same ticket would cost you $8.76 -- $0.11 more than the current average ticket price!
There are some indications that ticket price growth sometimes outpaces inflation, though. In 1987, the average ticket cost $3.91, but in today's dollars that would be $8.37. That's a $0.28 premium for the inflation-adjusted price. This would suggest that ticket prices are falling behind the rate of inflation and outpacing it, depending on which years you choose to compare.
Either way, the movie studios are doing just fine
If we look at some of the top movies from 2016, we see thatTime Warner (NYSE: TWX),Twenty-FirstCentury Fox (NASDAQ: FOX), and Walt Disney (NYSE: DIS), are all doing just fine no matter what inflation-adjusted ticket prices look like.
Warner Bros., owned by Time Warner, saw its revenue grow 17% in the most recent quarter in part because of the strong turnout forFantastic Beasts and Where to Find Them. The company is likely to see more benefits from its recently released The Lego Batman Movie, which brought in $55.6 million during its recent opening weekend.
And Time Warner also had the biggest domestic opening opening in 2016, after Batman vs. Superman took in $166 million over its first weekend, and eventually earned a total of $873 million in global ticket sales.
But the title of most profitable film of 2016 went to Deadpool, released by 21st Century Fox.The movie cost $58 million but earned $783 million in global ticket sales. Fox is hoping for a huge hit in March when it releases the next installment of the X-Men franchise, Logan.
Fox is likely looking for a win after its movie division saw revenues fall on a year-over-year basis from $2.36 billion to $2.26 billion in the second quarter of itsfiscal 2017. It wasn't all bad news for Fox though; overall revenues jumped from 7% year over year.
The biggest winner of this past year though was undoubtedly Disney. Rogue One: A Star Wars Story brought in more than $725 million in the two weeks after its release and has quickly surpassed $1 billion in global ticket sales. Zootopia, Finding Dory and Captain America: Civil Warall topped $1 billion in ticket sales in 2016 as well.
Despite all of Disney's movie success last year, revenue was actually down 3% in first quarter of 2017. The drop wasn't due to poor performance though, but rather the fact that the company faced the impossible task of attempting to match the success of Star Wars: The Force Awakens from late 2015. For comparison, Rogue One brought in $1.04 billion in worldwide sales, while The Force Awakensearned $2.06 billion, according to Box Office Mojo. As a result, revenue from Disney's studio entertainment division fell 7% year over year in fiscal Q1 2017 to $2.52 billion.
What's clear from the above data is that there are still plenty of us who are willing to get off of the couch and go see the biggest blockbusters on the big screen.I, for one, never made good on my $10 ticket boycott. And judging by the number of movies that earned $1 billion-plus in 2016, it appears that ticket prices still haven't reached their tipping point for many of us.
10 stocks we like better than Walt DisneyWhen investing geniuses David and Tom Gardner have a stock tip, it can pay to listen. After all, the newsletter they have run for over a decade, Motley Fool Stock Advisor, has tripled the market.*
David and Tom just revealed what they believe are the 10 best stocks for investors to buy right now... and Walt Disney wasn't one of them! That's right -- they think these 10 stocks are even better buys.
Click here to learn about these picks!
*Stock Advisor returns as of February 6, 2017
Chris Neiger has no position in any stocks mentioned. The Motley Fool owns shares of and recommends Walt Disney. The Motley Fool recommends Time Warner. The Motley Fool has a disclosure policy.