Outerwall and United Natural Foods Sink as Stocks Fall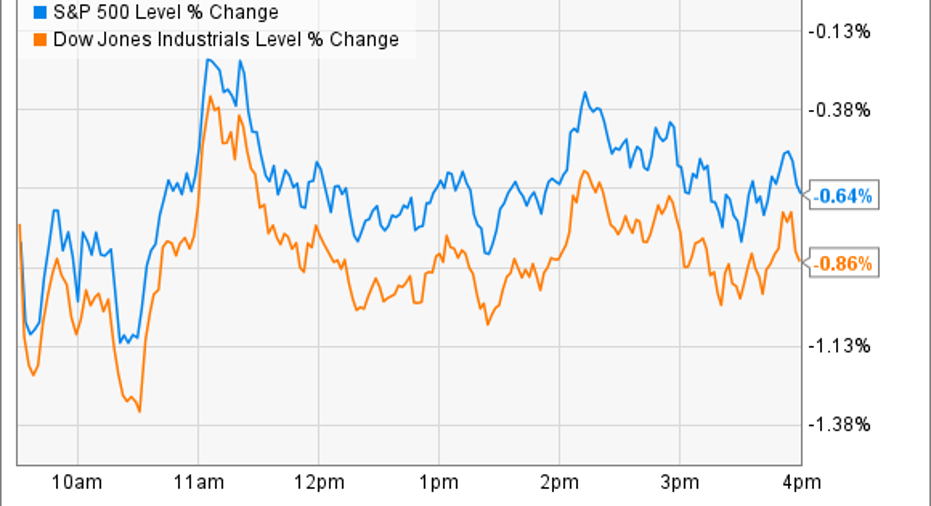 Stocks never made it out of negative territory today, as falling commodity prices continued to put pressure on energy companies. After a 6% dive yesterday, oil prices slipped again, dipping below $40 per barrel for the first time since 2009.
That move helped the S&P 500 shed 13 points, or 0.64%, as theDow Jones Industrial Average lost 163 points, or 0.86% on the day. Both indexes are nearly flat year to date, with just a few trading days left in 2015.
As for individual stocks, kiosk retailer Outerwall and food distributor United Natural Foods were two of the market's biggest movers today, each falling by double digits after revealing worsening business trends.
Outerwall's Redbox finds a new normal Outerwall, the operator of Redbox DVD rental kiosks, saw its stock plummet by 23% after the company slashed its sales and profit outlook and announced a shakeup of the Redbox management team. Executives downgraded their fourth-quarter revenue estimate to $1.76 billion from the $1.8 billion they had projected in late October. The earnings outlook also worsened significantly, falling to $7.90 per share at the midpoint of guidance, down from $9.17 per share.
Redbox customers have been renting DVDs at a lower frequency than expected over the past few weeks. The rental business, management said, "continues to remain challenged by the historically low box office during the third quarter," which they described as "the worst theatrical box office in Redbox kiosks in four years."
Redbox promotions failed to boost customer rental frequency over the last few weeks. Image source: Outerwall.
Yet the company knew about the weak box office months ago. In late October, Chief Financial Officer Galen Smith told investors that executives had a plan to counteract that headwind through promotions and heavy spending on a wider selection of DVD content. "We believe additional content is critical to consumers returning to more normal rental patterns," Smith said.
Today's announcement is an admission that neither of those initiatives succeeded at getting customers back to renting at what Outerwall considers a more usual rental frequency.
United Natural Foods sees more competition Natural and organic food distributor United Natural Foods' stock fell 16% after announcing surprisingly weak third-quarter earnings results. Revenue grew by 4%, as expected, but earnings of $0.63 per share missed consensus estimates as profitability took a turn lower: Gross margin fell to 15% of sales from 16% a year ago.
Image source: United Natural Foods.
"Our results reflect an evolving marketplace for natural and organic foods. As consumers demand healthier options, rapid adoption of natural and organic products across sales channels has increased the competitive nature of our industry," saidCEO Steven Spinner.
The rising competition is expected to negatively impact the business for at least the next three quarters. Executives lowered their sales growth outlook for fiscal 2016, saying they now expect revenue to climb by 4% at the midpoint of guidance. That's below the 5% they had originally projected, and a far cry from the 20% revenue gain that the company posted in its 2015 fiscal year.
Meanwhile, full-year earnings are now targeted at $2.84 per share, representing no growth over last year's $2.85-per-share haul. Spinner said that the company is encouraged by the fact that food contract extensions remain strong, which points to continued confidence in the brand by its customers. Yet investors appear to be worried that rising competition will continue to chip away at United Natural Foods' sales growth and profitability profile.
The article Outerwall and United Natural Foods Sink as Stocks Fall originally appeared on Fool.com.
Demitrios Kalogeropoulos has no position in any stocks mentioned. The Motley Fool has no position in any of the stocks mentioned. Try any of our Foolish newsletter services free for 30 days. We Fools may not all hold the same opinions, but we all believe that considering a diverse range of insights makes us better investors. The Motley Fool has a disclosure policy.
Copyright 1995 - 2015 The Motley Fool, LLC. All rights reserved. The Motley Fool has a disclosure policy.