Oshkosh's Astounding Earnings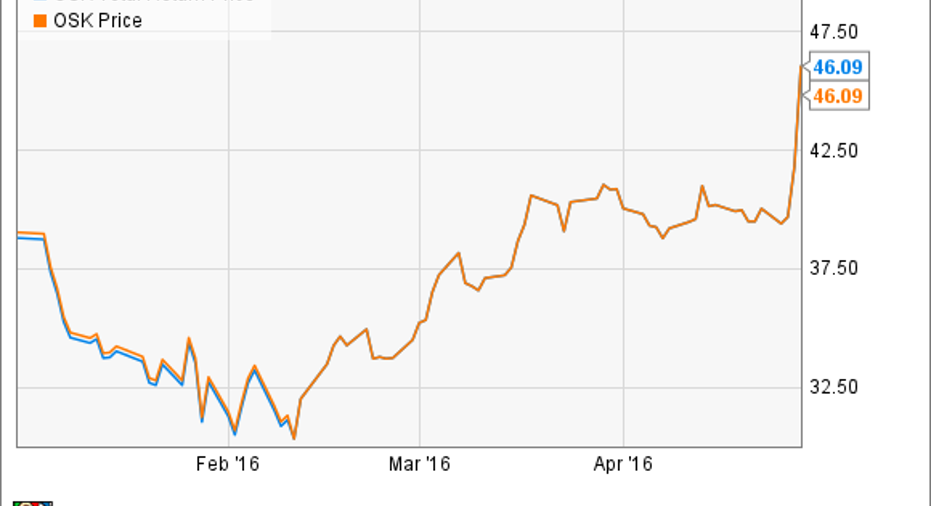 Rarely have I been so happy to be proven wrong.
Oshkosh stock is enjoying a fabulous 2016.OSK Total Return Price data by YCharts.
Previewing the earnings report for Oshkosh Corporation yesterday -- a stock I own, by the way -- I placed a great deal of emphasis on the health of the company's access-equipment business, which accounts for more than half of annual sales. "For this one particular defense business, it's the health of the civilian economy that may prove the most important thing to watch of all," I noted.
And boy, was I ever wrong about that.
The news As it turned out, Oshkosh's civilian access-equipment business is still not healthy at all, but that didn't matter a whit to Oshkosh's financial results, or to the investors who bid up Oshkosh stock by more than 11% on Thursday. Instead, the big news was all about defense. Here's how the numbers shook out:
Fiscal Q2 2016 revenues at Oshkosh slipped 2%, a result much better than the 12.5% decline that analysts had predicted.
Operating profit margins declined one full percentage point in comparison to last year's Q2, falling to 6%.
And yet, a combination of reduced interest expense and a smaller tax bite left Oshkosh with more net income on the bottom line, rather than less.
Result: Spread out among fewer shares outstanding (Oshkosh has been buying back shares), investors were treated to news of $0.76 in profits per share, 10% better than last year.
Or put more simply: Revenues hardly shrank at all, and profits are growing.
How'd they do that?Venturing into the weeds a little now, let's take a look at how Oshkosh achieved this feat. First, as alluded to above, business in Oshkosh's flagship access-equipment division is still horrible. Sales there declined an eye-popping 23%, and operating profits plunged 45%. (And yet, management mused, it could have been worse: This was still "higher-than-expected sales.")
Offsetting the bad news in access equipment, meanwhile, Oshkosh reported a huge spike in sales of defense products. A 1,000-plus unit sale of M-ATV armored cars, which management feared might not materialize before fiscal 2017, came through in Q2 of 2016.
Family of Heavy Tactical Vehicles ("FHTV") sales grew nicely in the quarter. And the company is now all set to ramp up production of JLTV armored trucks for the U.S. Army, as well, now that Lockheed Martin has dropped its lawsuit.
All that added up to an 87% jump in defense sales in the quarter. Combined with a big 18% jump in fire-and-emergency vehicle sales, as well, and a modest 7% uptick in the company's commercial segment, this was apparently enough to offset Oshkosh's struggles in access equipment, and turn a miserable quarter into something significantly less bad.
ValuationThis brings us to now, with an Oshkosh stock price 11% higher than what the stock cost just 24 hours ago. And it raises the question: Now that the price has already jumped, does this mean the armored car left the station, or is there still time for an investor to clamber aboard?
With $6 billion in trailing sales, and a market capitalization of just $3.4 billion, Oshkosh stock still sells for about half the "usual" 1.0 P/S ratio that is my rule of thumb for valuing defense stocks. That's a good first clue that there's still value to be had in this stock. Valued on GAAP earnings, the stock sells for a P/E of 16.1 -- also not expensive.
Valued on a free cash flow basis, though, S&P Global Market Intelligence data shows Oshkosh stock generating only $112 million in cash profits during the past year. That yields an enterprise value-to-free-cash-flow ratio of 30.2, which actually does sound kind of expensive.
Personally, I look at these numbers and think, "Hey, two out of three ain't bad." But I readily admit that the free-cash-flow number at Oshkosh remains weak, the resulting EV/FCF ratio expensive, and the continuing struggles of the company's dominant access-equipment division discouraging. If you choose not to follow my lead and buy Oshkosh stock, there are more than enough reasons not to.
In that case, though, I'll just have to hope that if you don't buy Oshkosh, it'll be you, and not I, who this time will be proved wrong.
The article Oshkosh's Astounding Earnings originally appeared on Fool.com.
Fool contributorRich Smithis -- finally -- happy to say that he owns shares of Oshkosh. You can find him onMotley Fool CAPS, publicly pontificating under the handleTMFDitty, where he's currently ranked No. 297 out of more than 75,000 rated members.The Motley Fool has no position in any of the stocks mentioned. Try any of our Foolish newsletter services free for 30 days. We Fools may not all hold the same opinions, but we all believe that considering a diverse range of insights makes us better investors. The Motley Fool has a disclosure policy.
Copyright 1995 - 2016 The Motley Fool, LLC. All rights reserved. The Motley Fool has a disclosure policy.