Orkambi a 2016 Blockbuster? Vertex Pharmaceuticals Incorporated Thinks So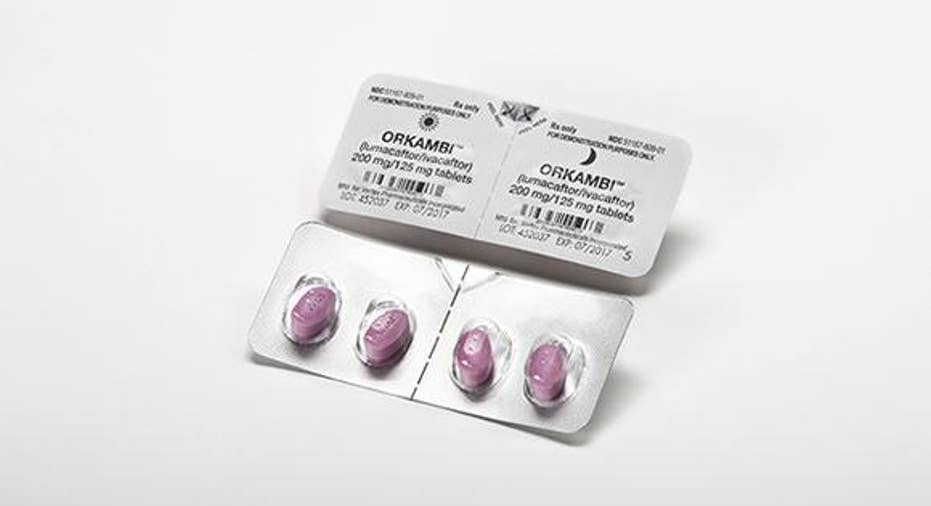 Vertex Pharmaceuticals released earnings Wednesday, offering investors a look at how the launch of Orkambi is going and an update on its older medication, Kalydeco.
Vertex Pharmaceuticals results: The raw numbers
| | Q1 2016 Actuals | Q1 2015 Actuals | Growth (YOY) |
| --- | --- | --- | --- |
| Revenue | $398 million | $139 million | 187% |
| (Loss) From Operations | ($14 million) | ($172 million) | N/A |
| (Loss) Per Share | ($0.17) | ($0.83) | N/A |
What happened with Vertex Pharmaceuticals this quarter?
Orkambi pills. Image source: Vertex Pharmaceuticals. Sales of Kalydeco, Vertex's first cystic fibrosis drug, increased 31% year over year to $171 million, boosted by an increase in the number of patients eligible to take the drug.
Orkambi, which launched in July, produced sales of $223 million, only a slight increase over the fourth quarter sales of $220 million due to discontinuations matching new patients starting the medication.
Vertex gained approval for Orkambi in Canada and Australia, adding approximately 2,500 potential patients.
The company submitted an application to the Food and Drug Administration to treat children ages 6 to 11 with Orkambi, which would add 2,400 potential patients. In Europe, Vertex has to wait for data from an ongoing trial before it can apply to market the drug for children ages 6 to 11.
What management had to sayChairman and CEO Jeff Leiden stressed that the market opportunity remains strong: "Consider that today Orkambi and Kalydeco are approved for approximately 27,000 people worldwide, but we're only currently treating approximately one-third of these patients." Adding that, "In total, we believe there are approximately 44,000 people, an additional 17,000 people beyond those eligible today, who could benefit from one of these two medicines."
While Orkambi and Kalydeco are clearly the most important drugs in the short term, Vertex has drugs further back in the pipeline, with Leiden noting, "We are on track to obtain the first data from the ongoing Phase 3 program for VX-661 in early 2017 from the study in people with two copies of the F508del mutation."
Looking forwardFor the first time, management gave guidance for sales of Orkambi, predicting sales of $1 billion to $1.1 billion for this year. The guidance is based on increasing the 65% of eligible patients in the U.S. who are currently taking the drug to a "vast majority" by the end of the year. To hit the patient goal, Vertex needs the discontinuation rate to stay steady, with around 15% of patients stopping therapy in the first three months and 20% to 30% overall discontinuation rates.
Based on an increase in patients Kalydeco is approved for as well as a reduction in patients in clinical trials that would get the drug for free, management increased guidance for Kalydeco revenue for the year to between $685 million and $705 million, from a previous range of $670 million to $690 million.
Management didn't give earnings guidance, but Vertex only burned through about $10 million of its cash in the first quarter -- a rounding error on the company's nest egg of just over $1 billion. With increasing sales expected, GAAP profitability shouldn't be too far off.
The article Orkambi a 2016 Blockbuster? Vertex Pharmaceuticals Incorporated Thinks So originally appeared on Fool.com.
Brian Orelli has no position in any stocks mentioned. The Motley Fool owns shares of and recommends Vertex Pharmaceuticals. Try any of our Foolish newsletter services free for 30 days. We Fools may not all hold the same opinions, but we all believe that considering a diverse range of insights makes us better investors. The Motley Fool has a disclosure policy.
Copyright 1995 - 2016 The Motley Fool, LLC. All rights reserved. The Motley Fool has a disclosure policy.