Organic Growth Powers Diplomat Pharmacy, Inc. in Q1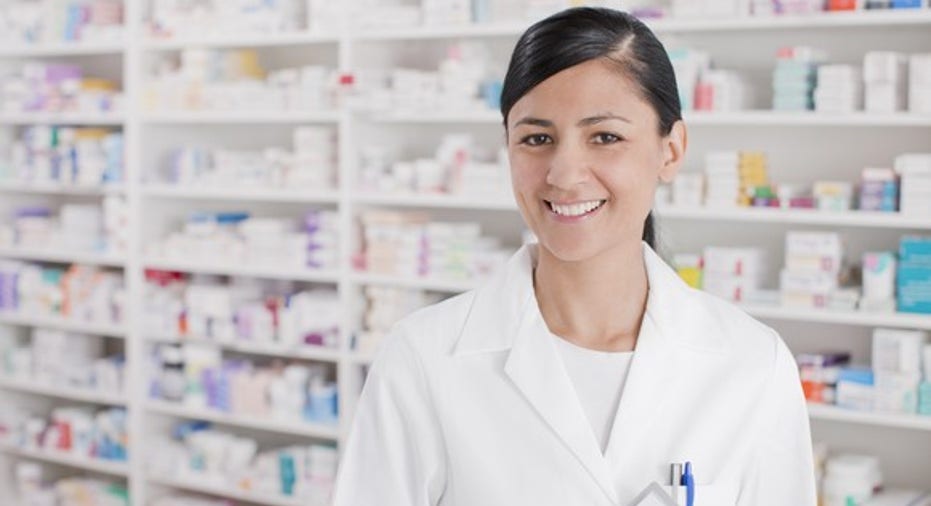 Wall Street wasn't impressed with the 2016 outlook provided by Diplomat Pharmacy at the end of February. The specialty pharmacy announced its 2016 first-quarter results after the market closed on Monday. Did Diplomat start off the year better than initially expected? Here are the highlights.
Diplomat results: The raw numbers
| Metric | Q1 2016 Actuals | Q1 2015 Actuals | Growth (YOY) |
| --- | --- | --- | --- |
| Sales | $995.9 million | $624.9 million | 59.4% |
| Net income from continuing operations | $15.4 million | $2.8 million | 450% |
| Adjusted earnings per share | $0.23 | $0.09 | 156% |
YOY = year over year. Data source: Yahoo! Finance
What happened with Diplomat this quarter?Diplomat's first-quarter success stemmed largely from organic growth. The company reported $122 million in added revenue from increased volume and a "richer mix" of sales for existing drugs. Around $62 million in new revenue came from manufacturer price increases. New drugs accounted for another $42 million in additional revenue.
Acquisitions were also important. Diplomat stated that around $145 million in added revenue was the result of acquisitions since the first quarter of last year.
Other first-quarter highlights included:
Total prescriptions dispensed increased 20% year over year to 232,000.
Gross profit per prescription dispensed jumped 62% from the prior-year period to $332.
Gross margin improved to 8% from 6.6% in the first quarter of 2015.
What management had to sayDiplomat's chairman and CEO,Phil Hagerman, was positive about his company's first-quarter performance and the potential for the future. He said:
Looking forwardHow much did the TNH acquisition referred to by Hagerman improve Diplomat's full-year 201 outlook? The company previously projected revenue for the year between $4.3 billion and $4.6 billion. Now, it expects revenue to come in between $4.5 billion and $4.9 billion. It also now anticipates adjusted earnings per share in the range of $0.88-$0.95. That's up from the $0.84-$0.89 range provided in the year-end 2015 report.
One key to Diplomat's future success will be how well the company locks in exclusive or limited distributorship deals with pharmaceutical companies. Diplomat scored in 2012 when Exelixispicked the specialty pharmacy as the exclusive U.S. distributor for thyroid cancer drug Cometriq. In 2015, Cometriq generated revenue of over $37 million for Exelixis, of which just under $31 million was through its Diplomat relationship.
Diplomat landed another exclusive deal last year. Taro Pharmaceutical Industries agreed to use Diplomat as the only distributor for Keveyis, which treatsprimary hyperkalemic and hypokalemic periodic paralysis. Taro received Food and Drug Administration approval for Keveyis in August 2015 and launched the drug at the end of third quarter. The drug is expected to generate sales of $100 million in fiscal year 2017.
These exclusive and limited distributorship deals have proven beneficial to Diplomat so far. In 2015, the company's portfolio of around 100 limited distribution drugs accounted for 45% of total revenue. More agreements like the ones Diplomat struck with Exelixis and Taro could mean even brighter days ahead for the specialty pharmacy.
The article Organic Growth Powers Diplomat Pharmacy, Inc. in Q1 originally appeared on Fool.com.
Keith Speights has no position in any stocks mentioned. The Motley Fool recommends Diplomat Pharmacy and Exelixis. Try any of our Foolish newsletter services free for 30 days. We Fools may not all hold the same opinions, but we all believe that considering a diverse range of insights makes us better investors. The Motley Fool has a disclosure policy.
Copyright 1995 - 2016 The Motley Fool, LLC. All rights reserved. The Motley Fool has a disclosure policy.