Orange Juice Prices Surge Toward Record High on Brazil Ban Fears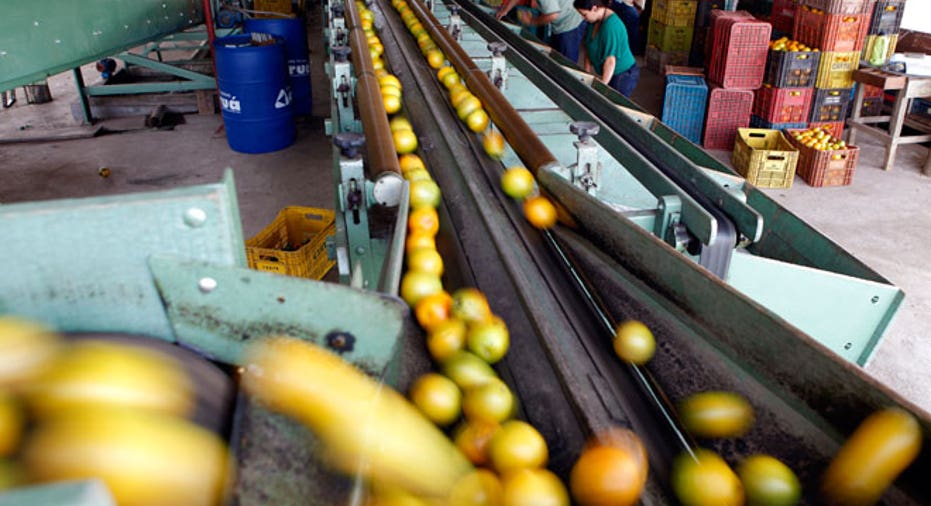 Orange juice prices rose the daily limit on Friday and near a record high, and were up 7 percent in the options market, amid speculation the United States may ban Brazilian juice imports which had used an illegal fungicide.
The U.S. Food and Drug Administration said on Friday some imported orange juice samples were tested to have safe levels of the fungicide carbendazim, but it made no mention of result of samples from Brazil, which accounts for about half of all U.S. imports.
The citrus market rallied on a worst-case scenario in which the FDA would order a ban of Brazilian juice products. Fears of shortage sent the frozen concentrated orange juice futures on the ICE Futures U.S. exchange up the daily limit on Friday, the second such increase in two weeks.
The FDA said on Friday that samples of imported juice from five countries were deemed safe. However, the U.S. regulator said 26 of the 45 samples it had taken since testing began on January 4 were "awaiting analysis or under compliance review."
Asked about the status of Brazilian imports, a FDA spokeswoman said it is not releasing any information about pending results.
"It's quite possible that they (remaining samples) are from Brazil, and investors are concerned about the idea that the samples will continued to be looked at and not released, making the market more nervous," said Sterling Smith, senior market analyst at Country Hedging Inc in St. Paul, Minnesota.
Smith said that citrus greening, a crop-destroying disease, and colder weather in California also helped propel higher prices.
The key March FCOJ contract was up for the fifth straight session, climbing its 10-cent limit, or almost 5 percent, to $2.1065 a lb by 12:26 p.m. EST (1726 GMT).
Smith said the citrus option market is indicating the contract should trade between $2.135 and $2.14 a lb, which would be a new all-time high.
Smith said his electronic book was showing there were about 240 bids, which sharply outnumbered asks.
The front-month continuous FCOJ contract hit a record at $2.1275 on January 10 when the fungicide news first broke on the market, but subsequently sold off on rampant speculation about the FDA result.
After a rollercoaster ride last week in its most volatile trading OJ is set for a 14 percent gain this week for its biggest gain in two years.
Volume traded Friday in the tiny market was about a third below the 30-day norm, preliminary Reuters data showed.
EASY COME, EASY GO?
The price premium built into the market could collapse just as quickly as it increased should the FDA allow and declare the Brazilian juice safe, traders said.
"We're in uncharted waters with what the FDA is going to do," said James Cordier, a senior analyst with brokerage Optionsellers.com in Florida.
Cordier said prices will likely stay high while the FDA runs its tests. "You're not going to get the all-clear for months. That's why we have such a nervous market," he said.
The fungicide scare began after Atlanta soft-drink giant Coca-Cola Co (KO.N) discovered carbendazim in shipments from Brazil and alerted U.S. authorities.
Any disruption of imports from Brazil would affect juice makers such as Tropicana, owned by PepsiCo Inc (PEP.N), and Minute Maid, from Coca-Cola, which may use a mix of juices sourced from Brazil and the United States.
Uncertainty over the import clampdown has already caused exporters to postpone shipments to the United States.
Lawyers for Brazil's juice industry, which exports over $2 billion worth of juice a year, are trying to negotiate with U.S. officials, but there are few low-priced alternative fungicides for its growers to use.
Carbendazim is used in Brazil to combat blossom blight and black spot, a type of mold that grows on orange trees. But in the United States, it can be used only in non-food items.
The FDA said previously low levels of carbendazim are not dangerous and the agency had no plans for a recall.
(Additional reporting by David Morgan in Washington; Editing by Bob Burgdorfer)