OPEC's Production Cut Has These Stocks Rallying Again Today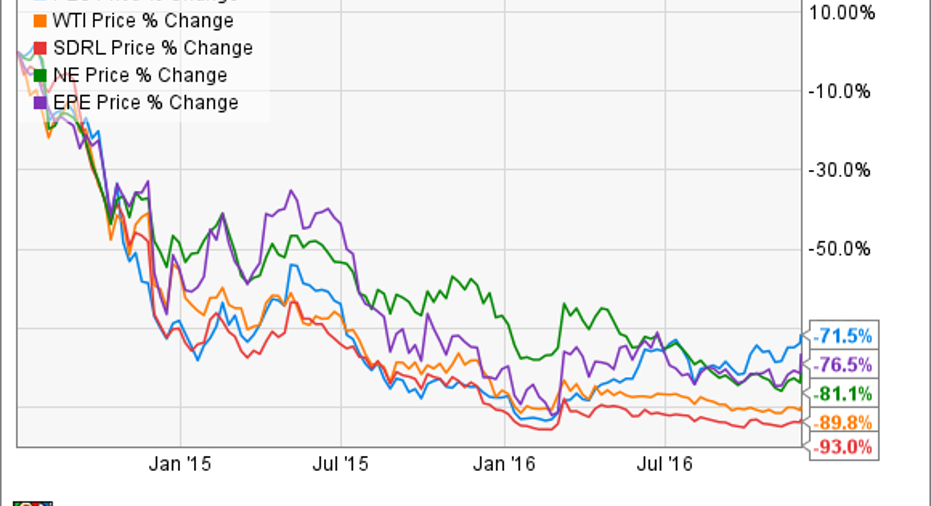 Image source: Getty Images.
What happened
Stocks in the oil and gas industry continue to rally following the announcement yesterday that OPEC would be cutting production by 1.2 million barrels a day. This has had energy stocks in a frenzy. Here's a list of companies that have jumped more than 10% as of 10:45 a.m. EST today.
Company
% Price Change

Pioneer Energy Services (NYSE: PES)

10%
W&T Offshore

(NYSE: WTI)

14.2%
Seadrill Limited

(NYSE: SDRL)

15.1%
Noble Corporation

(NYSE: NE)

10.3%
EP Energy

(NYSE: EPE)

17.9%
So what
Even though they are in different parts of the oil and gas industry -- W&T and EP Energy are producers and Pioneer is a general services company, while Seadrill and Noble own and lease rigs -- all of them have taken a harder hit than most from the oil and gas industry. For W&T Offshore, its assets are all in the Gulf of Mexico and needs higher prices to make both its current production economical and continue an exploration and development program of its other offshore leases. EP is a land driller, but some of the acreage it has, such as in the Uinta Basin of Utah, are less developed as other parts of the U.S. It also doesn't help that these two are up to their ears in debt.
Seadrill's and Noble's business of leasing rigs to offshore producers has been on a rapid decline for several years as exploration budgets have been slashed to the bone. Seadrill also has the added problem of having a bloated balance sheet that has many people fearing a possible default on its loans. Similarly, Pioneer's business as a service provider for land drilling in the U.S. and Latin America has been hit very hard as drilling activity in the U.S. dropped to levels we haven't seen in decades. As a result, all of these companies have seen their stocks fall precipitously over the past couple of years.
OPEC's announcement that it will scale back production has a lot of knock-on effects that Wall Street is hoping will help to lift these stocks higher. These cuts have already lifted oil prices to above $50 a barrel, and there is hope that they will clear supply gluts and lead to sustained higher prices. This will have an immediate impact on W&T Offshore and EP Energy as they will get better realized prices and boost their top and bottom lines. For Pioneer, Seadrill, and Noble, investors are assuming that higher prices will lead to an eventual uptick in drilling activity that will put these companies' idle assets back to work.
Now what
Keep in mind that the reason these stocks have jumped so much lately is because they are coming off very steep drops and are very far from where they were a couple of years ago, and it's possible that they will never reach those highs again for years. It's also worth noting that W&T Offshore, EP Energy, and Seadrill have some big debts they need to pay off before investors can expect that cash to be put to work for shareholders. Today's big jump does not mean that all of their troubles are behind them.
That being said, it's looking more and more that the long-awaited oil and gas recovery is finally here. For investors, these cuts will hopefully lead to a strong 2017 and beyond to help recover from the recent tough times.
10 stocks we like better than Seadrill When investing geniuses David and Tom Gardner have a stock tip, it can pay to listen. After all, the newsletter they have run for over a decade, Motley Fool Stock Advisor, has tripled the market.*
David and Tom just revealed what they believe are the 10 best stocks for investors to buy right now... and Seadrill wasn't one of them! That's right -- they think these 10 stocks are even better buys.
Click here to learn about these picks!
*Stock Advisor returns as of November 7, 2016
Tyler Crowe owns shares of Seadrill.You can follow him at Fool.comor on Twitter@TylerCroweFool.
The Motley Fool has no position in any of the stocks mentioned. Try any of our Foolish newsletter services free for 30 days. We Fools may not all hold the same opinions, but we all believe that considering a diverse range of insights makes us better investors. The Motley Fool has a disclosure policy.