OPEC and Non-OPEC Members Agree to Cut Production, Oil Stocks Soar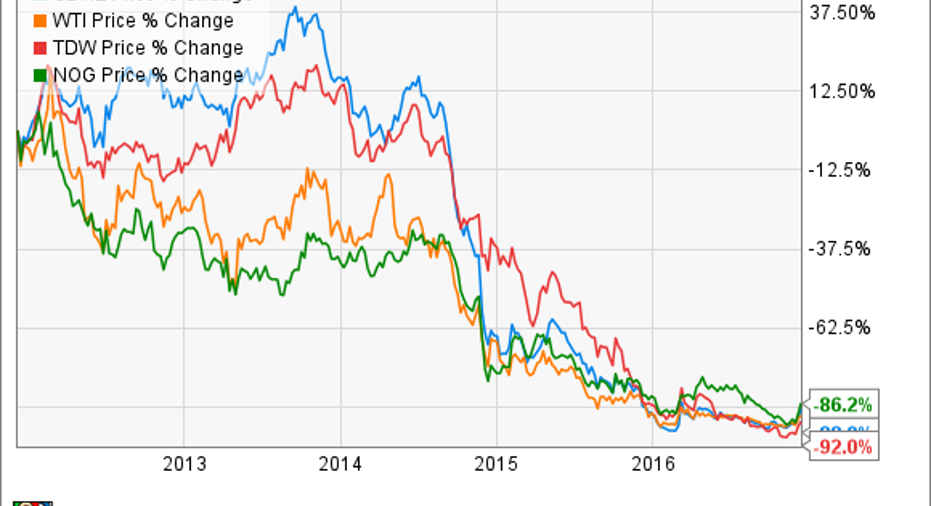 Image source: Getty Images.
What happened
Over the past two weeks, the oil market has been riding a wave of euphoria after OPEC announced that it would cut production. Today, that news got even better as a group of 24 nations including Saudi Arabia and Russia agreed to curb production. As a result, several oil and gas stocks are jumping by double digits. Here's a quick list of a few companies with gains in excess of 10% as of 11:00 a.m. EST.
Company
% Price Change
W&T Offshore

(NYSE: WTI)

10.9%
Tidewater

(NYSE: TDW)

13.5%

Northern Oil & Gas (NYSEMKT: NOG)

9.7%

Seadrill Limited (NYSE: SDRL)

9.8%
So what
At a glance, these are disparate companies in the oil and gas market: Northern Oil & Gas is a producer exclusively in the Williston Basin/Bakken shale formation in North Dakota, W&T Offshore is a producer that only operates in the U.S. Gulf of Mexico, Seadrill owns and leases a fleet of offshore oil rigs for exploration and production, and Tidewater owns and operates offshore service vehicles that provide a wide array of services to offshore oil rigs and installations.
One thing that all four have in common, though, is that all of them have inordinately high debt loads and their future viability as businesses relies on higher oil prices to not just thrive but in many cases survive. Tidewater was already receiving waivers from its creditors because it had breached several debt covenants.
So the news today about less production has the prospects of higher oil prices giving these companies renewed life. Both OPEC and non-OPEC nations have agreed to cuts. In addition to the 1.2 million barrels per day in production cuts from OPEC announced on Nov. 30, several non-OPEC producers have agreed to lessen output by 558,000 barrels per day, with Russia taking the largest cut of non-OPEC members by approximately 300,000 barrels per day. On top of that, in a separate announcement, Saudi Arabian energy minister Khalid Al-Falih said the country will continue to decrease even further to support prices.
If this were to happen, it would help to clear the long-standing glut of production and high inventory levels of crude oil globally and lift prices. That will have a direct impact on Northern Oil & Gas and W&T Offshore as they realize higher prices for the crude they produce. For Seadrill and Tidewater, there is an indirect benefit as higher prices should, in turn, raise overall drilling activity and put their equipment to work, something they could use right now.
Now what
As promising as these things sound, investors should keep in mind that this deal is predicated on 24 nations -- many of which aren't exactly best friends -- all holding to their promises of production cuts. Many of them don't have spectacular reputations for keeping their word when it comes to agreements like this. So don't be surprised if a few months from now we discover that a few renege on their promises. With that in mind, investing in the oil and gas industry today does look attractive as the fundamentals improve, but that doesn't mean investors should be indiscriminately backing up the proverbial truck on energy stocks.
Despite these companies' gains today, investors should tread carefully. They are all gaining double digits because their stocks have been hammered over the past several years, and it will take higher prices sustained for a much longer period before we see them return to their former highs. We could still see some bumps in the road along the way, so don't just assume that today's announcement gives the all clear that everything will be great from here on out.
10 stocks we like better than Seadrill When investing geniuses David and Tom Gardner have a stock tip, it can pay to listen. After all, the newsletter they have run for over a decade, Motley Fool Stock Advisor, has tripled the market.*
David and Tom just revealed what they believe are the 10 best stocks for investors to buy right now... and Seadrill wasn't one of them! That's right -- they think these 10 stocks are even better buys.
Click here to learn about these picks!
*Stock Advisor returns as of Nov. 7, 2016
Tyler Crowe owns shares of Seadrill.You can follow himat Fool.comor on Twitter@TylerCroweFool.
The Motley Fool has no position in any of the stocks mentioned. Try any of our Foolish newsletter services free for 30 days. We Fools may not all hold the same opinions, but we all believe that considering a diverse range of insights makes us better investors. The Motley Fool has a disclosure policy.