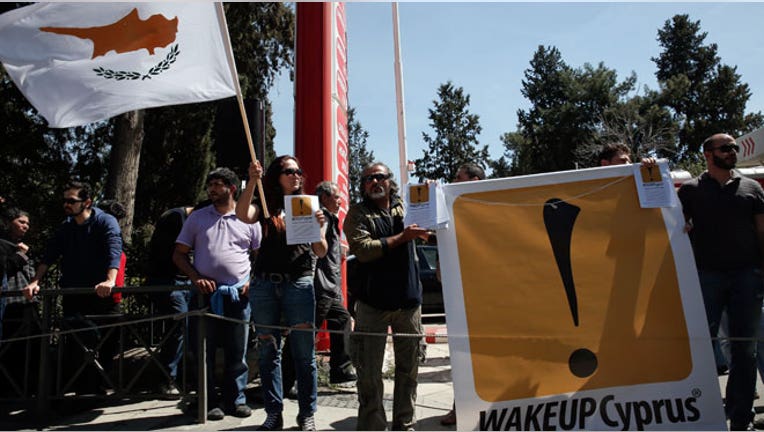 On the day they learned the European Union and International Monetary Fund would bail out their banks, Cypriots gathered for a parade through their capital city, Nicosia…but it has nothing to do with a bailout.
The celebration marks Greek independence from the Ottoman Empire, a national holiday in Cyprus. Cypriots' embrace of their European bailout is much more complicated.
While a bank run is seemingly averted and deposits of amounts up to 100,000 euros at Cyprus' two major banks are apparently saved, the economic uncertainty this bailout creates and the international sensitivities it violates brings a feeling of concern and resentment to this island nation.
Cyprus' financial-services sectors is massive. Bank assets here are eight times the size of the country's annual economic output. It's apparent as soon as travelers arrive.  Cyprus' primary airport is covered in ads for banking services. With its low corporate tax rate, the country is notorious for housing international deposits, especially from Russians. An analyst report said more than 30 billion euros from Russians are kept in Cyprus banks, dubbing the country Russia's best friend in the world.
The bailout conditions change that. European creditors, led by Germany, require the country reduce its oversized financial services sector. Thousands of banking jobs are at risk and Cyprus' recession will likely deepen.
In the capital city, there's relief their deposits are mostly saved and concern that their recession continues.
Among some, especially the tens of thousands of Russians living here, there's anger at Germany. Drawing comparisons to the World War II, they see the bailout conditions targeted at Russians. Other Cypriots protesting before parliament, before leaders reached their bailout agreement, said they'd rather leave the eurozone and confront the banking crisis instead of ceding control of their finances to the EU and IMF. The IMF has mandated the country's debt stay lower than the size of its annual economy by 2020.
All concerns aside, there's a parade today. It has nothing to do with a bailout. Before noon, Nicosia's cafes were opening, people filled the streets, and Cypriots seemed prepared to forget their banking troubles, at least for today.