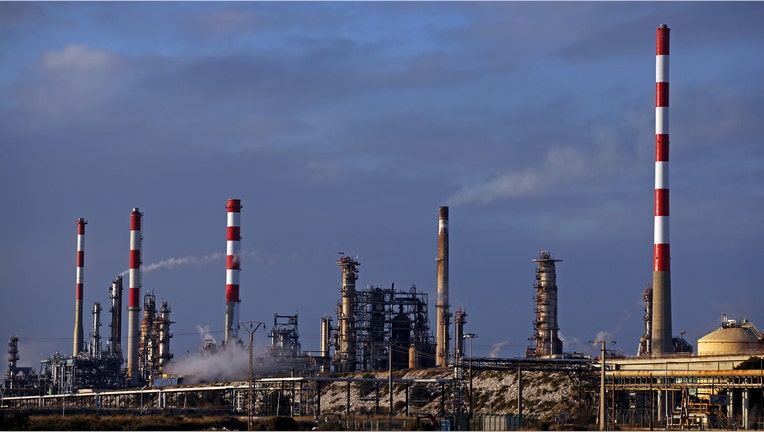 Oil prices fell more than 4 percent on Wednesday after the U.S. government stunned the market with a raft of bearish inventory data that added to concerns over a global glut of oil.
U.S. crude oil stockpiles fell less than expected last week, the Energy Information Administration said. Distillate inventories rose the most since January and gasoline posted a build that came as a surprise during summer driving season.
The U.S. inventory report pressured prices in a market already bearish after the Paris-based International Energy Agency warned about a global oil supply glut.
"A surprising build in gasoline in the peak of U.S. driving season and a very large build in heating oil will set the tone for lower prices as we go forward," said Tariq Zahir, a trader in crude oil spreads at Tyche Capital Advisors in New York.
"The products markets will continue to put weakness in the energy complex."
Brent crude was down $2.25, or 4.6 percent, at $46.22 a barrel by 12:37 p.m. EDT (1637 GMT).
U.S. crude fell $2.10, or 4.5 percent, to $44.70.
U.S. gasoline tumbled 4 percent too, while heating oil, a proxy for ultra low sulfur diesel, slumped nearly 6 percent at the session low.
On Tuesday, both Brent and WTI gained nearly 5 percent on shortcovering and technical buying a day after hitting two-month lows.
Paris-based IEA, which advises industrialized nations on energy policies, said crude stockpiles kept rising last month, pushing floating storage to the highest level in seven years.
"(Stocks) are at such elevated levels, especially for products for which demand growth is slackening, that they remain a major dampener on oil prices," the Paris-based group said in a report.
The U.S. government's EIA said crude inventories fell 2.5 million barrels last week, less than a 3 million-barrel drop forecast in a Reuters poll.
Distillate stockpiles, which include diesel and heating oil, rose 4.1 million barrels, versus expectations for a 256,000-barrel increase, the EIA data showed.
Gasoline stocks rose unexpectedly by 1.2 million barrels, compared with a 432,000-barrel drop forecast.
The gasoline build in particular jolted some analysts because it came during the week of the July 4th holiday that typically marks the busiest U.S. driving period.
"Miles driven this July holiday was expected to be a record-high and demand at the pump was expected to reflect that point," said Troy Vincent, analyst at New York-based crude cargo tracker Clipperdata.
"It's not that it's some historical anomaly but it is continuing this trend of crude-glut-turned-gasoline-glut." (By Barani Krishnan; Additional reporting by Karolin Schaps in LONDON; Editing by Nick Zieminski and Marguerita Choy)