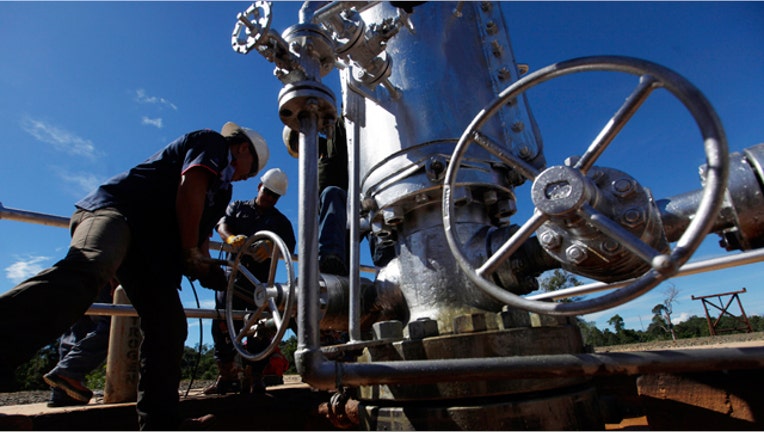 U.S. crude ended at a 2-1/2 year high on Wednesday as Palestinian rocket strikes on Israel escalated Middle East geopolitical risks and U.S. gasoline inventories posted the biggest seasonal decline on record.
U.S. crude futures for May delivery settled at $105.75 a barrel, gaining 78 cents and marking the highest close since September 2008.
In London, Brent May crude futures pared losses and settled down 15 cents at $115.55, after having hit the day's high of $116.40, edging close to its 2-1/2 year high hit late in February.
That narrowed Brent crude's premium against its U.S. counterpart to below $10 a barrel, after ending on Tuesday near $11.
Total U.S. crude trading volume was 451,899 lots, and Brent's volume was 279,755 lots -- both nearly 50 percent below their 30-day average with more than two hours of trading left on the day.
As U.S. crude approached its 2011 high of $106.95 a barrel, it was showing signs of being overbought on a key technical indicator. It was threatening to breach the 70 level on the 14-day relative strength index, which is usually interpreted as a sign a reversal lower is imminent.
MIDEAST VIOLENCE, UNREST CONTINUES
Palestinian rockets fired from Gaza slammed into two cities deep in Israel while a deadly suitcase bomb exploded in Jerusalem, reigniting violence between Israelis and Palestinians after nearly two years of relative calm and adding a new dimension to anxieties besetting the Middle East.
"The rockets that hit Israel helped rally crude," said Daniel Flynn, analyst at PFGBest Research in Chicago.
But the drop in Brent crude was attributable to "some unwinding of the Brent/WTI spread (and) people taking profits," Flynn added.
Already wracked by ongoing Allied air strikes against targets in Libya and nervously watching unrest in Yemen and Bahrain, the oil market has risen close to recent milestones as worries festered about potential supply disruptions.
Western warplanes silenced Muammar Gaddafi's artillery and tanks besieging the rebel-held town of Misrata, while in Sanaa Yemen's president offered to step down by the end of the year in a bid to appease protesters seeking his ouster.
Saudi authorities arrested 100 Shi'ite protesters in demonstrations in the east of the country last week, a Saudi human rights group said.
And in Bahrain, 30 people were wounded in the state's crackdown against demonstrators demanding democratic reforms.
U.S. GASOLINE INVENTORIES DOWN SHARPLY
U.S. government data showed a 5.32 million barrel drop in gasoline inventories in the week to March 18, surpassing an analyst forecast of a 1.8 million barrel drop.
Gasoline stocks declined even though refiners boosted utilization rates by 0.7 percentage point. But the capacity use increase did not prevent a rise in crude stocks that was bigger than expected, and distillate stocks also posted a gain.
The gasoline stocks drawdown in the first three weeks in March was the biggest decline for that period since 1990, when the U.S. Energy Information Administration (EIA) started its weekly inventory report.
Gasoline demand over the past four weeks was 1.2 percent higher than a year earlier, the EIA said.