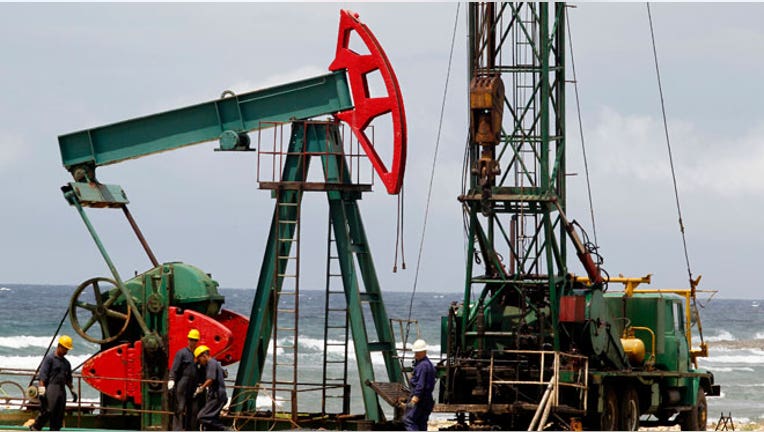 Oil slipped towards $102 a barrel on Wednesday after data showed the euro zone's recession extended to the longest on record, while a stronger U.S. dollar and ample supplies put additional pressure on on the price.
Brent crude is down 14 percent from its 2013 peak on the back of weaker demand in China and a sluggish recovery in the U.S. economy.
Brent crude slipped 42 cents to $102.18 a barrel by 1200 GMT. U.S. oil fell $1.14 to $93.07, declining for a fifth straight day.
The euro zone's economy contracted for the sixth straight quarter at the start of the year, marking its longest recession since records began in 1995.
Germany, the region's largest economy, narrowly dodged falling into recession thanks to a rise in consumption.
"The euro zone contraction is not a huge surprise. The market already priced in the weak results, but Germany, which accounts for a third of the euro zone GDP, came in weaker than expected," Harry Tchilingurian, head of commodity market strategy at BNP Paribas, said.
Oil has also faced pressure in the past few sessions from a stronger U.S. dollar, which makes commodities more expensive for holders of other currencies. [USD/}
"In the absence of a catalyst to push prices higher, the stronger dollar, particularly after the weak results from the euro zone, weighs on oil," Tchilingurian said.
Traders were waiting to see the ramifications from news on Tuesday that European authorities raided offices of oil majors Royal Dutch Shell, BP and Statoil, investigating suspected manipulation of oil prices in the physical market.
OVERSUPPLY
The market outlook was weakened after the International Energy Agency (IEA) said in a report that rising U.S. shale oil production will help to meet most of the world's new demand in the next five years, with OPEC spare capacity set to rise.
In the short term, the American Petroleum Institute (API) reported that crude inventories rose by 1.1 million barrels in the week to May 10, far higher than forecast.
Investors await data from the U.S. Department of Energy's Energy Information Administration later in the day to gauge the country's demand outlook.
Iran faced fresh international pressure over its nuclear programme on Wednesday in two separate meetings in Vienna and Istanbul, but no breakthrough was expected.
"The world is to remain well supplied in the medium term ... At the same time, price volatility is still set to come from macro events or geopolitics, where any price spike would be temporary given the current comfortable supply cushion," VTB Capital analyst Andrey Kryuchenkov said.
(Additional reporting by Manash Goswami; editing by Keiron Henderson)