Oil Prices Surge Above 6%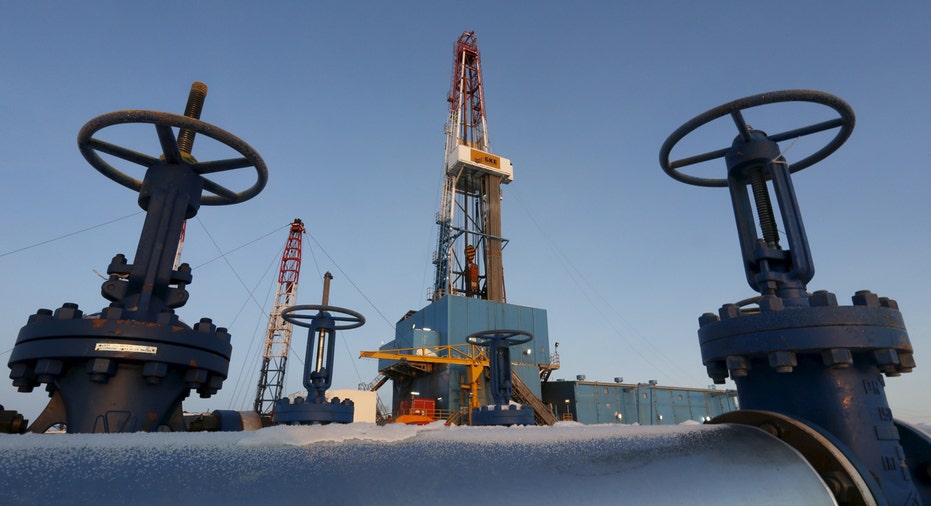 Oil prices are surging, one of several big jumps higher this year, as speculators keep betting a stronger global economy and a deal from global exporters to cap production can smooth the path for oil to rebound.
Light, sweet crude for May delivery recently gained $2.31, or 6.2%, to $39.57 a barrel on the New York Mercantile Exchange. Brent, the global benchmark, gained $2.09, or 5.3%, to $31.52 a barrel on ICE Futures Europe.
In a speech late Thursday, U.S. Federal Reserve Chairwoman Janet Yellen sought to dispel worries the U.S., the world's biggest oil consumer, is heading back toward recession. Earlier this year, concerns about weak economic growth helped push oil prices to decade-lows.
Federal Reserve Bank of New York President William Dudley also spoke Friday morning and oil prices rose higher at the same time. Mr. Dudley said he still favors a go-slow approach to raising the central bank's short-term interest rate target. Keeping interest rates stable could do the same for the dollar or even weaken it, and a weaker dollar often leads to higher prices for oil and other dollar-denominated currencies by making them cheaper for international buyers.
Oil traders have spent months with an eye on Federal Reserve policy, the global economy and the dollar. Several times in the past year a rallying dollar and weakening emerging markets have led to big falls in oil, and an end to those roadblocks could help smooth the path for oil to rebound.
The market has already taken several big jumps forward this year with bearish traders getting out of the market and many others speculating that a big rebound is on the way. Friday's session is on pace to be the 12th in just a little more than two months that oil has gained about 5% or more.
The pattern matches similar swings upward last year, and oil typically has a seasonal rally early in the year as traders anticipate the annual spike in gasoline demand, said Brian LaRose, senior technical analyst at the brokerage ICAP PLC. U.S. gasoline consumption has just set new records for March, another factor that has helped push oil higher in recent months.
"The whole seasonal pattern, I don't think it's done," Mr. LaRose said. "And there's a lot of hope...that OPEC's going to save the day."
The coming meeting between major oil producing countries later this month "remains a strong market maker," said Michael Poulsen, oil analyst at Global Risk Management. At the meeting, planned for April 17 in Doha, Qatar, the Organization of the Petroleum Exporting Countries and other exporters are set to discuss a production freeze to salvage prices.
A proposed production freezing deal provided some temporary relief in the past two months but investors are still on edge over worries an agreement might not be reached.
Iran has refused to curtail production and vowed to keep pumping until production is on par with the levels seen before sanctions. Saudi Arabia, one of the original initiators of the pact, has signaled it would back out of the plan unless Iran is on board.
The meeting's leaders have made little news and few comments in recent days, but that is likely a help for oil prices, said Dominick Chirichella, analyst at the Energy Management Institute. Most of the recent comments have made it sound more likely the deal will fall through, undermining speculation that the deal is a major step forward toward limiting production.
"The less said by any of the potential participants the better for the market," Mr. Chirichella said. "Lack of news snippets hitting the media airwaves by attendees maintains the air of uncertainty surrounding the outcome which is supportive for prices."
Despite the recent rally, oil prices remain down more than 20% from last year. Most analysts still see the market as oversupplied but some expect that falling U.S. output and rising demand will alleviate some of the glut later this year.
"We believe the current oil price is unsustainable and expect a fundamental price recovery when markets move into better balance in mid- to late- second part of the year," said Jason Gammel, an analyst at Jefferies. However, Mr. Gammel said that "the recovery could be protracted."
Gasoline futures recently gained 4.2% to $1.4391 cents a gallon. Diesel futures gained 6% to $1.1933 a gallon.
Georgi Kantchev and Jenny W. Hsu contributed to this article
By Timothy Puko