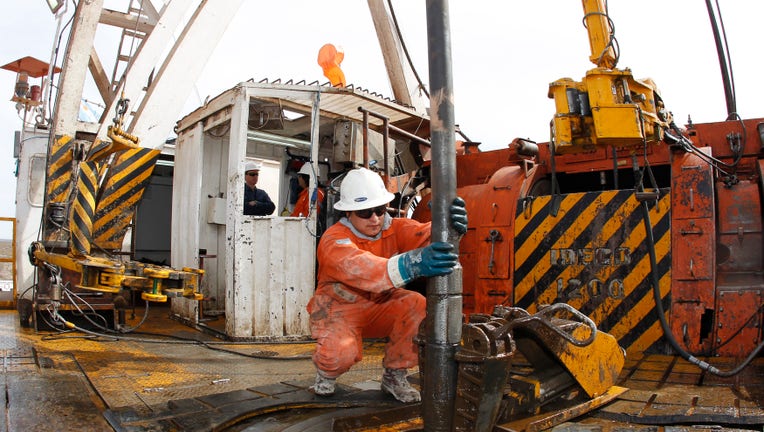 Oil prices edged lower on Monday as weak manufacturing data from the United States, Europe and China reinforced concerns about slowing economic growth and its threat to demand for petroleum.     Ongoing fears about the euro zone's debt crisis helped pressure oil as enthusiasm for a European Union (EU) bank bailout deal faded after the agreement helped push crude prices on Friday to their fourth-biggest daily gain on record.     Trading was choppy and both Brent and U.S. crude futures settled well above their intraday lows as Middle East tensions and a strike by Norwegian oil workers supported oil prices.     News that Iranian lawmakers had drafted a bill calling for Iran to shut off the Strait of Hormuz to oil tanker traffic helped limit oil's losses, especially for Brent crude.     "The market is jittery, with U.S. crude falling to (an initial intraday) low after the ISM data (U.S. factory activity) added to the concerns about manufacturing slowing down, but the news from Iran showed how much uncertainty there is about that situation," said Gene McGillian, an analyst at Tradition Energy in Stamford, Connecticut.     Brent August crude dipped 46 cents to settle at $97.34 a barrel, having managed a recovery from a $95.30 low.     U.S. August crude fell $1.21 to settle at $83.75 a barrel, having slumped t o $82.10 i ntraday.     On Friday, Brent rose more than $6 a barrel while U.S. crude jumped more than $7, their fourth-largest daily gains in dollar terms since the contracts were launched.     "Oil is being driven by psychological factors," said Eugen Weinberg, global head of commodities research at Commerzbank in Frankfurt. "Today's selloff is a natural reaction after such enormous gains at the end of last week."     Trading volumes for Brent were above the 30-day average and outpaced more tepid U.S. turnover, which lagged its 30-day average.     U.S. equities slipped, but showed some resilience as the barrage of weak economic data raised the possibility of more stimulus from the Federal Reserve.     The intensified concerns about economic growth overshadowed a Sunoco Inc and private equity company Carlyle Group LP deal to save and expand the largest U.S. East Coast refinery.     Ahead of weekly reports on U.S. oil inventories, crude stocks were expected to have fallen last week, while refined products stocks edged up, a Reuters survey of analysts on Monday showed.         SLOWING GLOBAL MANUFACTURING
The U.S. Institute for Supply Management's index of national factory activity fell in June to 49.7, dipping below the 50 mark that separates expansion from contraction for the first time since July 2009.     The ISM report added to concerns and followed Markit's final U.S. PMI index showing the manufacturing sector grew in June, but at its most sluggish rate in 18 months.     Euro zone manufacturing took another downturn in June and factories are preparing for worse, according to business surveys.     Manufacturing in China also worsened in June with export orders, usually an indicator of global economic health and trade flows, posting their biggest fall since December.   China's demand for West African crude oil for  July is expected to fall to a 2012 low following refinery run  cuts, a Reuters survey of traders showed.
IRAN TENSIONS     Iran's National Security and Foreign Policy Committee has drafted a bill calling for Iran to try to stop oil tankers from shipping crude through the Strait of Hormuz helped curb oil price losses, especially for Brent crude.     The action by Iranian lawmakers comes after a European Union embargo on Iran's oil took effect on Sunday and as U.S.-led sanctions designed to curb Tehran's ability to finance its controversial nuclear program.     Iranian Oil Minister Rostam Qasemi urged OPEC's secretary general to call for an extraordinary meeting to address plummeting oil prices, Iranian Oil Ministry's website SHANA said on Saturday.     As the EU embargo took effect, a strike by Norway's offshore oil and gas workers entered its second week and has begun to slow crude exports, according to a trading source.     The dispute over pension and retirement rights remained deadlocked a ninth day on Monday. Unions are scheduled to meet on Tuesday to decide on whether to escalate the strike, a step that would raise the risk of government intervention.