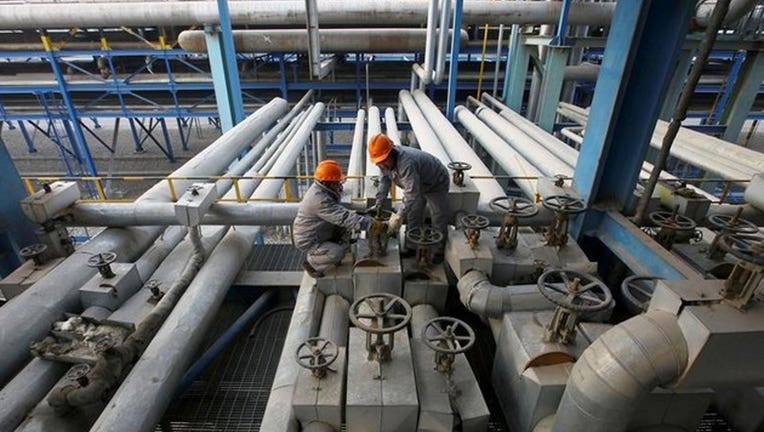 Oil dipped on Friday but stayed near three-year highs reached earlier this week, with ongoing OPEC-led supply cuts and strong demand gradually drawing down excess supplies.
Brent crude oil futures were at $73.62 per barrel at 0547 GMT, down 16 cents, or 0.2 percent, from their last close.
U.S. West Texas Intermediate (WTI) crude futures were down 20 cents, or 0.3 percent, at $68.09 a barrel.
Both Brent and WTI hit their highest levels since November, 2014 on Thursday, at $74.75 and $69.56 per barrel respectively. WTI is set for its second weekly gain, climbing more than 1 percent this week, while Brent is also poised to rise for a second week, adding around 1.5 percent.
Traders said Friday's dips were the result of profit-taking following Thursday's multi-year highs.
Oil prices have been buoyed by a gradually tightening market.
Led by top exporter Saudi Arabia, the Organization of the Petroleum Exporting Countries (OPEC), has been withholding production since 2017 to draw down a global supply overhang that had depressed crude prices between 2014 and 2016.
"Commercial inventories in the OECD are now essentially at their 5-year average, and drawdowns likely accelerate as refineries emerge from maintenance ahead of peak seasonal demand," U.S. investment bank Jefferies said on Friday.
"OECD commercial inventories could fall back to ... a level not seen since the oil price collapse that began in 3Q14. On a day of forward demand basis, we believe cover could drop below 57 days later this year, a level last seen in 2011," it added.
The tighter oil market is feeding into refined products.
"Signs of tightness are emerging in product markets as stocks saw the largest week-on-week draw since October, 2016 ... The U.S. led the draws but was also aided by draws in Singapore," said U.S. bank Morgan Stanley.
This tightness is also a result of healthy oil demand.
"Global oil demand data so far in 2018 has come in line with our optimistic expectations, with 1Q18 likely to post the strongest year-on-year growth since 4Q10 at 2.55 million barrels per day," U.S. bank Goldman Sachs said in a note published late on Thursday.
Beyond OPEC's supply management, crude prices have also been supported by an expectation that the United States will re-introduce sanctions on OPEC-member Iran.
"The first key geopolitical issue is the expiration of the current U.S. waiver of key sanctions against Iran," said Standard Chartered Bank in a note this week, referring to a deadline on May 12 when U.S. President Donald Trump will decide whether or not to re-impose sanctions.
One factor that could start weighing on prices is rising U.S. production, which has jumped by a quarter since the middle of 2016 to 10.54 million barrels per day (bpd), making the United States the world's second-biggest producer of crude oil behind only Russia, which pumps almost 11 million bpd.
(Reporting by Henning Gloystein; Editing by Richard Pullin and Christian Schmollinger)