Oil and Gas Stock Roundup: OPEC Swoops In and Saves the Day (ATW, HOS, DNR, WLL, OAS)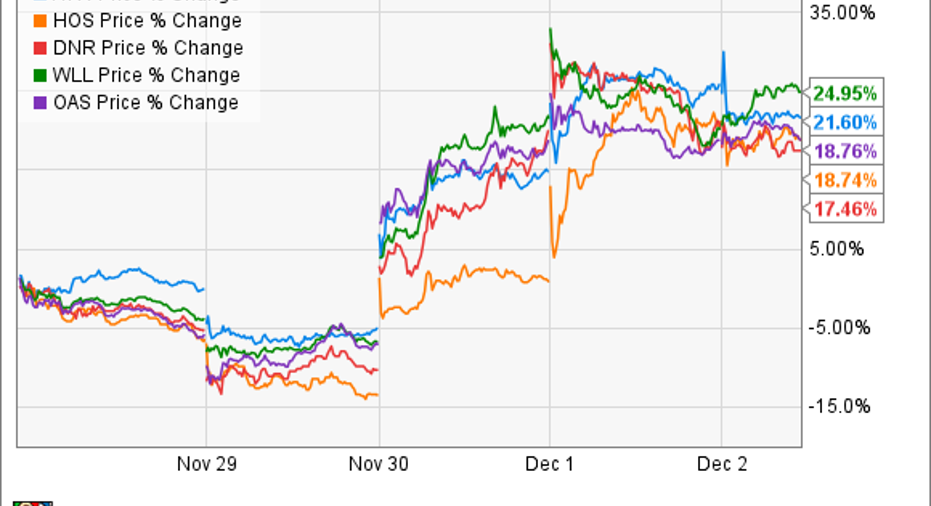 Image source: Getty Images.
What happened
Crude oil roared higher this week, ending up double digits after OPEC officially agreed to cut its production by more than 1 million barrels per day. That agreement also sparked a huge rally across the oil patch. But while the entire sector moved higher, the biggest beneficiaries of OPEC's announcement are companies that had struggled with low oil prices. That's why some of this week's biggest movers, according to data fromS&P Global Market Intelligence, wereAtwood Oceanics (NYSE: ATW), Hornbeck Offshore Services (NYSE: HOS), Denbury Resources (NYSE: DNR), Whiting Petroleum (NYSE: WLL), and Oasis Petroleum (NYSE: OAS):
So what
The offshore drilling market was in trouble well before OPEC started its market share war. That is because the sector was battling an oversupply of rigs and high costs, which only grew worse once prices started crashing. However, with OPEC changing course and supporting prices, it should remove a huge weight that had been holding back offshore drilling activities. A return of stable pricing should give offshore producers the confidence to increase their capex budgets, which could lead to more work for contract driller Atwood Oceanics and service company Hornbeck Offshore Services. That said, oil needs to move much higher, and the industry needs to continue to right-size its equipment inventory and cost structure before it is smooth sailing for Atwood Oceanics and Hornbeck Offshore.
Denbury Resources is another company that needs outside help to get back on track. One of the enhanced oil recovery specialist's biggest challenges is that its most profitable oil hedges expired at the end of the second quarter, leaving the company even more exposed to lower oil prices, evidenced by a $10-per-barrel decline in its average realized oil price last quarter. On top of that, Denbury Resources has a rather bloated balance sheet, which forced it to take several actions to cut debt including selling non-core assets and buying back notes on the open market at a discount. That said, what the company needs are steadily rising oil prices, which would provide it with the cash flow to pay down debt and reinvest in its asset base. Those higher prices are now much more likely thanks to OPEC.
Image source: Getty Images.
Finally, Bakken-focused drillers Oasis Petroleum and Whiting Petroleum will also benefit from the additional support OPEC will provide to the oil market. In Oasis Petroleum's case, it has only been able to keep its production roughly flat during the downturn while it worked on getting its costs down. However, it has made substantial progress in that area and was poised to deliver mid-teen production growth through 2018 at $50 oil. Unfortunately, Whiting Petroleum is not quite to that level, as it needs roughly $50 oil to keep production flat. With a new Bakken oil pipeline nearly complete, which should push its transportation costs down by $3 per barrel, the company was getting to that point where it could start growing again. But with OPEC stepping in, it should drive prices higher and enable Whiting and Oasis to accelerate drilling in the future.
Now what
The entire oil market breathed a sigh of relief this week now that OPEC has decided to end its market share war and instead will go back to bringing stabilization to the market. This agreement should cause prices to rise steadily, which would incentivize producers to invest more money into offshore development. Furthermore, the deal should also provide a much-needed boost to companies that have higher breakeven levels because it should supply them with more cash flow to pay down debt and invest in their production base.
10 stocks we like better than Atwood Oceanics When investing geniuses David and Tom Gardner have a stock tip, it can pay to listen. After all, the newsletter they have run for over a decade, Motley Fool Stock Advisor, has tripled the market.*
David and Tom just revealed what they believe are the 10 best stocks for investors to buy right now... and Atwood Oceanics wasn't one of them! That's right -- they think these 10 stocks are even better buys.
Click here to learn about these picks!
*Stock Advisor returns as of November 7, 2016
Matt DiLallo owns shares of Denbury Resources. The Motley Fool owns shares of and recommends Atwood Oceanics. The Motley Fool owns shares of Denbury Resources. Try any of our Foolish newsletter services free for 30 days. We Fools may not all hold the same opinions, but we all believe that considering a diverse range of insights makes us better investors. The Motley Fool has a disclosure policy.