Oil and Gas Stock Roundup: Deal News Fueled Oil Stocks This Week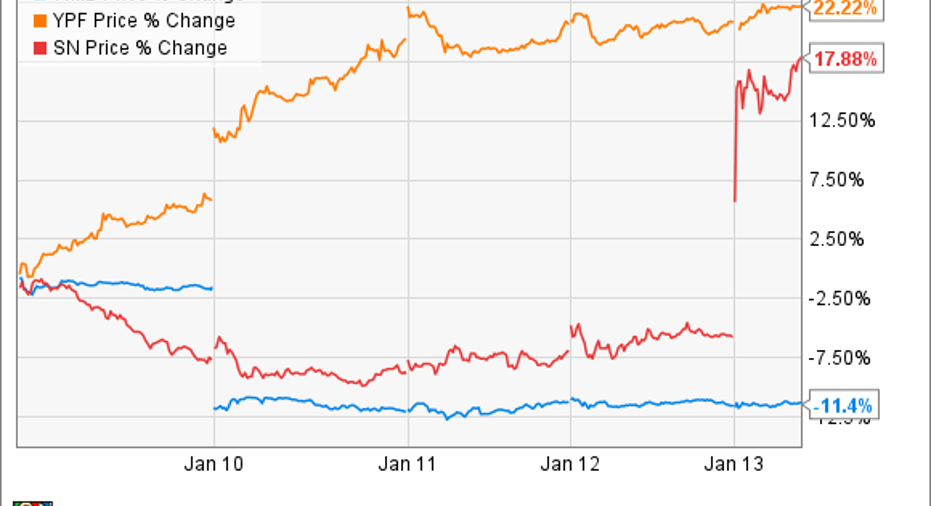 Image source: Getty Images.
What happened
Growing skepticism over the extent that OPEC would follow through with its deals to decrease output weighed on crude prices this week. Overall, crude fell 3%, which pushed down several oil stocks. However, the biggest catalyst driving oil stocks this week was transaction-related news. Leading those moves, according to data fromS&P Global Market Intelligence, wereWilliams Companies (NYSE: WMB), Sanchez Energy (NYSE: SN), and YPF (NYSE: YPF):
So what
Argentinian oil company YPF's stock rallied after its home country announced a deal between labor unions and energy companies to drive investments into its Vaca Muerta shale play. In return for investment commitments, the government would extend a subsidy enabling producers to sell gas for $7.50 per MMbtu while agreeing to eliminate an export duty on oil and oil products. Meanwhile, unions pledged to be more flexible on working conditions, which would drive down the high labor costs that had been a barrier to development. These improvements to the operating climate in Argentina should help producers like YPF earn higher returns on their investment. It is also timely news for the company considering its intentions to invest $5 billion this year in developing the Vaca Muerta play, with that investment set to expand up to $15 billion in future years.
Meanwhile, shares of shale driller Sanchez Energy surged after announcing a strategic partnership with Blackstone Group to acquire Eagle Ford Shale properties from Anadarko Petroleum (NYSE: APC). The partners will pay a combined $2.3 billion for the Anadarko Petroleum assets in a 50/50 partnership. The transaction is truly transformative for Sanchez because it will lead to a nearly doubling of its production over the next 18 months as it uses its increased scale in the Eagle Ford to grow within cash flow. Meanwhile, the deal enhances Anadarko's flexibility to accelerate its higher-return oil opportunities elsewhere, which it sees driving 12% to 14% compound annual oil production growth over the next five years.
Image source: Anadarko Petroleum.
Finally, Williams Companies stock sank this week after unveiling a new long-term strategy. The company announced a series of transactions to increase its ownership interest in its MLP Williams Partners (NYSE: WPZ). First, Williams agreed to exchange its general partner interest and incentive distribution rights for additional units in an $11.4 billion deal that will boost its stake in Williams Partners to 72%. Furthermore, Williams Companies announced a stock sale aimed at raising additional capital, which it will reinvest in more units of Williams Partners. Finally, the MLP will sell $2 billion of assets, which -- when combined with the other transactions -- will strengthen its balance sheet so that it does not need outside capital to finance growth projects for the next several years. Furthermore, both companies adjusted their investor payouts, with Williams Companies boosting its dividend 50% while Williams Partners reduced its distribution 29%. Williams expects that these initiatives will strengthen the combined company's financial position, putting both in the position to deliver sustainable growth.
Now what
Energy companies are known for their volatility and can often move by double digits without any news-driven catalysts. This week, however, each news item represented a potential thesis-altering event. It is when news-driven moves like these occur that investors do need to pay closer attention to see if they represent buying or selling opportunities. Of the three, I would take a closer look at Williams because its move does look like a potential opportunity to buy.
10 stocks we like better than Williams Companies When investing geniuses David and Tom Gardner have a stock tip, it can pay to listen. After all, the newsletter they have run for over a decade, Motley Fool Stock Advisor, has tripled the market.*
David and Tom just revealed what they believe are the 10 best stocks for investors to buy right now... and Williams Companies wasn't one of them! That's right -- they think these 10 stocks are even better buys.
Click here to learn about these picks!
*Stock Advisor returns as of January 4, 2017
Matt DiLallo has no position in any stocks mentioned. The Motley Fool has no position in any of the stocks mentioned. The Motley Fool has a disclosure policy.