Official: US believes ex-Venezuela oil czar took bribes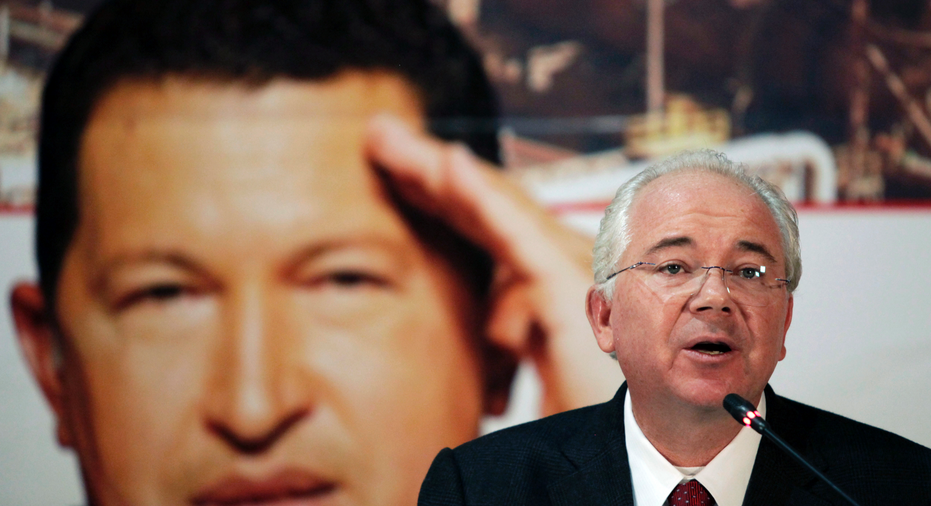 U.S. prosecutors believe that Venezuela's former oil czar and ambassador to the United Nations received bribes as part of an alleged multibillion-dollar graft scheme in the South America nation's oil industry, an official familiar with the U.S. investigation said Monday.
Rafael Ramirez, who was one of Venezuela's most powerful officials until he resigned from the U.N. post in December, was named as a bribe recipient although not charged in an indictment against five other former senior officials that was partially unsealed.
In Monday's indictment, prosecutors in Houston allege two of the charged individuals told businessmen that proceeds from bribe payments they made in exchange for quick payments and contracts with Venezuela's state-run oil giant PDVSA would be shared with a senior Venezuelan official, identified in the unsealed portion as "Official B."
That unidentified Venezuelan politician is Ramirez, a U.S. official told The Associated Press. The official agreed to talk about the case only on condition of anonymity because they were not authorized to discuss the matter.
In 2016, Venezuela's opposition-led National Assembly said $11 billion went missing at PDVSA in the 2004-2014 period, when Ramirez was in charge of the company. In 2015, the U.S. Treasury Department accused a bank in Andorra of laundering some $2 billion stolen from PDVSA.
Ramirez in the past has denied any wrongdoing and dismissed the U.S. probe into PDVSA as a politically motivated attempt to undermine President Nicolas Maduro's socialist government. After resigning his U.N. post, Ramirez left the United States for an undisclosed location, and he did not immediately respond to a request Monday seeking comment.
Prosecutors in the U.S. as well as Venezuela have been slowly closing in on his inner circle.
Among those charged Monday was PDVSA's former chief of corporate security, Rafael Reiter, who frequently appeared alongside Ramirez in public. Another was a former deputy energy minister, Nervis Villalobos, who stood in as head of PDVSA when Ramirez was on official business abroad. Both Reiter and Villalobos were arrested in Spain in October on U.S. warrants and are pending extradition along with a third former official, Luis Carlos de Leon.
Separately, Ramirez is also the target of a criminal investigation in Venezuela for taking a cut of oil contracts brokered by associates including his cousin, Diego Salazar, who was arrested in December. Ramirez has called the Venezuelan probe retaliation for his decision to break with Maduro, who he has accused of running Venezuela's once-thriving oil industry into the ground and abandoning the socialist ideals of the late Hugo Chavez.
Much of the evidence gathered by U.S. prosecutors stems from a case in Houston against two Venezuelan businessmen residing in the United States, Roberto Rincon and Abraham Shiera, who in 2015 were charged with violating the foreign corrupt practices act by paying bribes in exchange for contracts to build electricity generators for PDVSA at a time Venezuela was suffering widespread power outages. They are among 10 individuals and officials who have so far pleaded guilty in connection to the U.S. probes into corruption at PDVSA.
According to Monday's indictment, both men were approached by PDVSA officials in 2011, at a time the cash-strapped oil monopoly was in arrears with several vendors. The officials, referred to as the "management team" in the indictment, are alleged to have offered Rincon and Sheira's companies priority over other vendors and future business in exchange for bribes in the amount of 10 percent of all payments received. Over the next few years, the two men purportedly sent over $27 million to an account in Switzerland for which Villalobos and De Leon were authorized signers.
Two of the officials, Leon and Villalobos, explained to the businessmen that the bribe proceeds would be shared with Official B and another unnamed senior who also has yet to be charged, the indictment says.
In text messages, the charges allege, the conspirators used ambiguous terms like "ration" and "candy" to refer to the bribes and even traded charts of how much was owed. Prosecutors also allege that businessmen bought expensive gifts for the defendants and their associates, including a $10,000 handbag and a holiday vacation in the Bahamas. On Reiter's behalf, they also allegedly purchased a condominium at the Miami Four Seasons and an armored car and invested in a movie.
None of the shell companies and bank accounts used to conceal the bribe payments appear to have been in Ramirez's name.
However, in 2014, Reiter forwarded to Rincon invoices for English classes being taken by two of Official B's children in the amount of over $25,000, the indictment says. A week later, funds in the same amount from a company controlled by Rincon were allegedly transferred to the school.