Of Trump's Policies, Taxes Mentioned Most on S&P 500 Earnings Calls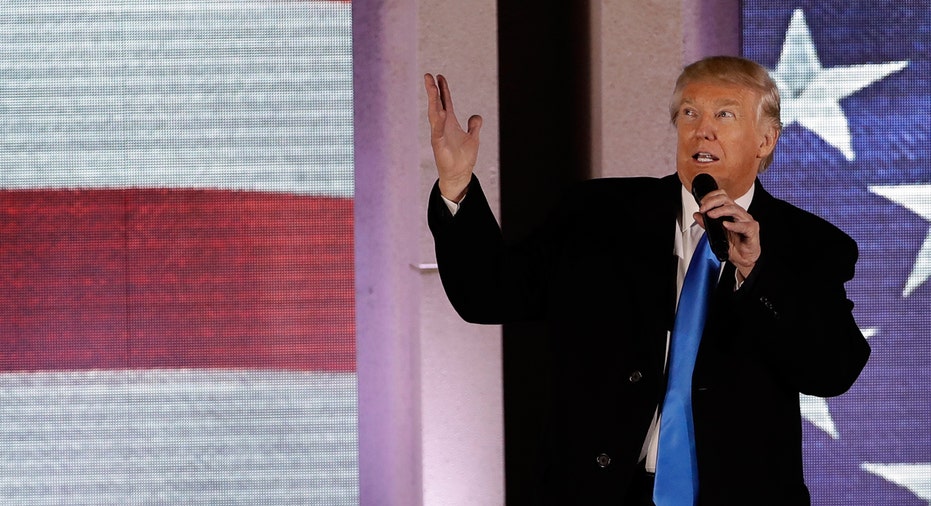 All eyes were on the U.S. Capitol Friday as Donald Trump was sworn in as the 45th president of the United States. But American CEOs have had their sights trained on the new president and his policy proposals for months.
Trump's campaign promises of lower taxes, less regulation and more fiscal spending have helped drive stock prices to record highs since his election in November. At the same time, business leaders in boardrooms across the country have carefully analyzed how those policies will likely impact their bottom lines. Of the 42 S&P 500 companies that have so far reported fourth-quarter results, 27 cited "Trump" or "administration" during their earnings calls, according to FactSet analysis.
Tax policy from the new administration garnered the most discussion with six of the 11 companies stating that if tax rates were lowered, the companies themselves, their clients or customers would benefit.
Goldman Sachs Chief Financial Officer Harvey Schwartz said Wednesday changes in tax policy could be a "catalyst" for how the company's clients think about putting capital to work and other strategic decisions. Meanwhile, Delta Air Lines CEO Ed Bastian (NYSE:DAL) said on his call the airline would "certainly" be a beneficiary of tax reform, and FedEx (NYSE:FDX) CFO Alan Graf remarked that he liked the blueprint the president and GOP laid out on the campaign trail, and noted positive economic growth and lower taxes would "positively impact" the package delivery service.
After taxes, regulation and trade policy rounded out the top three most talked about Trump policies so far this earnings season.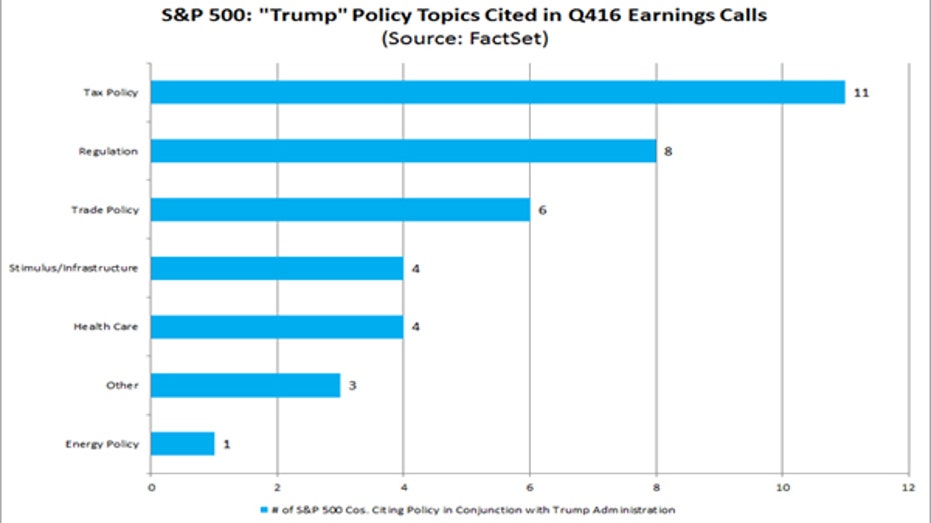 It's not just whether the new president follows through on his policy proposals. Timing is also a crucial factor in maintaining the market's confidence in the new administration. The S&P 500 has rallied about 6% since Election Day, but Wall Street now needs to see action in order to justify the jump. In a statement Friday, Business Roundtable Chairman and JPMorgan Chase (NYSE:JPM) CEO Jamie Dimon said the country is "well positioned to build on the momentum the U.S. economy is already showing," and said America's business leaders "fully agree" that economic growth and job creation should be top priorities for the new president and his cabinet.
"Surveys of consumer expectations have reached a 13-year high in December. The consumer is the primary engine of the economy and if they have more confidence to spend, it could lead to more economic growth. Even marginal economic growth improvement would translate to higher revenues for corporations, which help the overall earnings picture," said Matthew Miskin, senior capital markets research analyst at John Hancock Investments.
The Federal Reserve, which came to the U.S. economy's aid in 2008 during the worst financial crisis since the Great Depression, has carefully choreographed a steady recovery. Now that employment and inflation are nearing the central bank's targets, many market watchers are expecting the Fed to pass the baton – at least partially – to the president and Congress to move forward on fiscal policies that will continue to help stoke that momentum. Miskin expects fiscal policy to be a meaningful driver of stock-market returns for the next 12-18 months.
"The Fed can gradually step away from supporting the U.S. economy as it can finally stand, and advance on its own two feet," he said.