Obama Sets Goal on Deficit Cuts, Rips Republicans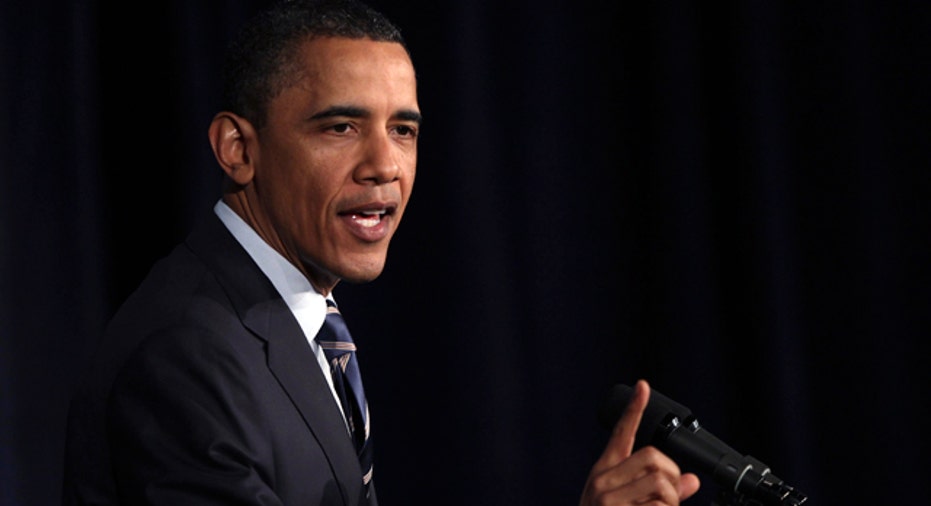 President Barack Obama on Wednesday proposed slashing Washington's budget deficit by $4 trillion with spending cuts and tax increases on the rich, after calling Republican demands for deeper reductions too radical.
Obama outlined a 12-year time-frame for achieving those reductions in a sharply political speech that was his first since he announced last week that he was running for re-election in 2012.
Obama has faced sharp criticism from both Republicans and fellow Democrats for failing to show leadership on the issue of America's ballooning deficit, a major worry for Americans ahead of the 2012 presidential election. The deficit is projected to hit $1.4 trillion for this year.
While calling for talks with his Republican opponents on spending cuts, he devoted much of his address to attacking a Republican budget plan for 2012 that would overhaul Medicare and Medicaid and cut taxes on individuals and businesses.
Obama said the plan, offered by Paul Ryan, House of Representatives budget committee chairman, offered a "deeply pessimistic" view of the country's future and would change the "basic social compact."
"There's nothing serious about a plan that claims to reduce the deficit by spending a trillion dollars on tax cuts for millionaires and billionaires," Obama said.
Obama's aides have tried to present him as a leader above partisan politics in the budget debate but the tone of his speech was along traditional Democratic ideological lines.
The top Republican in the House of Representatives, John Boehner, said any plan that included tax hikers was a "non-starter".
"He is asking Congress to raise the debt limit to continue paying Washington's bills," Boehner said. "The American people will not stand for that unless it is accompanied by serious action to reduce our deficit. More promises, hollow targets, and Washington commissions simply won't get the job done.
The deficit issue has become entangled with the coming debate in Congress on raising the nation's borrowing limit. Republicans say they will not vote to lift the limit without commitments to rein in long-term deficits. The debt is expected to hit the $14.3 trillion ceiling as early as mid-May and a failure to lift it could raise the specter of default.
Obama's vow to reduce the deficit boosted the dollar and Treasuries as investors said the $4 trillion target was higher than many had expected.
But shares of defense companies fell after Obama said the Pentagon's budget would be reviewed with the aim of eliminating waste and improving efficiency. The iShares Dow Jones U.S. Aerospace & Defense Index Fund fell 1.6 percent.
In a sign that Obama has some work to shore up his political base ahead of his re-election campaign, his approval rating dipped for the second consecutive month to 46 percent in a Reuters/Ipsos poll released on Wednesday.
It was his lowest Ipsos poll rating since early December 2010. The drop was largely driven by a downturn in approval from his fellow Democrats.
Obama offered few specifics on how to curb spending.
He pledged to end the reduced Bush-era tax rates for the wealthiest Americans, and save $480 billion in government health programs for the poor and elderly by 2023 with at least $1 trillion more by 2033.
He also proposed a "debt fail-safe" trigger to force spending cuts if debt levels do not decline as planned. This is designed to improve investor confidence by showing the government is serious about tackling the debt problem and would have the tools to deliver on its promise.
Two-thirds of Americans voiced a great deal of concern about the deficit in a Gallup survey last month. Other polls show voters who backed Obama in 2008, but did not vote for Democrats in the November 2010 congressional elections could be persuaded to support him in 2012 if they believed he had a plan to tackle the deficit.